Among Giants
By: Elisa Gaudet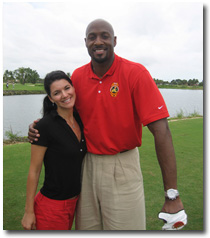 The only thing hotter than a Miami summer – particularly when the Miami Heat are the reigning NBA champions – is Zo's Summer Groove. Alonzo Mourning's Golf Tournament can only be compared to a trip to the red wood forest. Thankfully, Jason Taylor was there. At 6-foot-6, he was the closest thing to my 5-foot-9.

The 2006 NBA champions, the Miami Heat, are hotter than ever. They proved that with their games on the court and on the course. Celebrities and sports figures turned out for Zo's 10th annual Summer Groove Golf Tournament to benefit Alonzo Mourning Charities.

Mourning started his Zo's Summer Groove after participating in Magic Johnson's event. "Magic planted the seed for me and the city of Miami embraced it. It just proves that if you do God's work, good things happen," said Zo. Mourning was part of the foster care system and is passionate about children. As far as getting the other celebrities to participate, Zo laughed when he said, "I can't think of anyone who doesn't want to come to Miami, and giving is contagious."
The 6-foot-10 Mourning started playing golf 10 years ago. He looks forward to the day when he retires and is able to spend more time on his golf game. Although that will not be anytime soon, Zo still enjoys getting out on the golf course when he can. When asked about the similarity between basketball and golf, if any, he noted focus and mechanics. His dream foursome includes Tiger, M.J., and Samuel Jackson.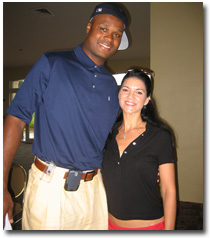 Antoine Walker (6-foot-9) is a 16 handicap who's been playing of four years. He started playing in Chicago by just going out and hitting the ball and then took lessons for a while to improve his game. His dream foursome would be Tiger, V.J. Singh and Jim Furyk. He calls Shadow Creek in Las Vegas his favorite course. "You don't need to be tall or have physical advantages to play," he points out. "Every day is different, and you always need to work on your game – it is a humbling sport!"


From basketball to football, many athletes enjoy the competitive spirit golf brings out. And although they may be giants in their respective sports, they get addicted to our endlessly challenging –often maddeningly so – game of golf. Jason Taylor includes himself in this group. "The great thing about golf is it brings people together and, personally, I get a chance to get together with people I don't see often," he says. Taylor hosts an event of his own in Miami. Last year, the Jason Taylor Foundation contributed more than $200,000 to 27 local agencies dedicated to serving needy children. His dream foursome would be Tiger, Michael Jordan and, yes, Jesus.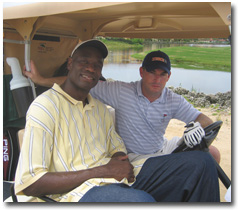 Zo's fellow Georgetown alumni, Dikembe Mutombo, the tallest tree in the redwood forest (7-foot-2), has been playing golf for 15 years. However, he only plays four or five times a year, hence his handicap is, as he calls it, "high." When comparing golf to basketball, he points out that in basketball you have to think and move faster, whereas in golf, patience, time and calculated moves enable you to succeed.

After 10 years, Mourning just wants to keep making his Groove better, and says he'll keep doing the event as long as he can. Founded in 1997, Alonzo Mourning Charities is a fundraising foundation that provides support to organizations that serve children and "youth of promise." The foundation has raised over $5 million for various organizations. The money is used to assist in the development of underserved children and their families. For more information, visit www.amcharities.org.     
Elisa Gaudet brings a wealth of entertainment and golf experience to Cybergolf. Elisa has spent the past several years in the golf industry in the U.S., Latin America and Spain. She worked for the PGA Tour and the Tour de las Americas before founding Executive Golf International, a golf marketing company that works with clients to develop strategies using golf as the medium. Often referred to as the Maria Bartiromo (a business analyst for CNBC) of golf, Elisa says: "Golf, as a marketing tool, has been around for years. It's amazing how many new ways companies can align their brand with the golf market to reach their target audience. Our goal is to create alliances and establish cross-border relations." Elisa also worked in the entertainment industry for over 10 years, including five in Los Angeles as a model and actress. She can be seen at many celebrity golf events and often gets the inside scoop from PGA Tour players. For more information about Elisa, visit her websites at www.onthelip.com or Executive Golf International www.execgolfintl.com.