An Amateur Caddie on a Professional Tour
By: Dave Andrews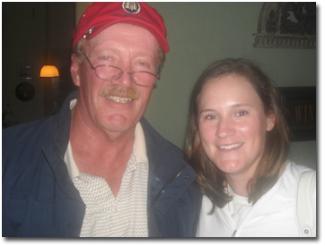 "If I'm this nervous, I wonder how she must feel," I remember saying to myself as I stood there at the side of the tee box on that warm late-July morning in Concord, N.H.
I was watching my young professional on the Duramed Futures Tour getting ready to hit her first shot on the first day of the USI Championship at Beaver Meadow Golf Course. My right hand was locked in a vice grip around the strap of her golf bag, propped up in front of me. I held my breath and didn't move a muscle as she began her back swing.
"What was I worried about?" I remember asking myself as soon as I saw her shot. My pro nailed her drive. It was crisp, long, and straight . . . right down the middle of the first fairway. I should have known better. She hadn't made it this far in golf by mis-hitting many drives. "Boy, I wish I could put a swing on a golf ball like that," I also remember thinking as I watched her ball come to a stop about 250 yards away.
She casually turned to me after picking up her tee. "Let's go have some fun," she grinned. "You got it, Boss," I grinned back. I had gotten into the habit of calling her "Boss" over the first few times I had caddied for her. She always seemed to enjoy it and it always brought a grin to her face.
I hoisted her golf bag over my shoulder and took the driver from her hand as we started walking together off the tee box towards the first fairway. The two other players in her threesome were walking alongside us.
"Pars and birdies," I said to her casually, slipping the head cover over her driver and sliding the club back into her bag. I was trying to encourage her without putting any more pressure on her than I knew she had already. A small smile came to her lips, but her eyes remained fixed straight ahead. I could imagine the dozens of thoughts that must be running through her mind as we approached her ball. It was the first of many holes we would walk side-by-side over the course of that tournament . . . days of pure enjoyment for me, her amateur caddie. It would also be days of life imitating art (more about that later).
My "boss" is Amy Schmucker, a second-year player on the Duramed Futures Tour. Amy is from the small town of Cold Spring, Minn., home to a lot of families with German last names. Her financial sponsor on the tour is Cold Spring Brewery, maker of Gluek Beer (pronounced - "Glick"), a Midwestern beer with German roots. Amy was a two-time state high school champion growing up in Minnesota. She went on to the University of Michigan where she captained the Wolverine's women's golf team in her junior and senior years. After graduating in 2006, she set her sights on a career as a professional golfer.
A chance meeting between Amy and me on a driving range at a golf course in Florida led to my friendship with this great young golfer who, like all the other young pros, dreams of one day playing on the LPGA Tour.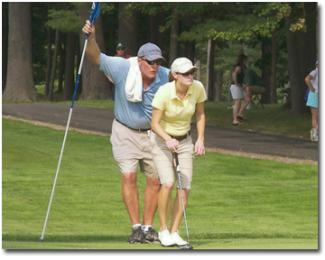 Amy is the only person, amateur or professional, for whom I have ever caddied. So from Day 1 she knew she wasn't getting anyone special in me. At Beaver Meadow, though, at least I knew the greens and was able to call on the hundreds of rounds I played on my home course to give her a little "local knowledge."

I was surprised initially when Amy asked me to help her read her putts and even to suggest some shot strategy out on the course. She took my advice a lot and, believe me, every time she did I was praying I wasn't wrong. After all, I'm the one with a 12 handicap and she is the "scratch" professional.

As for the "life imitating art" that I mentioned earlier: I was so inspired watching the young women professionals like Amy, competing at my little home course every summer, that I sat down two winters ago and wrote a novel and a screenplay based on the Duramed Futures Tour. The story of "Pops and Sunshine" follows a fictitious young rookie on the tour and her struggle to try to make it to the LPGA. She meets an amateur player at one of the stops on the tour, and they help each other to try to overcome personal tragedies they both have been dealt in life. The novel, still self-published at this point, has caught on very well. Nobody is more surprised than I am by the way it has been received. I believe it may, in part, be because so many people who love the game of golf - and even many who have never picked up a club before - can see a little bit of themselves in one or more of the characters in the story, at least that's what I hope.

Golf is an amazing game. It compels people like Amy Schmucker to devote their young lives to try to become one of the best players in the world. It compels many of us amateurs to come back to our courses, week after week, year after year, even though we know we don't have a prayer of becoming anything more than average.

I've always believed that extraordinary players like Amy Schmucker are born with a gift. That is not to say that they don't put in countless hours of work to develop their inherent skills. To master this wonderful game takes years and years of dedication, even for those who were "born to play the game."

So, how did my "Boss" do in the USI Championship on that late-July weekend at Beaver Meadow? Well, I am sad to report that she didn't do very well. She hit the ball great from tee to green, but her putting was off and she had trouble getting the ball into the cup. It happens to the best of them.

I am biased, but I believe Amy has a great chance of living out her dream and making it to the LPGA. It may take another year or two, but I expect to be watching her on TV in the years to come. I know I will be just as nervous for her than when as I was standing on the first tee that day at Beaver Meadow in Concord, New Hampshire, when I had the pleasure of caddying for her.
Dave Andrews is a Harvard-educated former television news reporter. He's also an avid golfer who has become a fan of the Duramed Futures Tour. His home course in Concord, N.H., is annually the site of one of the tour's events. The inspiration for Dave's 2007 novel, "Pops and Sunshine," came from meeting many of the young aspiring women golfers on that tour. Each of them has a passion, dedication and determination that he finds remarkable. His novel is a fictionalization of the dream that these young women share. To order Dave's book, visit http://popsandsunshine.com.