An Interview with the EWGA's New CEO
By: Nancy Berkley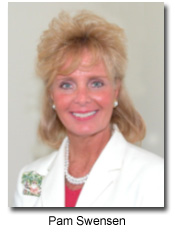 If you are a working woman and a golfer, you probably have heard of the Executive Women's Golf Association and may even be a member. The EWGA was founded in 1991 to help women learn how to play golf, meet other women golfers and establish the same professional networking that golf traditionally offered men. In the last 15 years, the EWGA has grown to over 120 chapters across the U.S. and has reached over 75,000 women golfers. (To become a member and learn more about the chapters, see www.ewga.com).

In January 2006, the EWGA Board of Directors began an extensive national search for potential chief executive candidates. On May 16th, the Board announced it had selected Pam Swensen as its new Chief Executive Officer. Actually, Pam is not "new" to the EWGA because she was its Vice President of Sales and Marketing for the last four years. I wanted to ask Pam some questions, because she is taking on the role of CEO at an important time for the EWGA and for women's golf generally. Here are excerpts from our conversation.
Q. You are head of an important golf association; so, the first question is "How did you get into golf?"
Pam Swensen: I am proud to say, "I am a golfer." I have been playing this wonderful game for over 14 years. I started playing about the time the EWGA was founded – back in the early nineties. At the time, I was working for NYNEX – which is now part of Verizon. My department embarked on a new program to build customer relationships on the golf course through what we now call sports marketing. I said to myself, "I had better learn this game!" And, I was very fortunate to have a former LPGA Tour player, Janie Blalock, as my teacher. That led to a management position for me at Jane's golf event company, the Jane Blalock Company, and a relationship with the EWGA chapters. But, when you work in the business, you really don't get to play as often as you would like or to be as good a player as you would like. Today I play to a 25 handicap.
Q. The EWGA is the largest women's golf "membership" organization. As the new CEO, what do you think are the most important benefits the EWGA offers?
Pam Swensen: The EWGA has proven over the last 15 years, that it can introduce women to the game and help them transform from a beginner golfer to an avid golfer. But I think our members view our number one benefit as "organized" play. You register for an event, you show up at the appointed time, you play or get instruction depending on what the event is on that particular day or evening, you network – and you depart. It's all planned for you. And there is another important benefit. The EWGA changes our members' lives. Not only have career transformations occurred, but also EWGA members and the organization itself has been a safe haven for many, many women who have had hardships, loss and illness and the EWGA family has been a terrific support system.
Q. Here's a hard question: Doesn't the name "Executive Women" exclude too many women? What about other women interested in golf – such as stay-at-home-moms or moms who work as volunteers or women who don't consider themselves 'executives'?
Pam Swensen: The EWGA is really for all women. Yes, we are called the Executive Women's Golf Association – but our initials could also stand for "Every Women's Golf Association." Our programs are built around a working women's schedule, which means evening leagues in golf season and many weekend events. But every women is an executive of something and the EWGA welcomes them.
Q. How do you make sure that your members play at women-friendly facilities?

Pam Swensen: We have a program called the EWGA Host Club Partners Program. It's so reasonable – only $75 per year for a facility to partner with us – and the facility gets to reach our entire membership! Local golf facilities offer special pricing for EWGA members and in return, we promote the facility's involvement on ewga.com and in our membership materials. Most importantly, local EWGA chapters work with the facilities to help them deliver our educational curriculum. We know what EWGA members want and have worked very closely with the PGA of America in delivering good programs. Women have the power of the purse and if a facility isn't being "female-friendly,." then we can decide to take our business elsewhere.

Q. If a facility wants to host a EWGA event, who would they contact?

Pam Swensen: Local facilities need to contact the chapter in their area. Our website has a listing of all chapters. Most chapters plan their calendar of events in the fall for the following year and depending upon what type of event it is, there will be a range of requirements. In addition, from the headquarters, we look for sites to host our sectional championships and other special events. And, of course, we invite all facilities to be a part of our Host Club Partners

Q. Do you have any statistics on how a facility benefits when it hosts EWGA events?

Pam Swensen: Yes – we are a major contributor to the local golf economy. The PGA of America conducts a research spending analysis on the impact of the EWGA annually as part of the Play Golf America Player Development report – and an EWGA Chapter with an average size of 160 members drops $577,000 into their local market annually. Our chapters range in size from 25 to nearly 900 members. We get very excited when we think about what an impact the EWGA can make on the golf economy!

Q. There is a lot of talk in the industry suggesting that women are not good golf customers because they don't spend enough in pro shops or golf enough? What's your response to that criticism?

Pam Swensen: We know from our studies that EWGA members are good customers. Consider these numbers: Women who joined the EWGA in 2005 and played golf prior to joining make a considerable commitment to the game. They played an average of 30 rounds of nine or more holes and spend an average of $3,086 – not including travel. They spent an average of $1,882 on golf-related travel as well. That is far above industry averages for women golfers. My answer to those who question whether women spend enough is to look more closely at what women are being offered at their golf facility. It probably falls short in both product and service.

Q. The EWGA relies on volunteers at the chapter levels for most of its programming. As the new CEO, are you going to make any changes in the volunteer organization?

Pam Swensen: I may only do some tweaking to make the role of a volunteer as easy as possible. We have over 1,500 active Chapter leaders who volunteer their time to provide the EWGA experience to over 19,000 members in 2006. Many women volunteer for these leadership positions to gain valuable leadership experience that may not be available to them in their current professions or as a stepping stone to garner greater responsibility in their current jobs. It's an amazing group of women.

Q. How can a woman get involved as a volunteer?

Pam Swensen: They only need to raise their hand! Truly, there are opportunities in so many areas at the Chapter level. Here's one quick success story: One of our members who "came up through the EWGA volunteer ranks" learned how to run events and championship tournaments and had the privilege to translate her EWGA experience into managing the U.S. Women's Open when it was held at Prairie Dunes a few years ago. Today she has her own event marketing company.

Q. There are 120 EWGA Chapters – in many major cities – but what about the women who don't live near a EWGA chapter. Can they start a chapter?

Pam Swensen: To start a new Chapter, you only need 10 women to get the ball rolling. We have Chapter Consultants who offer their services about how to do this. There is a process to follow – and you do need a core group of women who are willing to run with it.

Q. I have asked you lots of questions: I must have missed one – so feel free to ask and answer it!

Pam Swensen: Here it is: "What about giving a membership in the EWGA as a gift?" I think that's a great idea. Why not give a membership to your friend, spouse or your significant other. Then you can both enjoy the game, and you may even be able to play more! It's easy – go to www.ewga.com and join today! And by the way, we welcome men as members too!

Q. My final question: Every new CEO has an opportunity to set some new goals. What are yours?

Pam Swensen: "Fifty in Five" – my goal is to have 50,000 members in five years. We need industry support to make this a reality. We want to build more awareness about the EWGA but marketing and advertising costs money. This is our biggest challenge. The more women we can attract and engage in EWGA activities – the greater the impact on equipment purchases, lessons, greens fees, golf travel, apparel and accessory purchases as well as readers and fans of the game – and in turn, the more women golfers and EWGA members we will have. It's a circle of positive economic return!

Q If I were the fairy golf-godmother, I would like to send you that funding! Thanks, Pam, for your time. Good luck to you and to your members – all 50,000 current and future ones.
Nancy Berkley is an expert on women's golf. Her book, "Women Welcome Here! A Guide to Growing Women's Golf," published in 2003 by the National Golf Foundation, is the industry reference on how-to attract and retain women golfers. She updates her research and best practices on her website www.nancyberkley.com.

Nancy consults with facilities on how they can increase participation and revenues from women golfers and is a frequent speaker at industry events. Nancy also reviews courses for "The Golf Insider," an international golf and travel newsletter, and "Ladies Golf Journey," a golf publication for women. She's contributed articles to "Golf For Women" magazine and is the author of the 2004 PGA Magazine cover story about women golfers.

A respected resource in the golf industry, Nancy participates in Golf 20/20, the annual strategic invitation-only conference sponsored by the PGA Tour, the PGA, the LPGA, and the World Golf Foundation. At the November 2004 Conference, she moderated the panel discussions on player development with a focus on women golfers. She has addressed the National Golf Course Owner's Association at their National Conference as well as at numerous marketing seminars for the PGA and LPGA professionals. Nancy serves as a consultant to the Golden Links Advisory Board of Corporate Meetings & Incentives, a PRIMEDIA Business Publication. Nancy is an experienced golfer and has competed on the Metropolitan Women's Golf Association (N.J., N.Y., Conn.) interclub matches. She's served on the Board and Golf Committees of her golf clubs in Florida and New Jersey.

In 1998, Nancy founded Berkley Consulting and The Woman's Only Guide® to Golf to share her long-time passion for golf and to help grow the game. Prior to working in the golf industry, Nancy was an attorney for a Wall Street firm and then held a number of senior executive positions with Prudential Financial, including Assistant General Counsel and Vice President of Corporate Marketing & Business Integration. Nancy began her professional career as a high school teacher.

Nancy holds a bachelor's degree in political science from the University of Minnesota; a master's degree in teaching from Harvard University Graduate School of Education; and a law degree from Rutgers University School of Law, where she was a member of the Law Review. She is a graduate of the Program for Management Development at Harvard Business School.

Nancy describes herself as a bogey golfer and plays on her home courses in Florida and New Jersey. To contact her, write, call or email Nancy at: Nancy Berkley, Berkley Consulting, 242 Eagleton Estates Blvd, Palm Beach Gardens, FL 561-776-7243 or at info@nancyberkley.com.