An Ivy Leaguer Qualifies for the LPGA along with Lewis & Wie
By: Dave Andrews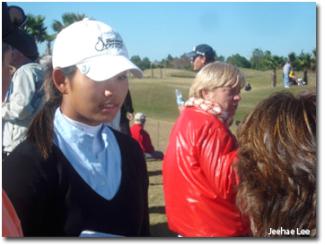 She is a 2006 Yale University graduate with a major in Economics. Now she is one of the newest members of the LPGA.
Jeehae Lee, a 25-year-old from Seoul, South Korea, surprised many of the experts at the LPGA Q School in Daytona Beach on Sunday. Lee finished 8-under-par (with rounds of 68, 73, 69, 72 and 70) and in a tie for 12th place in the five-day event to capture one of the 20 coveted top priority LPGA Tour cards for the 2009 season.
The beautiful young golfer raised her arms over her head when she walked out of the scorer's tent after posting her final-round score. "I did it," Lee exclaimed with a big smile on her face as she walked over to a handful of reporters assembled to interview players after their rounds. Lee will now be eligible to play in all of the full-field events on the tour's 2009 schedule.
Lee spent two mediocre seasons on the Duramed Futures Tour and was close to giving up on her goal of making it to the LPGA. Yale is not known as one of the top breeding grounds for future LPGA players. This year, Lee made the cut in only eight of 16 events on the Futures Tour schedule. She averaged close to 75 stroke per round . . . not nearly good enough to make it on the LPGA. In 2007, after making the cut in only two of nine events on the Futures Tour, Lee was considering giving up the game and using her degree to become an agent for other women golf pros. However, in the summer of 2007, Andrew Park, an instructor at the David Leadbetter Golf Academy in Orlando, saw potential in the young player and convinced her to stick with her game for one more season.
Lee qualified for the Q School finals by finishing 15th in the sectional tournament in Venice, Fla., in October.
At the end of Sunday's final round, Lee said she improved dramatically in every aspect of her game over the last three or four months. Park said one of Lee's biggest steps forward was gaining length and accuracy with her driver.
On the final hole, Lee almost sank her approach shot for an eagle. Her ball rattled the pin and stopped 2 inches from the cup. She easily tapped it in for birdie, giving her a 70 and guaranteeing her LPGA status for next year. Lee walked over to her father after posting her score and gave him a big hug. He had followed her for every one of the 90 holes over the five-day event, walking quietly along with other spectators in the gallery, anxiously watching every drive, fairway shot and putt attempted by his daughter.
Jeehae Lee will head home to South Korea for the Christmas holidays. At the beginning of next year she will return to Orlando for a month of work at the Leadbetter Academy. In the middle of February she will head to Hawaii for the SBS Open at Turtle Bay, the first LPGA event of the 2009 season. When she tees it up there, the Yale graduate will become just one of a handful of Ivy League graduates ever to compete on the LPGA.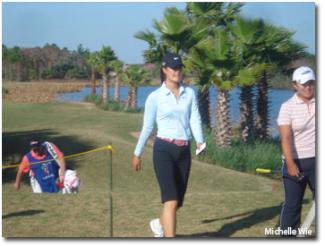 Others who qualified include Michelle Wie, who finally proves she belongs on the LPGA Tour. The 19-year-old from Hawaii overcame a poor start on Sunday to closed with a 2-over 74 that gave her a tie for seventh.

The winner of the final Q School qualifying was fourth-round leader, Stacy Lewis, who birdied the last two holes for a 3-under 69 for a three-shot victory at LPGA International in Daytona Beach.

The complete list of qualifiers includes:

1. Stacy Lewis - 342
2. Amy Yang - 345
3. Anna Grzebien - 346
T4. Beth Bader, Sophie Giquel, Shiho Oyama - 347
T7. Michelle Wie, Lisa Storm - 348
9. Mollie Fankhauser - 350
T10. Charlotte Mayorkas, Carolina Llano - 351
T12. Mika Miyazato (a), Anna Rawson, Jeehae Lee - 352
T15. Jeanne Cho-Hunicke, Anja Monke, Louise Stahle - 353
T17. Louise Stahle, Ashleigh Simon - 354
T19. Marcy Hart, Audra Burks - 355
Dave Andrews is a Harvard-educated former television news reporter. He's also an avid golfer who has become a fan of the Duramed Futures Tour. His home course in Concord, N.H., is annually the site of one of the tour's events. The inspiration for Dave's 2007 novel, "Pops and Sunshine," came from meeting many of the young aspiring women golfers on that tour. Each of them has a passion, dedication and determination that he finds remarkable. His novel is a fictionalization of the dream that these young women share. To order Dave's book, visit http://popsandsunshine.com.