An LPGA Rookie to Keep Your Eye On In 2009
By: Dave Andrews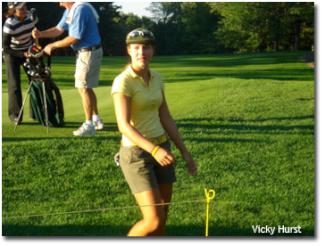 Michelle Wie and Stacy Lewis made all the headlines at the LPGA Tour's Q School tournament in Daytona Beach earlier this month. But there's a player who didn't compete in Q School who could be making some headlines of her own when the tour's 2009 season gets underway in February. Many knowledgeable observers believe this lesser-known rookie has just as much potential as Lewis and Wie to make a big mark on the LPGA Tour, perhaps as early as this year.
She's 18-year-old Vicky Hurst from Melbourne, Fla. Hurst is well known to most who follow women's professional golf closely, but many average fans of the game may have never heard of her. That should all change in '09 if the long-hitting Hurst plays as well as she did on the 2008 Duramed Futures Tour.
Callaway Golf is betting that she will make a lot of news. In the middle of the 2008 season, as soon as it was clear she would earn her LPGA card as one of the DFT's top-five money winners, Callaway signed Hurst to a lucrative multi-year endorsement deal. Details of the contract have not been disclosed, but sources say Callaway will be paying Hurst well into the seven-figure range over the life of the contract. With that kind of money on the table, Callaway believes Hurst will be getting a lot of exposure on the LPGA Tour.
Hurst set all sorts of records on the Duramed Futures Tour this year. With four victories in just 13 official money-list events, she now holds the tour's single-season money winning record of $93,107, easily surpassing Beth Bauer's previous mark of $81,529 in 2001. Hurst capped off that achievement with a fifth victory this year in the tour's post-season invitational tournament for top money earners. The $21,000 she earned with that win gave her $114,107 in total purse money, not bad for a girl who skipped an event in June to attend her high school graduation ceremony in Melbourne.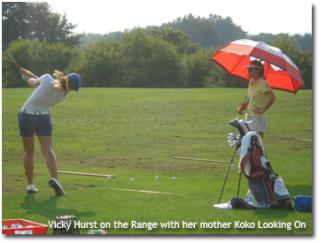 Besides her five victories in 14 tournaments, she had three second-place finishes and finished third once. Hurst's 18-under-par score (67, 67, 64) in her winning the McAllen, Texas, event set the Futures' record as the tour's all-time lowest 54-hole score.
Hurst, who decided in high school that she would turn pro right away and forego a college golf career, also led the tour in several statistical categories, including:
1st in scoring average: 70.275
1st in sub-par rounds: 25 out of 40
1st in par-3 average score: 3.000
1st in par-4 average score: 3.997
1st in par-5 average score: 4.635
1st in eagles: 8
She finished the season third in average driving distance, 250.137 yards. Her length off the tee should put her in excellent position to compete on the LPGA's longer course set-ups.
Hurst's mother, Koko, served as her caddie and coach in 2008. Hurst's father, a former U.S. Air Force officer, died two years ago of a massive stroke. He met Vicky's mother while stationed in South Korea in the 1980s. His sudden death at an early age was a personal tragedy that both mother and daughter had to deal with as Vicky began her professional career last spring. Koko Hurst has said she will be stepping aside so Vicky can work with a professional looper when the LPGA's 2009 season begins in Hawaii in mid-February.

All eyes will be on Michelle Wie and Stacy Lewis when the players tee off in the SBS Open at Turtle Bay. The golf world will be watching to see if they will make their marks as the newest superstars in women's golf. Don't be surprised, however, if the cameras spend a lot of time on young Vicky Hurst. She has the ability to compete and make it onto the leaderboards in LPGA events.

The recent high school grad, in her signature old-fashioned flat golf cap, could become just as familiar a sight to LPGA fans in 2009. The hats, which she wears whenever she plays, are the same style as those worn by the late Payne Stewart and legendary golf greats Ben Hogan, and Bobby Jones. If Hurst is as successful on the tour as many expect, she may also turn into one of the game's fashion trendsetters.
Dave Andrews is a Harvard-educated former television news reporter. He's also an avid golfer who has become a fan of the Duramed Futures Tour. His home course in Concord, N.H., is annually the site of one of the tour's events. The inspiration for Dave's 2007 novel, "Pops and Sunshine," came from meeting many of the young aspiring women golfers on that tour. Each of them has a passion, dedication and determination that he finds remarkable. His novel is a fictionalization of the dream that these young women share. To order Dave's book, visit http://popsandsunshine.com.