An Ode to Saddle Creek
By: Tony Dear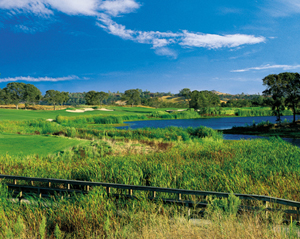 In 1994, five years after he had joined his father's design firm, Jay Morrish & Associates Ltd., Carter Morrish was hired by San Francisco-based developer, Haas and Haynie, to design Saddle Creek, a resort course on a 900-acre tract of land in the Sierra Nevada foothills of California. Although involved in various aspects of his father's business, this was young Morrish's first major design effort and, while the experienced Roy Bechtol with whom Morrish had an 'informal partnership' was on hand to offer a few words of wisdom, and his father visited on a couple of occasions to offer his own two cents, this was essentially Carter's gig.
"I couldn't believe what a fantastic property it was," he remembers. "I was totally blown away. Roy and I could easily have come up with four or five courses, all as good as each other. The only problem we had was deciding which was the best and which fitted in with the owner's plans for the rest of the resort. It was a residential community so that was a factor in our decision, but really we had the whole parcel at our disposal and were able to cherry-pick the best features."

Construction was complete by late 1995 and, when the course opened in July 1996, it wasn't long before the accolades began flooding in. And they haven't stopped since. In 1997, Golf Digest named it the seventh best new public-access course in the country, awarding it four and a half stars. Earlier this year, Golfweek rated it the ninth best public-access course in California, one place higher than the Links at Spanish Bay and four higher than Torrey Pines South. Meanwhile, Golf magazine puts Saddle Creek in its top five public courses in Northern California.
Morrish, now working with Gary Stoddard and Rafael Alarcon (Lorena Ochoa's coach) on various projects in central Mexico, isn't surprised Saddle Creek has been so well received. In May, he was back at the course for the first time in several years following current owner Castle and Cooke's decision to commission him for nine new holes (which will be built as soon as the steadily growing membership can no longer fit onto the original 18) and he liked what he saw. "It turned out really well," he says. "Better than I expected. I think if it were closer to the Bay Area or L.A. it would actually have been ranked even higher."
Part of the reason the course was looking so healthy in time for Morrish's visit was a bunker rebuilding program that commenced in late 2005 and was finished in March. "The bunkers were not in particularly good condition last year," says Director of Golf Chris Bitticks. "They drained badly and didn't look like the sort of bunkers you get on a top-quality championship course. They were starting to have a negative affect on the course's reputation."
All 99 bunkers were completely remodeled with new drainage, liners and sand. The result? A major improvement to their appearance and consistency and a shot in the arm for the course as a whole. "They are so much better now," says Bitticks who came to Saddle Creek from Mountain Springs in nearby Sonora and who notched up his fifth year at the club in June (longer than the previous five pros combined). "They may need a little more time to settle though. We'll know better by next March, but I feel they still have a little too much sand in them. We may have to take some out next year if the members aren't happy."
Overseeing the restoration project was superintendent Scott Dickson who, in his second year at the club, has had to contend with some testing weather conditions. "We had a lot of rain in the spring and 100 degree heat shortly after," he says. "That combination took a heavy toll on our turf."
A graduate of Penn State who's been at Saddle Creek two years since moving from Del Paso Country Club in Sacramento, Dickson is a self-proclaimed perfectionist when it comes to 'his' course and admits he will probably never be happy with how it looks despite the numerous compliments he receives. "Everyone I speak to says what great shape it's in and how well the greens are rolling, but I still feel we're in recovery mode," he says. "We're working hard though, and the weather has cooperated this fall, so we should be nearing perfection in December."
Despite Dickson's concerns, the Northern California Open was played at Saddle Creek in September and, perhaps not surprisingly, players and officials had nothing but good things to say about the place. "It's such a challenging layout, invariably in excellent condition and, as expected, it proved to be a true test," says Nancy Maul, NCPGA Tournament Director.

"There just isn't a single weak hole," says General Manager, Bill Troyanoski, who estimates 27,000 rounds pass through here every year. "No two holes run parallel with each other so you have a pleasant sense of isolation wherever you are, and there are some magnificent views of the foothills."

Among the course's best holes is a superb quartet of par-3s of which the seemingly harmless downhill 11th is probably the pick. "Any hole of 150 yards or under that makes you think that much and causes that much trouble is an interesting hole," contends Bitticks, who admits to going through long periods when he seems unable to make a three. "It reminds me of the 7th at Pebble Beach. It looks so easy, but really it's trouble waiting to happen."

The wickedly sloping green is the problem at the long par-3 14th named 'Redan' after the famous 15th hole at North Berwick in East Lothian.

"There are so many great holes out here that if you play from the appropriate set of tees, I guarantee you'll have a ball, no matter how good, or bad, you are," says Bitticks who thinks he may have found his ideal situation. "I love this facility, the course, the people. And I love being in the foothills. So, no, unlike my predecessors, I'm not in any hurry to leave."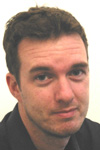 Tony Dear has been writing about golf for 11 years. A former assistant club pro from Sussex, England, Tony started out as a freelancer in 1992 before taking a staff writer's job at Fore!, a magazine based in Peterborough. As the magazine's chief instruction writer, it was Tony's job to compose instructional articles aimed at a youngish readership whose letters to the editor suggested they often got confused by technical jargon and theory. Tony brought his simple approach to teaching golf to the magazine, helping boost sales by 10,000 issues. As a result, he was nominated within the company and nationally for Young Writer of the Year awards.

From there, Tony moved 20 yards across the Emap UK office to join Today's Golfer. There, he was soon promoted to a senior editorial position, focusing on equipment, and became a significant part of a team that saw sales figures double within the magazine's first 12 months.

After three years at Emap UK, Tony was dragged kicking and screaming across the Atlantic by his American wife ("not really, I love it over here") and, after short spells in Phoenix and Denver, wound up in Seattle in May 2003. He recently moved to Bellingham in the far northwest corner of the far Northwest of the U.S. and became a father to a son on whom he has already staked £5 for the 2029 Open Championship. At present, he is freelancing for a number of print and online publications back in England including Today's Golfer, Golf World, Bogey, The Open Championship Magazine and Casino.com. He is also a contributing editor for Denver-based Colorado AvidGolfer.

Recent features include a look at Colorado's self proclaimed 'links' courses, an interview with Suzy Whaley, with whom he played nine holes ("and got soundly thrashed") and a 64-page instruction supplement for Today's Golfer.

Tony has authored three books in the last five years and been nominated for several specialist and young writers awards. "Although I've never actually won one," he admits. He is a member of the Northwest Golf Media Association and the Golf Travel Writers Association based in London.