An Open Book - Don't Miss These 'Must-Do' Sandhills Golf Experiences Heading into 2014
By: Dave Droschak
If you plan to attend the historic back-to-back U.S. Opens in Pinehurst in 2014 and are having trouble coming up with a bucket list, I've narrowed down the "must-do's" of Sandhills golf. Moore County's growth over the last decade has added some new choices for those vacationing in the epicenter of American golf.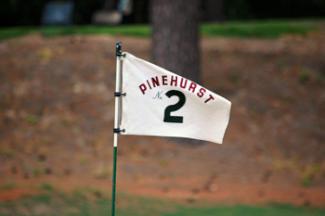 Flag at Pinehurst No. 2
"All the great events, all the great players have come through here," said veteran Pinehurst golf artifact collector Tom Stewart. "Anybody who is anybody in golf loves Pinehurst and it's a place that cherishes its history. This is real golf. People play here for all the right reasons."

But with more than 40 golf courses and a business sector that caters to men, women and juniors teeing it up on a year-round, your entertainment dollar is being pulled in hundreds of directions.

So there's no better time than now to start your 2014 Open planning while visiting the Village of Pinehurst before, during or after golf's major championships in mid-June.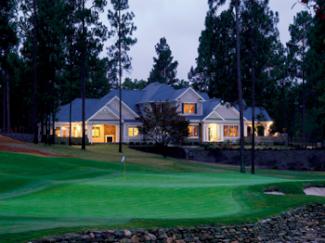 A Night View of Cottages at National Golf Club
Play 'n Stay: Historic inns scattered throughout the Village of Pinehurst and Southern Pines get plenty of run from vacationers looking for that "cozy" feeling, but a growing number of golfers are opting for more trendy, upscale options like those offered at National Golf Club. As if the only Jack Nicklaus signature golf course in the area wasn't enough of a draw, National added some villas a few years ago behind the scenic fifth green that feature just about every amenity imaginable. The staff even pulls a golf cart to the front of your accommodation for easy bag loading and a ticket to the first tee. National Golf Club is looking to grow its popular overnight inventory.

"It's a beautiful setting overlooking the golf course," said National director of golf Tom Parsons. "It's very peaceful and very quiet, and at the same time our units can sleep eight golfers with a full kitchen, a deck for grilling outside, overlooking water." With its high Slope rating, most golfers opt to tackle National twice before departing the Sandhills. "You always wish you could play it again because you start to realize the nuances of the golf course." Highlight: Serene setting.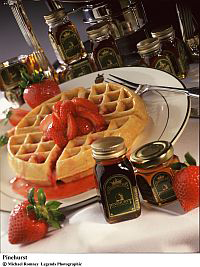 Waffles on the
Carolina Hotel Buffet
Breakfast Buffet: Whether you're lodging at Pinehurst Resort's Carolina Hotel, on vacation, golfing somewhere in the Sandhills or a local resident, weaving your way through the colossal breakfast buffet in the Carolina Dining Room amidst the backdrop of live piano music is a treat. Come hungry for the most important meal of the day as the aroma of fresh bread, pastries, fruits, Southern grits and more than 50 buffet items permeate the opulent dining room. There are made-to-order omelets and self-serve Belgium waffle stations, while corned-beef hash and French-style cheese blintzes add flair to the contemporary Southern-American food stations.

Just the whole grandeur of the experience, of being able to come into the historic dining room and having so many options is appealing to so many people. Options are the key. So is the relaxing atmosphere and ability to sort of "eat-on-the-run" for golfers catching an early tee time. The buffet is also interactive, which is nice. Highlight: Extra-crispy bacon.
10th Green at National Golf Club is
Guarded by Water & Stack Stone Wall
Village Pub: It doesn't get more authentic for golfers than Dugans Pub, from owner Alan Riley to the main bar - both transplants from across the "Pond." Part of the charm of Dugans Pub comes from its location, nestled in the corner of a block in the heart of the Village of Pinehurst, easy walking distance for patrons after bars at other quaint inns close earlier. And then there is the pub's atmosphere and food. Golf quotes dot the crooked walls as does framed artwork of famous golf holes.

There is Karaoke twice a week, a troupe that performs a one-piece instrument on a pogo stick, and live musical performances on weekends that help ease down a few pints of Stella or Guinness. What would you expect from the owner of an establishment whose parents are Irish and Scottish? "I brought authentic recipes over here," said Riley, who spent a lot of his life in the heart of downtown London. "Some say we've got the best fish and chips in the Southeast. It's something I cooked as a child and never thought it would translate into my adult years - and here it is. My philosophy on the restaurant is good food, good friends, good drinks and good atmosphere, and you'll be taken care of." If you're into Old World authenticity, this little "snug" is a post-round paradise. Highlight: Those fish and chips.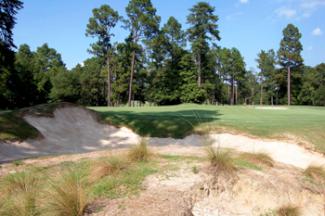 The Ninth Green Complex at Pinehurst No. 2
Hickory Tavern: An establishment with 40 flat-screen HD TVs has my attention . . . and the interest of golfers since opening in a prime spot off of U.S. 15-501 South. Located across the road from Pinehurst No. 7, backing up to National Golf Club and a virtual stone's throw from the traffic circle, Hickory Tavern's upscale restaurant and bar settings has an urban Raleigh or Charlotte feel in the heart of the Sandhills. Hickory Tavern seats close to 300, is open, airy and offers plenty of room and menu options for golfers looking to unwind after their rounds.

Other features include outdoor dining areas with comfortable padded furniture, a private dining room that seats 12, and a unique "surfboard" table that accommodates 26. A brick oven near the large bar area is the prime hot spot for pizza and crab dip, while seafood specialties highlight a nice menu. Highlight: TVs, TVs and more TVs!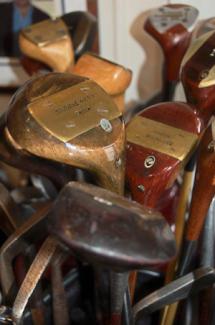 Hickory Sticks in Tom Stewart's 'Museum'
Old Sport Gallery: While not classified as a museum, it should be. Tom Stewart came to Pinehurst 17 years ago to raise his son and celebrate the history of the game of golf. It's safe to assume he went a little overboard on the "celebration" part. "I just kind of emptied my garage in my house and opened the store and I can't think of anything I would have rather done," Stewart said. The golf-collectable store contains over 6,000 images, more than 3,000 books and "just little pieces of history."

One of Stewart's old golf balls has an estimated worth of $30,000, and one original painting would fetch $60,000. "But I also have $10 notecards. We try to have something for everybody. Every piece has a story behind it too, which is fun," he said. "My wife teases me, saying this is like a museum, but the only difference is we've got to sell one or two items to go out and get five or six more. Next to St. Andrews this is about the only place you could have a store like this." Browse away. Highlight: Comprehensive volume. If you can't find a golfing collectable here you likely won't find it anywhere.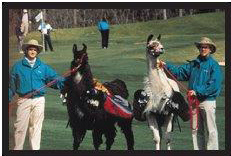 Talamore's Llama Caddies
Llama Limelight: The llamas are alive and well at Talamore Golf Resort in Southern Pines. First used as caddies in what amounted to a marketing gimmick that drew major attention when the resort first opened, llamas carrying golf bags for players proved somewhat problematic. Both initial Talamore llamas have passed away, but the resort purchased two more of the camel-like animals, one of which was pregnant at the time. The three llamas remain an attraction near the 14th tee, where they graze in a field. "They keep us known," said Talamore golf pro Tag Leon.

And while the live llamas are still a draw, a more amazing selling card is the club's logo that Leon created while daydreaming in the pro shop two years ago. It's a llama with a flag sticking out from the animal's midsection, a unique knockoff of the famed Augusta National logo. "The amount of product I sell out of here by having that llama logo is pretty cool, it's a great novelty," Leon said. "People love something with that llama on it. I say all the time that everybody needs a llama." Highlight: Just about any item in the pro shop with a llama logo.
David Droschak has covered golf in the Carolinas for three decades, mostly with The Associated Press, where he worked for 20 years as AP sports editor in North Carolina prior to launching Droschak Communications, a full-service marketing and PR firm based in Apex, N.C. Dave, 53, has covered numerous major golf tournaments, including the 1999 and 2005 U.S. Opens at Pinehurst Resort, and is a longtime member of the Golf Writers Association of America. Dave will be hand in 2014 to provide coverage of the historic back-to-back U.S. Men's and Women's Opens in the North Carolina Sandhills.

Dave was honored with the Sports Writer of the Year award in North Carolina in 2005, and is currently editor of Triangle Golf Today (www.trianglegolf.com), a print and online publication regarded as the "No. 1 Source for Golf News in North Carolina." He is also golf editor for Pinehurst Magazine, an award-winning glossy publication.

Dave grew up in Penn Hills, Pa., about five minutes from famed Oakmont Country Club and was introduced to the game of golf as a caddie at Green Oaks Country Club in nearby Verona, Pa. Dave was the co-captain of the 1978 Penn Hills state championship baseball team, was a pitcher for the 1982 Atlantic Coast Conference champion University of North Carolina Tar Heels, and pitched professionally for two years in the St. Louis Cardinals organization. He is a member of the Penn Hills High School Sports Hall of Fame, which also includes NBA coach George Karl and former four-time Pro Bowl offensive lineman Bill Fralic.