An Open Letter to Hank Haney and the Haney Project
By: Jay Flemma
Dear Hank:

It's good to catch up with you again. You'll remember I'm the Entertainment, Trademark, Internet, and Sports lawyer that's also a golf writer - that colorful little skinny guy that usually dresses in all black (sort of like a short, Italian version of Chi Chi Rodriguez, but I digress…). We've met a few times at tournaments and talked golf, but today I'm reaching out to you about the Haney Project.
Jay is Perfect Candidate for Haney Project
Hank, I am perfect fit for the Haney Project and the Haney Project is a perfect fit for me.

Let me explain: my golf game sucks platypus eggs.

Let me further explain: I've played this game for 40 years, and I'm getting worse, not better.

I started playing at age 3. Our family was the quintessential ardent golfing family you find all across America. Mom and Dad have been married 50 years, and I'm certain golf was the cement of their marriage. Any time there was an argument, we all went to the golf course and patched things up. The family that plays together, stays together. Mom played 27 a day when I was a kid - 18 with the ladies, then nine more when Dad got home from work. In the summers, I'd be at the course at sunrise, and play until I couldn't see the ball that night. Then I'd bring my girl to the practice green for a little night putting a la Ty Webb/Mitch Kumstein from "Caddyshack" (although she wasn't the 15-year-old daughter of the Dean…).

I played on my high school team and my college team (Division III), and I even got down to single digits before law school got in the way and I had to put the clubs aside for a while. But the game never leaves you, and perhaps in a bit if synchronicity, fate or the will of the Golf Gods (fickle as though they may be), I've become a golf writer as well as a lawyer.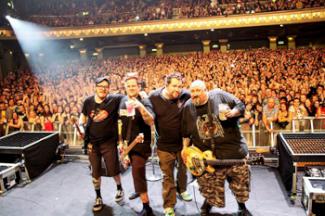 Golf-Loving Rockers Bowling for Soup
But now my practice time has vanished. Where once I'd show up and hit my driver, fairway woods, irons, wedges and putt, now I show up, talk to the pro and the super, get literature on the course, shake hands with the club ambassadors, and race to the first tee - sometimes without even rolling a few putts. I've gone from a 10 or 11 to low-mid 20s, and there's no reason for it. I've taken lessons from Laurie Hammer, Chi Chi, Bernie Hercig and Hank Furgol (nephew of Ed, who won the '54 Open at Baltusrol).

I don't have to suck platypus eggs, because sometimes I'm terrific:

• I can work the ball both ways;

• I love playing the ground game on links courses;

• I'm a whiz-kid when it comes to golf design and architecture, so I understand the proper shots to play;

• I have a sterling short game. I can roll in putts from three different area codes. With my wedges I can get up and down from the deck of a sinking ship. I've holed out bunker shots a bunch of times (once with the pin 12 feet above my head), and once went an entire year without leaving a single ball in a bunker.

If I did any of those things in a Texas money game they'd shoot me on general principle. I can play this game, and have a great head for creative shots…

…but lately, from tee to about 100 yards away from the green, I've played absolutely hopeless golf: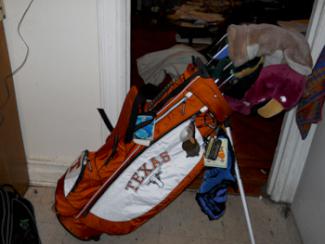 Jay's Kick-Ass Texas Golf Bag
• I've twice hit a tee marker and had the ball catapult backwards into the woods behind me - once in a Tour pro-am,

• As co-captain of the NYC golf writers' team, I opened our yearly match against Philly last year triple, triple, quadruple, triple . . . and those are the easy holes,

• I once lost a match 8 and 7,

• And in the most mortifying moment of my entire golf life, while playing with the PGA head pro and director of golf of a chichi Northeast country club, I was standing in the middle of the fairway with a wedge in my hand (my money club), and hit a goofy slice. I turned to the pro, said "let me hit another and do this properly," whereupon I promptly reverse pivoted-smother-topped it so badly the ball popped straight up in the air, and while I was holding my finish, bounced twice on the top of my head before dropping down next to me.

I think it smirked impudently at me as it lay there.

The pro still dines out for free on that story. ("Remember that shot you hit on 17??!! Blah-blah-blah blah??!!")

Despite all that, I'm still the right guy for you to pick for the show, because I will get better, and I have interesting story lines as a subject. You want to work with me because I'll go from a 25 to a 10 just as quickly as I went from 10 to 25. You'll make a huge difference with me quickly, and every fan watching on TV will see that, which is exactly what the show is designed to do.

Moreover, as I have some experience doing golf podcasts and broadcast pieces, I can handle myself on camera. I can laugh at my bad shots (everybody else will, that's for sure), and I'm quick with a quip, so we'll have some cracking good dialogue between us. I'm recovering from injury (a separated shoulder - something is bumping and grinding in my arm like Miley Cyrus at the VMAs…). I have lots of interesting golf-loving entertainers as clients, so you can work the celebrity angle into the show as well. Rock band Bowling for Soup - Texas's favorite sons, for example - are golf-crazy. Imagine a 350-pound guitar player with a buttery-smooth shoulder turn and a sublime short game! Or a wild-haired "Clown Prince of Rock 'n' Roll" lead singer with rapier wit and a laser-beam long game . . . That's a runaway ratings smash hit! Then there's my girlfriend - the mega-gorgeous uber-hottie I'm teaching to play the game. She's more gorgeous than Lindsey Vonn and Paulina Gretzky combined! There are countless compelling story lines here to keep viewer interest. The sky's the limit.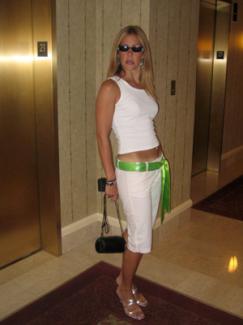 Move over Paulina & Lindsey -
Jay's Girl is Queen of the Wags
Plus, I'm an adopted Texan . . . by way of Dallas and Denton to be exact. Hook 'em Horns!

Most importantly, this is about making my life that much happier. I am a golf writer, so I have to get better at my chosen profession. Remember what they said to Alister Mackenzie before he left for Australia to build his world-famous Sand Belt courses:

"Alister, don't ever let them see you play golf, they'll never hire you again."

I'm not yet at that point, but I'm getting close. Am I as bad as Charles Barkley or Barack Obama? Of course not - nobody is (except maybe the platypus whose eggs my golf game sucks). But things are devolving rapidly, and when the wheels of my golf game come off on the course, comedy ensues, and it is not fun to be the focal point of the laughter. Backstage perhaps it's particularly amusing, but not as the subject! Bottom line is, I hit the ball well on the range, I just need to learn how to take it out on the course and sustain it for 18 holes.

So there it is. Like I said - I'm a perfect fit for the Haney Project, and the Haney Project is just right for me. If you truly are the greatest golf coach in America, then here is the challenge for you: I need a Batman teacher to save me from my Joker golf game.

Are you up for it? I know I am. Let's do this.

Best regards,

Jay Flemma
Since launching his first golf writing website in 2004, http://jayflemma.thegolfspace.com, Jay Flemma 's comparative analysis of golf designs and knowledge of golf course architecture and golf travel have garnered wide industry respect. In researching his book on America's great public golf courses (and whether they're worth the money), Jay has played over 420 nationally ranked public golf courses in 40 different states, and covered seven U.S. Opens and six PGA Championships, along with one trip to the Masters. A four-time award-winning sportswriter, Jay was called the best sports poet alive by both Sports Illustrated and NBC Sports writers and broadcasters. Jay has played about 3 million yards of golf - or close to 2,000 miles. His pieces on travel and architecture appear in Golf Observer (www.golfobserver.com), Cybergolf, PGA.com, Golf Magazine and other print magazines. When not researching golf courses for design, value and excitement, Jay is an entertainment, copyright, Internet and trademark lawyer and an Entertainment and Internet Law professor in Manhattan. His clients have been nominated for Grammy and Emmy awards, won a Sundance Film Festival Best Director award, performed on stage and screen, and designed pop art for museums and collectors. Jay lives in Forest Hills, N.Y., and is fiercely loyal to his alma maters, Deerfield Academy in Massachusetts and Trinity College in Connecticut.