Andrew Magee to Support Semper Fi Fund on Champions Tour
Andrew Magee will be sporting a new look at his next Champions Tour event: he'll be showing head-to-toe support for the Semper Fi Fund. By wearing the non-profit organization's logo, Magee is raising awareness for a group that provides vital help to injured military veterans.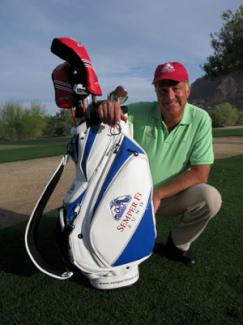 Andrew Magee
Magee was introduced to Semper Fi Fund through Bob Parsons, founder of GoDaddy.com, a Marine Corps vet and ardent supporter of the organization. When Magee learned of the work they were doing providing financial assistance to injured veterans and their families, he wanted to contribute.

So this year, thanks to a generous sponsorship funded by the Bob and Renee Parsons Foundation, Magee will don the Semper Fi Fund logo on his hat, shirt and bag for all Champions Tour events, increasing the charity's visibility and introducing its mission to a new audience.

"We're incredibly thankful for Andrew Magee and his decision to support our organization on the PGA tour," said Karen Guenther, Semper Fi Fund founder and CEO. "Given the important role sport can play in the recovery of our injured veterans, we feel this is a particularly well-suited sponsorship, and wish Mr. Magee the best of luck throughout the Champions Tour season."
In addition to the Magee's support, the Bob and Renee Parsons Foundation has agreed to match the pro golfer's total 2013 Champions Tour earnings with an equal donation to Semper Fi Fund. Parsons, through GoDaddy.com and the foundation, has previously partnered with NASCAR drivers Danica Patrick and Mark Martin to increase visibility and donations for the Semper Fi Fund.
"Bob Parsons continues to be an exceptional advocate for the Semper Fi Fund and our veterans in need, both through the incredible patronage of the Bob and Renee Parsons Foundation and his personal outreach to Mr. Magee and others," added Guenther. "His efforts exemplify the strength of support for our wounded warriors, among fellow veterans and within the community at large."
About Semper Fi Fund
< br> The Injured Marine Semper Fi Fund is a 501(c)(3) nonprofit set up to provide immediate financial support for injured and critically ill members of the U.S. Armed Forces and their families. The Fund provides relief for financial needs that arise during hospitalization and recovery as well as assistance for those with long-term needs. The program assists in a variety of ways, including: Service Member and Family Support, Specialized & Adaptive Equipment, Adaptive Housing, Adaptive Transportation, Education and Career Transition Assistance, PTSD and TBI Support and Team Semper Fi.

For more information visit http://www.semperfifund.org, http://www.facebook.com/semperfifund, or follow it on Twitter @semperfifund.