Anguiano Strolls to Victory at Sahalee Players Championship
Mark Anguiano saw his fine play come to fruition in the 21st Sahalee Players Championship. The 21-year-old from Whittier, Calif., closed with a 1-under 71 Wednesday for a 72-hole total of 8-under 280 and a four-stroke victory over Corey Pereira at Sahalee Country Club in Sammamish, Wash.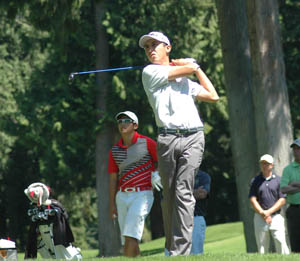 Mark Anguiano
Anguiano started the final round with a one-shot lead over Kurt Kitayama, a senior-to-be at UNLV. But Anguiano quickly separated himself from the field with birdies on three of the first four holes. "I didn't want to play defensively," he said. "So I couldn't have asked for a better start."

Through the front nine he built himself a five-shot lead and, though it got dicey on the home half, he cruised home from there.

"This is by far the biggest win of my career," said Anguiano, who had just completed four years at Cal-State Fullerton and recently won his collegiate invitational by 10 shots. "I played in the U.S. Amateur last year. I didn't make it into match play for that, but that event really taught me what hard, competitive golf was, and what I needed to do to play it."
His newfound toughness showed on the back nine. Paired with Pereira, a sophomore-to-be at the University of Washington, and Kitayama, Anguiano bogeyed holes 14 and 15, and then put his tee shot into a fairway bunker on 16. He was left with a downhill 25-foot putt to try to save par.
Meanwhile, Pereira, who had been firing at flags all day trying to play catch-up but couldn't get any putts to fall, had a straight 8-foot birdie try. Anguiano's putt, made even faster in the sun-baked afternoon, inched its way toward the cup and fell for a tournament-saving par, while Pereira's birdie putt slid by.
"Yeah, that was the tournament right there," admitted Anguiano. "If I miss and Corey makes, suddenly my lead is down to one." On the next hole, a 198-yard downhill par-3, Anguiano sank a 55-foot birdie putt to put an exclamation point on his win.
Pereira didn't go down without a fight. He birdied the par-4 10th, and missed short birdie putts on holes 11, 12, 13, 14 and 16, then birdied the par-5 18th to tie Kitayama for second place.
Even though this was Anguiano's first time playing in the SPC, he felt an affinity for Sahalee's course. "The greens here are exactly like the greens at home (at Friendly Hills Country Club in Whittier), so I felt really comfortable around the greens all week."

Anguiano intends to turn professional after this summer's U.S. Amateur in August.

Past champions of this prestigious amateur championship include Kyle Stanley, Casey Martin, Peter Uihlein, Nick Taylor, Daniel Summerhays, Ryan Moore, Chris Williams, Arron Oberholser and Jason Gore, among others.
The above report is courtesy of the Pacific Northwest Golf Association. For more information and complete scoring, visit www.sahaleeplayerschampionship.com.