Another 'Big Break' for Futures Tour Players
By: Dave Andrews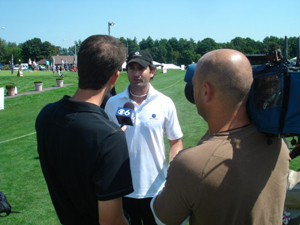 Big Break Producer Brendan Havens Interviewed on Albany TV
A Golf Channel production team was on scene Thursday in Albany, N.Y., auditioning players on the Futures Tour for the next installment of The Big Break, the popular golf-reality series. The Golf Channel team, led by show producer Brendan Havens, set up shop next to the driving range at Capital Hills, the site of this week's I Love NY Championship.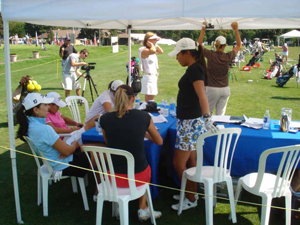 Scene at the Big Break Interview Area
Dozens of players from the tour filled out application forms, were videotaped as they made a few shots on the range, and then submitted to a lengthy on-camera interview to explain why they should be selected for the show.
The details of the next Big Break (number XIII) series are being kept a well-guarded secret by the production team. The players are not being told where the competition will be held, only that it will be sometime around the first of the year. All of the applicants were told that they should have a passport and to dress for a warm climate if they are selected. It usually takes about two weeks to tape the show, which customarily airs several months later on Golf Channel.
Over the past several years, many players from the Futures Tour have appeared on the program. Current tour members Ashley Prange, Briana Vega and Kim Welch are past winners. The competitions, which pit players in shot-making skills and head-to-head play, offer lucrative payoffs for the winners and generate great national exposure for those looking to make a name for themselves in golf.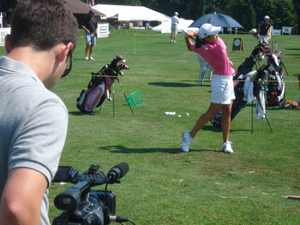 Hannah Yun Shows her Form for Big Break
The I Love NY Championship gets underway Friday in Albany. It's the final event of the season on the Futures Tour. On Sunday, following the final round, the 10 top money winners on the tour this season will be awarded LPGA cards for 2010. Last Sunday, M.J. Hur, a 2008 graduate of the Futures Tour, earned her first-ever victory on the LPGA. The 19-year-old Hur defeated Suzann Pettersen and Michele Redman in a playoff to capture the win in the Safeway Classic in Portland, Ore.
Dave Andrews is a Harvard-educated former television news reporter. He's also an avid golfer who has become a fan of the Duramed Futures Tour. His home course in Concord, N.H., is annually the site of one of the tour's events. The inspiration for Dave's 2007 novel, "Pops and Sunshine," came from meeting many of the young aspiring women golfers on that tour. Each of them has a passion, dedication and determination that he finds remarkable. His novel is a fictionalization of the dream that these young women share. To order Dave's book, visit http://popsandsunshine.com.