Another Course Planned for United Arab Emirates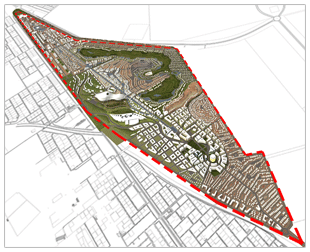 Thomson Perrett & Lobb, the golf course architecture firm founded by five-time British Open champion Peter Thomson and partners Ross Perrett and Tim Lobb, has been appointed by HOK to design the new Ain Al Emarat golf course in the United Arab Emirates (UAE). Design work on the course is already underway with construction likely to start later this year.

The 18-hole layout will be part of a new community in the desert on the outskirts of Al Ain, the UAE's largest inland city and the second city of the Abu Dhabi Emirate. The city will be home to 120,000 people. Facilities will include a 40,000-seat sports stadium, a leisure complex, business district and housing. It will be a major suburb for the oasis city of Al Ain, known as "The Garden City of the Gulf," and will feature an innovative 7-kilometer-long canal system integrated into both the residential community and golf course.

Announcing the news at GolfEx Dubai, Lobb said: "The golf course at Ain Al Emarat, like the new community itself, will be extraordinary. This is an outstanding desert site, overlooked by mountains, with rolling sand dunes that will be incorporated naturally into the golf course, also combining HOK's innovative canal system. TPL shares HOK's vision for sustainable design and so there has been a natural synergy in our plans for this project. Both practices believe Ain Al Emarat will be a very special place."

Barry Lowe of HOK said: "Ain Al Emarat is a major new community with sport at its heart. It is a city that will stand apart because of our unique approach to the built environment and creation of towns using sustainable architecture.
"The golf course is an essential element of the new community, which is why we wanted to work with a golf course design company that shared our values and vision, and could create an outstanding, traditional style course of international standard. Thomson Perrett & Lobb has proved to be the perfect partner in this regard, and I believe our creation in the 'Garden City of the Gulf' will be a greatly admired new golf community."