Another New Course in China by Golfplan-Fream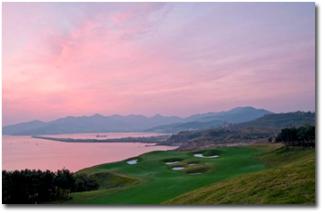 In the course of a lifetime, your typical golf course architect might dream of procuring a single project site with 10-plus holes of ocean frontage. Golfplan-Fream, Dale & Ramsey are in the midst of a run of four. The latest to open is Weihai Point Golf & Resort in the northeast Chinese province of Shandong.
Designed by Golfplan partner David Dale and developed by longtime Golfplan collaborators Kumho Asiana, Weihai Point Golf & Resort opened this fall on a remarkable, multi-pronged spit of land that juts into the Yellow Sea. Separating this anything-but-flat piece of terrain from sea level are sheer rock cliffs ranging from 30 and 100 feet high.
"For the golf junkie, the appeal of Weihai Point Golf & Resort is completely straightforward," says Dale. "It hits you square in the forehead when you see the pictures, or the instant you walk onto the 1st tee, where you confront a panoramic view of the property: 270 degrees of water and peninsula - golf, ocean and sky as far as the eye can see. At the 2nd tee, you're standing on a cliff-edge, fairly well mesmerized by the elevation and the crashing surf below. Holes 2 through 7 play right along this precipitous coastline, out to the end of the peninsula and back. Then you head out on another out-and-back on a different peninsular formation.
"That's what I call a 'dream site,' and I think we've built one of the world's great new golf courses at Weihai Point. The site surely had something to do with that result, but so did Golfplan."
Weihai Point is just one of four seaside courses that Santa Rosa, Calif.-based Golfplan (www.golfplan.com) has been commissioned to design in the last three years. In April 2008, the firm christened New Kuta GC on cliffs above Djimbaran Bay, in Bali, Indonesia. Weihai Point followed in late September, while Sea Links - nestled in the dunes along Vietnam's Binh Thuan coast - opens this month. Early 2009 will see the unveiling of Pine Beach Golf Links on the southwestern coast of South Korea - just across the Yellow Sea from Weihai.
The force behind Weihai Point Golf & Resort is the South Korea-based Kumho Asiana Group, for which Golfplan had already designed two projects: Asiana Country Club in 1989, and Jinju Country Club in 1996. This is the parent company of Asiana Airlines, which features daily flights between Seoul and Weihai, the hub of booming Shandong Province, some 300 miles east of Beijing.
Weihai Point was built on the site of an existing course that was completely erased, redesigned and rebuilt under Golfplan's direction. The finished product features everything you'd expect in a modern, world-class golf resort: a modernist clubhouse, golf hotel, and a suite of luxury villas - the development of which Golfplan's fully integrated land plan enabled.
What's unexpected is the golf course, which boasts 14 holes on the Yellow Sea and measures just 6,235 yards from the tips.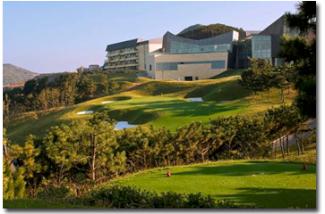 "To me, that is one of the true beauties of Weihai Point and its development. This was conceived as a resort golf course, not some punishing 7,600-yard monster in search of a tour event," says Dale, noting that Golfplan designs will host the 2009 Singapore Open (the Serapong Course at Sentosa Golf Club), the 2009 Malaysian Open (Saujana CC in Kuala Lumpur), and the 2009 Indonesian Open (New Kuta GC).

"We've built plenty of tournament-ready courses; it's a specialty of ours. But the owners at Weihai agreed with us that only a layout of 6,200 yards would fit comfortably on this extraordinary property. So that's what we built. And if there's a golfer out there who cannot find a way to enjoy 18 holes at Weihai Point, he should quit the game."

Golfplan's redesign was so comprehensive, "It's essentially a brand-new course from start to finish," said Dale, who re-imagined every tee complex, putting surface and bunker. Golfplan repositioned a dozen different holes closer to water's edge, instituted a more traditional out-and-back routing, and blasted away a major portion of the rock that ran down the peninsula's spine, thus creating the width (read: bail-out areas) these dramatic, risk-reward, seaside holes demanded.

The results include some exciting and strategic new holes. To wit:

• The 500-yard par-5 16th requires something approaching a 220-yard forced carry over the roiling sea to a cliff-guarded fairway beyond. The second landing area on this dogleg left sits some 50 feet below the first, but good players can fly it and reach the benched green in two. The putting surface sits at cliffside, guarded by an array of pot bunkers - six in all.

• The par-3 17th plays from an elevated tee to a very wide putting surface only 145 yards away. Bunkers guard the right and left front corners, and the ocean spreads out behind it. "It's very hard to stand on the tee here and not think no. 7 at Pebble Beach," Dale says. When the wind is blowing, it's very hard to stand on this tee, full-stop.

• Speaking of Pebble, Jack Nicklaus has called the approach at No. 8 "the greatest second shot in golf." "If there's a greatest first-shot category," Dale says, "I hereby submit for consideration the drive on No. 12 at Weihai Point." The drive across this stretch of open sea is, in a word, awe-inspiring - and the hole's just getting started, for the approach on this 410-yard par-4 plays uphill to a green complex where the putting surface is its own peninsula in the sky.

As course development numbers dwindle in North America, golf projects continue to be executed across Asia and Europe. Increasingly, as exhibited by projects such as Pine Beach, New Kuta, Sea Links and Weihai, the plum assignments are falling to such cosmopolitan architects as Golfplan-Fream, Dale & Ramsey, whose current projects can be found in 21 different countries worldwide.
For tee times and information, contact Weihei Point on +86-631-526-4600, or visit www.weihaipoint.com.

For more information on this and other projects from Golfplan-Fream, Dale & Ramsey, call 207/526.7190 or visit www.golfplan.com.