Another Nicklaus Course in Dominican Republic Underway
Frontier Golf is on track to finish the second of three planned Jack Nicklaus Signature courses by October 2008 in Cap Cana, Dominican Republic. The $1.5 billion residential golf project bills itself as "the World's Next Great Destination."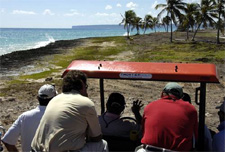 Located in the southeast corner of the Dominican Republic just 10 minutes from the Punta Cana International Airport, the Las Iguanas Course at Cap Cana is a key component in the development's 6,200-acre first phase. Cap Cana is probably the most ambitious residential project ever undertaken in the Caribbean. Its expected build-out occupies 30,000 acres, including more than 3 miles of virgin beaches, coral reefs and Caribbean vistas.
In executing Nicklaus Designs plans for Los Iguanas, Frontier Golf joins an team of international professionals on the development, including club operator Troon Golf. Construction of Las Iguanas began in June 2007 and is about 25 percent complete, according to Frontier Business Manager Nick Mazzella. Jack Nicklaus made his first site visit November 6. He inspected all 18 holes, set forth the design strategy and provided detailed sketches of six putting surfaces and surrounds.
Mazzella said developers anticipate opening Las Iguanas sometime in early 2009. For its part, Frontier expects to complete the course-construction portion of the estimated $40 million Las Iguanas project November 2008.
Working day to day with Nicklaus Senior Project Architect John Cope and Design Coordinator Mike MacInnes, Frontier Golf will move nearly 1 million cubic meters of rock at Las Iguanas. Some 35 percent of that total has been unearthed since June 2007.
"To say the rock has been a challenge would be an understatement," Mazzella said. "Of the 400,000 or so cubic meters we've already moved, we had to blast more than three-quarters of it. Although it is a slow process, the end result will produce a striking golf course. Las Iguanas will be highlighted by four holes with features along the ocean, though the entire back nine will afford expansive views of the sea."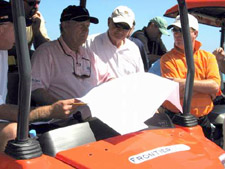 "Working in the Dominican Republic," noted Cope, "where the modern golf industry is just beginning to emerge, sometimes creates challenges that will test even the most seasoned golf course builders. Although we still have a long way to go at Las Iguanas, so far Frontier has shown great professionalism and enthusiasm for this project, and I could not be happier with the work that they have completed to date. They respect the design and know where everyone fits into the process."
Frontier Golf is based near Pittsburgh, Pa., with a Southeast Division operating out of Camden, S.C. But Frontier has as much experience working in the Caribbean as any contractor in golf. In addition to Royal St. Kitts Golf Club, where it pioneered the use of paspalum in this region, Frontier has built three Puerto Rican 18s and is now at work on Costa Isabela, a private 27-hole facility on the island as well. Frontier built the Los Suenos Marriott Ocean & Golf Resort in Costa Rica, and the firm is now renovating the famed White Witch course in Jamaica.
"We've been active in the Caribbean market for 10 years now" said Frontier President/CEO Nick Scigliano, who has personally overseen Las Iguanas construction. "We feel as if Las Iguanas at Cap Cana solidifies our position as the top course builder in the region. The work we've done to date, combined with our current workload at Cap Cana, is significant. We understand the Caribbean market, have taken our time in developing our presence here and feel as though that played a large part in our involvement here at Cap Cana. The Caribbean as a whole is a niche we have worked very hard to develop and are very proud of what we have accomplished."

Frontier started irrigation and drainage work shortly after the New Year. The company recently planted a 25-acre nursery with sprigs of Sea Isle Supreme Seashore Paspalum, imported via refrigerated containers from Georgia. The grass should be ready for a May harvest and will supply sprigs for the entire course on a staggered planting schedule.

The name Cap Cana derives from the French word "cap," meaning "cape," due to its location in the chain of capes known as "La Majagua," between Cabo Engaņo and Cabo San Rafael. The word "cana" refers to the large number of palms bearing the name that grow in abundance along the shores of this Caribbean isle.

The first Nicklaus design at Cap Cana, Punta Espada, debuted in mid-2006 and, just four months after opening, attained a lofty No. 77 position on Golf Digest's list of the 100 best courses outside the United States. The Champions Tour will hold an event there March 31-April 6, 2008.

In time there could be as many as six courses split between Cap Cana's main property and the exclusive (Donald) Trump at Cap Cana now under development. This project is taking shape on contiguous property, perched on a bluff 200 feet above the Nicklaus courses, on what the locals call the Farallon.

"We could not be happier to have the chance to work with the design team and ownership group at Cap Cana," Mazzella said. "This is a monumental project for Frontier Golf, the type of course any builder would aspire to. We're thrilled to have it in our portfolio."

Frontier Golf is one of golf's busiest, must trusted contractors. While Capa Cana and the new course at Edgewater, just south of Charlotte, are examples its new-build capabilities, Frontier is equally sought after in the renovation realm. It recently completed an award-winning "retro rebuild" of the Donald Ross design at The Old Course at Bedford Springs with architect Ron Forse. Frontier is also fresh off a redesign of the River Course at Kiawah Island Club, with Tom Fazio.
For more information about Frontier Golf, call 724/593-7491 or visit www.frontiergolf.com.