Another Stellar Year for Sorenstam
By: Tony Dear
Statisticians, slaves to figures and facts that they are, will tell you Annika Sorenstam wasn't quite the golfer in 2003 that she was in 2002. But what do they know?
Annika Sorenstam's haul of six individual trophies in 2003 was five shy of the 1 she claimed 12 months ago. There was a significant drop-off in earnings – $2.86 million compared with $2.03 million – and, in contrast to her total dominance of the year before, the Swede even allowed a handful of other players their moment in the limelight, most notably Se Ri Pak. The gaping 228-point margin by which Sorenstam had won the 2002 Rolex Player of the Year Award had shrunk to just 127 points in 2003, and her scoring average had "ballooned" a third of a stroke to 69.02.
Blimey, must have been a rough year.
Well, not really, no. Despite submitting figures a shade inferior to the previous year's, Sorenstam is adamant 2003 was her most memorable year ever.
"If you measure the success of a year by the amount of victories, then yes, last year was better," she admitted in October. "But the experiences I had this year are what's important and they make it even more special."
Chief among those experiences, and the one whose effects will surely be felt the longest, was her performance at the Bank of America Colonial Tournament on the PGA Tour in May. Fifty-eight years after the swaggering Babe Zaharias had teed it up with the guys, Sorenstam, in her desire to push her skills to their very limits, risked damaging not only her own reputation but that of women's golf in general by competing against some of the best players in the world.
A couple of 85's could have put the women's game back years, but instead Sorenstam covered herself in glory with gutsy rounds of 71 and 74. In the process, she surprised a number of knowing onlookers around the world who had quietly been anticipating her excruciating demise and, by caressing a 275-yard drive straight down the middle of the fairway off the first tee in round one, hit what golf writer Dan Jenkins called the "Shot of the Year." A number of players who originally had negative reactions to her appearance even came up to her after her second round to congratulate her.
Not surprisingly, Sorenstam regards that week as hugely significant. "Colonial was like a fairy tale," she remembers. "It was wonderful in so many ways. I learned a lot and experienced a lot. I didn't want it to end and I consider it the best learning experience I've ever had."
Just how good a learning experience it had been became abundantly clear during the remainder of the season. A week after the Colonial, she opened with a 62 at the Kellogg-Keebler Classic in Chicago, and eventually ran out a three-shot winner. The following week she completed the third leg of a career Grand Slam by taking the McDonald's LPGA Championship with the help of a second round 64. She lost a play-off to Rachel Teske at the next tournament, the Giant Eagle Classic, then finished one shot out of the three-way playoff for the U.S. Women's Open at the beginning of July. The following month, she completed a career Grand Slam by holding off Se Ri Pak to win the Weetabix British Open at Royal Lytham St. Annes.

In September, she won four points of a possible five in front of her home crowd at the Solheim Cup, helping Europe to its third victory in the event. So sweet was that triumph and the manner in which it occurred (Europe tromped the visitors 17 ½ – 10 ½), that Sorenstam referred to it as "the topper of all toppers." But the good times certainly didn't end there.

On October 20, having already earned twice as many qualifying points as was necessary, Sorenstam was inducted into the World Golf Hall of Fame in St. Augustine, Fla. Gaining the approval of those she respects was, she said, extremely important but she obviously didn't let it go to her head. A fortnight later she cruised to a nine-shot victory at the Mizuno Classic in Japan after three bogey-free rounds of 63, 63 and 66.

With a Grand Slam, 48 tour titles safely in the bag and Hall of Fame immortality guaranteed, fellow LPGA members might have hoped Sorenstam was on the point of calling it a day at the end of the year. She put an end to that discussion in November, however, by telling a press conference that she'd like to win a few more majors yet. "And anyway," she said, "I don't feel like I've reached my peak yet. This year hasn't completed my career or anything like that. It made me feel more satisfied with what I've achieved, but I'm still going to give it 100 percent next year."

It's difficult to see what more this golfing machine could possibly do to improve an already distinguished career. Win on the PGA Tour perhaps?

This story originally appeared in "A Year at St Andrews" – the St Andrews Links Trust's review of the year.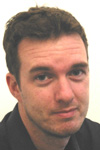 Tony Dear has been writing about golf for 11 years. A former assistant club pro from Sussex, England, Tony started out as a freelancer in 1992 before taking a staff writer's job at Fore!, a magazine based in Peterborough. As the magazine's chief instruction writer, it was Tony's job to compose instructional articles aimed at a youngish readership whose letters to the editor suggested they often got confused by technical jargon and theory. Tony bought his simple approach to teaching golf to the magazine, helping boost sales by 10,000 issues. As a result, he was nominated within the company and nationally for Young Writer of the Year awards.

From there, Tony moved 20 yards across the Emap UK office to join Today's Golfer. There, he was soon promoted to a senior editorial position, focusing on equipment, and became a significant part of a team that saw sales figures double within the magazine's first 12 months.

After three years at Emap UK, Tony was dragged kicking and screaming across the Atlantic by his American wife ('not really, I love it over here') and, after short spells in Phoenix and Denver, wound up in Seattle in May 2003. At present, he is freelancing for a number of print and online publications back in England including Today's Golfer, Golf World, Bogey, The Open Championship Magazine and Casino.com. He is also a contributing editor for Denver-based Colorado AvidGolfer.

Recent features include a look at Colorado's self proclaimed 'links' courses, an interview with Suzy Whaley, with whom he played nine holes ('and got soundly thrashed') and a 64-page instruction supplement for Today's Golfer.

Tony has authored three books in the last five years and been nominated for several specialist and young writers awards. 'Although I've never actually won one,' he admits. He is a member of the Northwest Golf Media Association and the Golf Travel Writers Association based in London.