Architect Larry Packard Passes Away at Age 101
Golf course architect Larry Packard has passed has away at his home at the age of 101. Born on November 15, 1912 - before the start of World War I, he worked on over 600 golf courses and was a former president of the American Society of Golf Course Architects.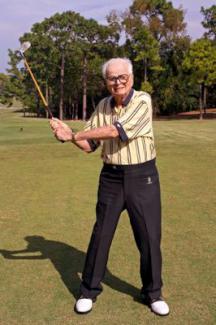 Larry Packard
For over 80 years, "like what you do" was Packard's motto. Born in Northampton, Mass., he became interested in landscape architecture in the 1930s when the United States was in the grip of the Great Depression. One particular job at Westover Field Air Base in his home state involved planting grass along two runways, each two miles long. This was an enormous undertaking as it was before the days of motorized seeding equipment. Packard's keen work drew attention from the government, which sent an informant to find out how he did it with such precision.

Another of Packard's assignments as a wartime architect was to devise a camouflage scheme for the airbase to prevent enemy attack. Packard did such a good job that even some of the American fighter pilots couldn't find the runways to land. His expertise was later sought out to design an airport in Chicago, known today as O'Hare, which is now the world's fourth busiest.
Packard's work eventually led from runways to fairways. After World War II, he began his career in golf course architecture with an entry-level position in the firm of Robert Bruce Harris, where he became friends with renowned architect Robert Trent Jones. During the next 50 years, Packard designed over 350 new golf courses and redesigned another 250. His signature touch was the "double-dogleg" hole. In addition to the United States, Packard designed courses in Egypt, Japan, China, South Korea, Guatemala and Costa Rica.
By 1970, Packard was elected president of the American Society of Golf Course Architects, where he made significant expansions to the membership and was instrumental in changing the face of the organization. That same year, Innisbrook Resort opened its gates, with Packard designing the first layout, the Island Course.
Packard subsequently designed the resort's other three courses: North, South and Copperhead, which annually hosts the PGA Tour's Valspar Championship. The time spent on Innisbrook's 900 acres led to Packard to make his home there.
On his 100th birthday in 2012 at the Innisbrook restaurant, which bears his name, Packard had some advice for those who asked about the secret to his longevity: "It's all about what you eat and what you put into your body," he said. "No salt; don't eat a lot of butter and fats. You also have to be happy, and make sure you like what you do every day."
"We are saddened to lose a titan of the golf industry and a cornerstone of the Innisbrook community," said Sheila C. Johnson, founder & CEO of Salamander Hotels & Resorts. "Larry was a truly wonderful and exceptionally accomplished person. He was, and still is, an inspiration to us all, and our thoughts are with his family at this time."
Packard leaves behind two children, Pamela Sharkey and Roger Packard, the latter of whom followed in his father's footsteps as a golf course architect.