Architect Updates Sweetgrass Golf Club
By: Paul Albanese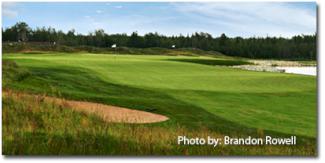 In the previous journal entries, we've taken Sweetgrass Golf Club from the initial walk-through to early schematics and implementation of the master plan, through construction and grow-in.
Mich., in July with a meaningful opening day ceremony. It was my pleasure to explain our design process and philosophy to the large contingent of tribal members - golfers and non-golfers. Describing the process of incorporating the tribal legends and culture into the design, I was very proud to have worked with the tribe on creating a golf course that the whole community could appreciate.
In this journal entry, I'd like to touch upon the final tweaks and adjustments that we made during the first year of play, and the things we anticipate needing adjustment in the future.

It is a well-known fact in the golf design world that most, if not every, golf course project needs some adjustments after it is open for play. Donald Ross, one of the most prolific and revered architects from the Golden Age of Design in the early part of the 20th century, was known to have worked on his hallmark design, Pinehurst, until his death. He was continually making changes and refinements that would improve the golf experience at Pinehurst.
Edges and Lines

Once the turf has grown in, it is much easier to see the edges and lines that are so important in golf design. As architects, our job is to create a golf hole that inspires. An inspirational golf hole is one that plays well from a golf standpoint, and also offers a visual dynamic that will appeal to a person's visual palette; i.e., we try to make the golf space look beautiful, too. In order to achieve both quality golf and visual character, we often rely on the lines and edges seen on a golf course, such as the edge created by the sand and turf, or the line demarcated by the light-green fairway and the darker roughs. Sometimes we want these lines to be clear and definitive, and other times we want them to blend - so you do not see a line at all.
Either way, it is not always easy to see these lines when everything is in dirt. And, even though we often make adjustments to these lines in the grow-in phase, many of them will only become more noticeable after the course has been played a few times.
Functionality

A large part of a golf course project has to do with pieces that golfers cannot see - or are not supposed to see, such as drainage, irrigation and cart paths. In today's golfing world, not every site, or every part of a site, is naturally functional for golf. So we have to create and install items that will enable us to create a golf hole.
Because golf courses are living and breathing entities, they are continually changing. And, one thing we have learned over the many years of designing golf courses, is that it is virtually impossible to foresee every minute detail on paper plans prior to the layout being done.

In our process, we endeavor to design the majority of the golf course on paper and by using computers, which lowers the cost of construction. But, in our design, we always account for some final details to be determined as we observe the course mature. For example, we will anticipate where the cart paths should go on most of the course; but if there is an area in question, we will often wait to see where the natural traffic patterns occur.

We utilize a similar philosophy for the irrigation and drainage. During the design and construction process, we will ensure that mainlines are installed throughout the course. Once the course is operating, there are many times when it becomes necessary to add some lateral pipes in order to keep a certain area maintainable. This will occur due to seasonal changes in the wind or subsurface ground conditions - which could not be known (without expensive testing) prior to the course being operational.

It makes more economic sense to wait and see where auxiliary items will be needed, versus simply guessing during the design, only to have many linear feet of drainage not be functional, or having to move irrigation lines.
Details

"God is in the Details" is a well-known quote in the design world coined by Mies van der Rohe. And it applies to golf architecture as well. Although golf is played on a space of more than 100 acres, the details of literally 1/10th of an inch can change the enjoyment factor of a course. I say fractions of an inch mainly because the height of cut for the turf can greatly alter the design intentions of the architect. We will often play the course after it is opened with the superintendent, and discuss the optimal height of cut for the greens, fairways and rough.

There are many examples in the golf world where green surfaces have been designed for a specific Stimpmeter range (how fast they roll), only to have the design be seen as poor because green heights were too high or low.

Also, the playability of a golf-hole design makes certain assumptions about the type of lie a golfer will be playing from either in the fairway or in the rough. If the heights of these turfs are too high or too low, the desired architectural effect will be lost. It is very important to discuss how the course will be maintained during the design process as well as test it out after the course is playable.

Slope & Rating

Once the golf course is open for play, it will be evaluated for an official USGA slope and rating. These two benchmarks are needed for the proper handicapping of the course, and it was our goal to have Sweetgrass considered a fair challenge for all levels of golfers, assuming everyone was playing from the correct teeing area. Sweetgrass's slope and rating from each tee came out very much as we anticipated; a testament to the whole team's efforts.

Feedback

Getting customer and player feedback from a design is critical to continually improving a facility. Our egos are not so big that we believe everything done on a project is perfect, so we appreciate getting the feedback from the customer - both our client's and golfers - to see what they like and don't like about a project. Fortunately for Sweetgrass, we are not finding much that golfers do not like at his point. But we will continually poll the customer to understand their perspective, which will enable us to best continue to improve the course.
About the Architect

Paul Albanese is a principal of Albanese & Lutzke, a member of the American Society of Golf Course Architects and Director of Golf Course Architecture at the Edinburgh College of Art in Scotland. He has worked previously on such notable projects as Timberstone in Iron Mountain, Mich., Mill Creek in Rochester, N.Y., Moose Ridge in South Lyon, Mich., Holiday Valley Resort in Ellicottville, N.Y, Tam-O-Shanter Country Club in West Bloomfield, Mich., and Traditions Golf Club in Edmond, Okla. For more information about Albanese & Lutzke, call 734/667-5150 or visit www.golf-designs.com.