Arnie Likes New Date for His Invitational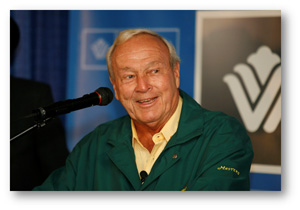 Host Arnold Palmer relishes new date, expects great field for 31st annual PGA Tour tournament that bears his name. He is nearing his 80th birthday and doesn't play golf quite as much as he used to, but Palmer still has a passion for the game, still wants to give back to it and still enjoys talking about it, especially when the tournament that bears his name is one of the topics.
"My mind never strays too far from the game. It's what I love, and it's something that has given me great joy and satisfaction through the years," Palmer said. "If you want to talk about golf, I'm always a willing participant. And that's true in regards to anything else related to golf, be it playing, watching or hosting a golf tournament."
On that last score, Palmer is pulling double duty in 2009. Having just served as host for the 50th Bob Hope Classic in Palm Desert, Calif., the legendary leader of Arnie's Army now is gearing up to host the 31st annual Arnold Palmer Invitational Presented by MasterCard. The invitational tournament contested at Palmer's Bay Hill Club & Lodge in Orlando has a new slot on the PGA Tour calendar, being played March 23-29 as the anchor tournament in the Tour's Florida swing. Palmer is expecting another strong field as the tournament moves to a position just two weeks before the Masters, the year's first major championship.
"I like the new dates, and it could make our field stronger, although we've always enjoyed having great fields," said Palmer, winner of 62 PGA Tour titles, including seven majors. "I think being two weeks before the Masters, that's something new to talk about, and I like it, obviously. I'm optimistic that we'll have a great event."
Could the new dates warrant a change in golf course setup? "I think we'll want to speed the greens up just slightly to give the guys a feel for faster greens," Palmer said. "Since we're closer to the Masters, we want to justify guys coming here to not only compete, but also to get ready to attack Augusta. By and large the course will be about the same as it has been, a very good test."
The Champion Course at Bay Hill, converted in 2007 to a par-70 layout, plays to 7,157 yards with fast fairways lined by three inches of rough, and firm greens. Tiger Woods is the defending champion after sinking a 25-foot birdie putt on the 72nd hole to score a one-stroke victory over Bart Bryant and win Palmer's tournament for the fifth time.
"It will be tough to top that finish," Palmer said enthusiastically, "but every year brings something pretty exciting. We have had great tournaments, and we are expecting another great one this year. The golf course is the best it's been in a long time. I'm pleased with how it's shaping up. I think the players will enjoy it."
One of the premier stops on the PGA Tour, the tournament traditionally draws one of the strongest fields in the world. In addition to Woods, still rehabbing his knee after reconstructive surgery last summer, other past champions who could return include Phil Mickelson, Ernie Els, Vijay Singh, Fred Couples, Kenny Perry, Chad Campbell, Tim Herron, Rod Pampling and Paul Goydos.
For tickets to the 2009 Arnold Palmer Invitational, visit www.arnoldpalmerinvitational.com or call 407/876-7774 or 866/764-4843. Tournament proceeds benefit the Arnold Palmer Hospital for Children and the Winnie Palmer Hospital for Women and Babies.