Around the World in Eighty Rounds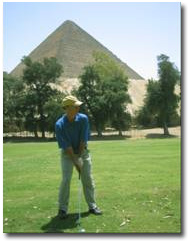 Just how far will a golfer go to get a decent tee time? It turns out that in David Wood's case, it'll be to the ends of the earth.

In the footsteps of the venerable Jules Verne, the veritable pole-to-pole adventures of Monty Python's Michael Palin, and the real-life travel tales of his literary hero Paul Theroux, author and funnyman David Wood brings you on a sometimes harrowing and often hilarious adventure in his soon-to-be-published book, "Around the World in Eighty Rounds!"

Seized by a desire to experience golf in its most pure form around the world, Wood decides to become a strange golfer in even stranger golfing lands. He sold his home in Seattle to finance the 11-month odyssey, traveling from the world's southernmost golf course in Ushuaia, Argentina, to the completion of his quest at the world's northernmost course in Tromso, Norway.
Wood faced every condition known to golfers on his 60,000-mile journey – from icy cold fairways in South America to choking hot courses in Australia. He piles up double-bogeys and finds golf in the unlikeliest of places. Through mountains, desert, jungle and more, Wood follows the sun, heading west on this giant water hazard in space, logging innumerable rides in an array of conveyances, and carrying only his trusty old Mizuno irons in one golf bag for companionship as he searches for the best that golf has to offer its fans around the globe.
Traveling overland whenever possible, an assortment of trains, planes, cars, vans, buses, ferries, jeeps, two camels suffering from extreme halitosis, and one ornery elephant with sore feet haul Wood through 26 countries in all. Unlike fellow globetrotter Phileas Fogg in Verne's classic novel, this trip isn't completed in just 80 days. But Wood does manage to cover quite a hefty bit of the earth's turf in exactly 80 rounds of golf.
Wood plays courses in every location and every condition, including the driest course in the world in Arica, Chile; the world's highest course in La Paz, Bolivia; and the hottest links on Earth in Alice Springs, smack dab in the middle of the Australian Outback.
Wood finds that the ancient game of Scottish shepherds has taken root in the communist lands of Laos, Vietnam, Russia and China, is thriving in the Kingdom of Nepal, and hungers for players in the dusty bush of poverty-stricken Zimbabwe. From the shadow of the Great Pyramids in Egypt to the tropical golf Eden of New Zealand, you'll be in awe of this simple game in all its locations.
The journey wasn't all tap-in pars and peaches and cream. This golfing odyssey finds Wood completely lost, hopelessly stranded, suffering horrific bouts of food poisoning and two cases of ghastly altitude sickness, not to mention three cases of the shanks, and enduring no less than threat of death in China. He's booted out of the Ukraine by armed guards in the middle of the night en route to Russia. He's caught in the middle of a nasty civil war in Nepal and violent uprisings in Bolivia. He disobeys U.S. State Department traveler warnings and visits Zimbabwe. He even meets the notorious Carlos Menhem, shady former president of Argentina, after a round in Buenos Aries. You'll be on the edge of your seat as Wood dares to endure the non-stop demolition derby of back roads, narrow mountain passes, crumbling railroad foundations and more. One man's search for golf was never this entertaining.
In addition to writing and speaking on travel, golf, and humor, author and comedian David Wood has made several appearances on "Late Night with David Letterman" as well as dozens of other television shows. Wood also writes a monthly humor column entitled "Off the Cuff" for Grand Tour Magazine. Colin Covert of the Minneapolis Star Tribune has called Wood "...a comedic brain surgeon. He opens up people's minds and tickles their brains." Jim Moore of the Seattle Post-Intelligencer said, "Wood is one terrific writer."
For more information about this peripatetic golfer and writer, contact David Wood at 2746 60th Ave. SW #1, Seattle, WA 98116, 206/938-7786; email: golferdw@juno.com; website address: www.davethespeaker.com.