'Around the World in Eighty Rounds' Gets Release Date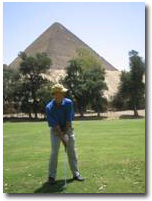 St. Martin's Press has agreed to purchase the worldwide rights to David Wood's new book, "Around the World in Eighty Rounds." The tentative publishing date is April 2008.

Over 11 months, with 60,000 miles logged, and 80 rounds of golf, Wood, a frequent Cybergolf contributor (see our Writer's Corner section), played golf in every continent except Antarctica while traveling from Ushuaia, Argentina, to Tromso, Norway – the world's southernmost and northernmost courses.

Wood (shown on a nine-hole course in front of the Great Pyramids of Egypt) also played on some of the world's most extreme golf courses: the highest course in La Paz, Bolivia, the driest course in Arica, Chile at the edge of the Atacama Desert, and the world's hottest course in Alice Springs, Australia. His favorite golfing locales were China's Spring City in Kunming; Royal Nepal in Katmandu; the Moscow Country Club in Russia; and Elephant Hills in Zimbabwe.
David traveled and golfed in 26 countries, including Chile, Argentina, Uruguay, Bolivia, New Zealand, Australia, Singapore, Indonesia, Malaysia, Thailand, Laos, Vietnam, China, India, Nepal, South Africa, Zimbabwe, Egypt, Turkey, Hungary, Russia, Finland and Norway.
Of his quest, Wood said, "I got lost, stranded, had bouts of food poisoning, altitude sickness, and was arrested and kicked out of the Ukraine at midnight while on a train journey to Russia. I got caught in the middle of a civil war in Nepal, trapped in violent uprisings by the peasants of Bolivia, and accidentally met the notorious Carlos Menhem, the former President of Argentina, after a round of golf in Buenos Aries. My life was even threatened while traveling in southern China. It wasn't exactly a golf weekend at Myrtle Beach!"
A former stand-up comedian with several appearances on "Late Night with David Letterman," Wood writes on golf and travel as well as public speaking. His hilarious and informative "Adventure Keynote" is in considerable demand at golf and corporate functions.