Asia Rising - Nine Bridges Ascends to No. 45 in World Rankings
The Club at Nine Bridges continues its climb up golf's list of top courses in the world. The Golfplan design on Juju Island, South Korea, a frequent host to the World Club Championship, has increased the visibility of Asian golf.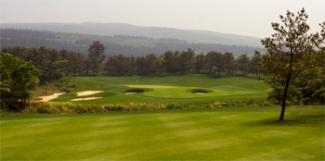 The 3rd green at Nine Bridges
Golf Magazine U.S. issued its new World Top 100 ranking as part of the September 2013 edition. The Club at Nine Bridges now sits at No. 45, up four places from the last balloting, in 2011. Designed by Santa Rosa, Calif.-based Golfplan, Nine Bridges opened in 2001, cracked Golf 's World Top 100 in 2005 (at No. 95), and has steadily moved up with each biennial ranking - jumping 50 places in eight years.

The Club at Nine Bridges remains one of the few Asian courses to have gained global top-100 standing, according to Golf Magazine. Only Japan's Hirono GC ranks higher (37). Other Asian designs so ranked include two more from Japan - Kawana (71), Tokyo GC (93) - and China's new Shanqin Bay (78).

Golf Digest, the other major player in world golf ranking, does not issue a global top 100. Instead, it issues a U.S. Top 100 and a Top 100 Outside the U.S. The latter ranking, issued in May 2012, lists The Club at Nine Bridges at No. 33, up 31 places from the previous balloting.
Both top-100 rankings are routinely dominated by U.S. and U.K. courses, plus a handful from Australia. Most ranked courses were built more than 80 years ago. Indeed, Nine Bridges and Shanqin Bay, opened in 2012, are the only Asian top 100 courses built in the modern era.

The architects responsible for these older, classic designs have all gone to the great drafting board in the sky. Golfplan Partner David Dale, the man responsible for Nine Bridges, is one of only eight living architects with designs ranked in Golf's World Top 50. The others are Tom Doak, Pete Dye, Ben Crenshaw/Bill Coore, Jack Nicklaus and Martin Hawtree.

"That's pretty good company and we're honored to keep it," said Dale. "I think many golf observers look at Nine Bridges - because it's in South Korea, and because it's still quite new - and wonder how good it really is. But I think we've all seen highly publicized, quite excellent courses appear on these top 100 lists somewhere at 75 or higher, and linger there for a couple years before falling off the list. Why? Because there are frankly so many great new courses. And there are just as many great, classic courses that have improved themselves and/or better exposed themselves to panelists.
"But Nine Bridges has done the opposite of fade away," added Dale. "It keeps moving up! And there are three big reasons for this, in my view: 1) We have been at work there for the last 10 years continually refining the strategic and aesthetic experience; 2) the club's hosting of the World Club Championship and other major events has exposed it to a global TV audience, tour pros and dozens of club champions and golf purists from other top 100-caliber private clubs; and 3) It really is that good."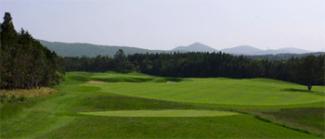 The 16th at Nine Bridges
Dale said Nine Bridges didn't buy into the idea of nonstop course improvement/evolution until it had been open several years. Since 2004, however, that work has been continual and methodical. Golfplan and the club already have further refinements mapped out through 2017, some in the environmental realm (turf reduction and fescue/native grass rehabilitation), though most aim to maximize the layout strategically.

"We'll be doing all the things many top 100 clubs are doing today - to maintain architectural integrity and improve upon it," Dale said. "This is not about visual appeal. It's about playing strategies, options and opportunities off the tee, from the approach areas . . . There are at least three green surfaces at Nine Bridges we have refined to expand cupping areas, for example. But we'll also be doing meticulous, small-bore projects, such as lowering by several centimeters the collars on certain approach lines. We've completed this on the greens at hole (Nos.) 2, 6, 8, 14, 15 & 16. We plan to do this at 4, 13, 17 & 18, so players can better access pins located just over bunkers.

"That sort of attention to detail is what all classic courses do today - restoring their courses while, at the same time, modernizing their facilities to keep up with the technology. Look at Oakmont [CC, outside Pittsburgh, Pennsylvania, USA; No. 6 on the Golf World Top 100]: There are more church pews in that famous bunker today, to maintain the impact of this hazard on modern tee shots - there were six 1935, eight in 1973 and 12 since 2005. We are deploying this same tactic at Nine Bridges, where we've placed new bunkers to impact big hitters but not club members."
The World Club Championship (WCC) is an amateur event pitting two-man teams in a three-day, Ryder Cup-style competition. Since 2002, the Club at Nine Bridges has hosted the event nine times (the Golf Channel will air the 2013 WCC on December 18 and 24; Sky Sports will reportedly air the broadcast around the same time). Nine Bridges also hosted the World Samsung Challenge, the event that introduced LPGA golf to Korea, from 2002 to '05.

"Our clients at Nine Bridges have certainly made it their business to expose the course to as many panelists as possible," Dale said, adding that Golfplan's next high-profile opening takes place this December, in the Philippines, with the unveiling of Anvaya Cove Golf & Sports Club. "This is partly an acknowledgement of their ambitions, but also that Asian courses simply aren't examined or rated with the same thoroughness as North American or British courses, be they old or new.

"We finessed this issue at Nine Bridges from the very outset by exposing the client to the historic, classic models we thought would work best on this piece of terrain," Dale noted. "We all made a pilgrimage to Scotland, to Gleneagles specifically. Our vision for Nine Bridges was simple: You might as well be in Perthshire, but for the kimchee and noodles at the turn."
About Golfplan

Golfplan has worked in 75 different countries around the world, completing more than 210 original courses and redesigns. Partners Dale and Kevin Ramsey are based out of Golfplan's U.S. headquarters in Santa Rosa, Calif. Since its founding in 1972, Golfplan has built some celebrated courses in some exotic locations:

• Pezula Golf Club, on South African cliffs overlooking the Indian Ocean;
• Bali Handara, New Kuta and Jagorawi, in the diverse tropical environments of Indonesia;
• Shore Gate, in America's storied sand barrens, just a few miles from Pine Valley and the boardwalks of Atlantic City, N.J.;
• The mountainous Bonari Kogen GC, Japan's top-rated resort course and recently rated No. 4 in the country;
• The Club at Nine Bridges, on Jeju Island, South Korea, currently ranked No. 45 on Golf's World Top 100;
• Qiandaohu Country Club, voted China's best new golf course for 2009; and • The Serapong Course at Sentosa Golf Club, home to the Singapore Open.
For more information, visit www.golfplan.com.