At Turnberry Cold Wind Blows & Hot Water Runs Deep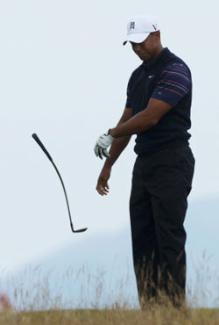 "Boys can't do anything right," she shrieked. No Banshee of Ayrshire ever wailed with greater ferocity.
Yes, I'm in the doghouse again with my girl Britt, this time for the unpardonable sin of being mesmerized by the grand theatre of this year's British Open. My drink got too warm and she got too cold, if you know what I mean. I tried to explain that Tom Watson leading the tournament at age 59 was as unlikely and compelling as a man winning the Tour de France on a unicycle, but she was having none of it. She gave me a "go-to-hell" look, slammed the bedroom door, and now Nola the cat gets my spot in bed, while I snuggle on the couch with Donatello the stuffed Ninja Turtle.
At least he understands me, and you will too, because although cold winds blew and hot water ran deep at Turnberry, there are enough story lines at this year's British Open to fill a modern-day Homeric epic.
Take Tom Watson for instance. Fifty-nine-year old men are supposed to fill ceremonial positions at the British Open, expounding on their past victories like Nestor the wise Greek advisor to King Agamemnon, while shooting 75-80, missing the cut, and toasting the eventual winner. But like Greg Norman last year, Watson drank deeply from the Fountain of Youth, fired a sparkling 70 in the teeth of an atypical wind at Turnberry, and now is 36 holes away from joining Harry Vardon as the only other six-time British Open champion.
"Lady Turnberry took off her gloves today, and she had some teeth," said Watson, who survived five bogeys on the front nine, yet rallied late to surge into a tie for the lead with Steve Marino at 5-under. "The outgoing nine was going to be tough," Watson explained, reflecting on how the wind blew in the complete opposite direction of the seasonal prevail. "But I never gave up hope because I knew the home nine would play easier because it was downwind." He closed with a 3-under 32 on the back.
Watson looks like the same player that won at Turnberry in both 1977 and at the 2003 Senior British Open. His formula is elementary, my dear Watson, (as Sherlock Holmes says): laser drives that split the fairways, crisp approaches to the greens, monster putts from distant zip codes, and thunderous applause from adoring fans. His two 60-foot birdie putts at 16 and 18 may have been "no-brainers," as he put it, but were also reminiscent of glory days we thought long past.
If Watson was Nestor, then Tiger Woods was Achilles, slamming clubs, scowling petulantly, snarling obscenities, and walking off the course to his first missed cut in a major since the 2006 U.S. Open at Winged Foot. After a few sour post-round comments, he disappeared from the course like a rabbit in a conjuring trick.
When Woods wins he is civil and obliging, and when he loses you'd do better to get quotes form a graven image. Just like at Muirfield in 2002 and at Bethpage this year, foul weather foils Woods. "I made mistakes," he said laconically, "and you have to have a clean card over your round in a major. Three holes in a row, I was plu-4," he harrumphed, recalling his terrible stretch through eight, nine, and 10, but a bogey on 12 and another double on 13 put the cut line out of reach even with two birdies in the closing four holes. "I thought I had to birdie the last four, but I couldn't."
In good weather Woods can land the ball on a quarter from 200 yards and leave a dime for change, but in wind he can't seem to swing a golf club, even though he has no problem throwing one. He threw at least two clubs, muttered at least two audible obscenities, and proved that all the Green Jackets and Claret Jugs in the world don't come with grace and class. When men think that they are God-like is when they become insufferable caricatures of vanity. Even Tiger Woods has limits, as we saw Friday and in the cold, rain, and wind at Bethpage last month. But although Tiger has limits, golf has no limits, and when Tiger finally fades, golf will still endure, as the leaderboard shows today.

Sandy Lyle is another cautionary tale of this Open, nearly hijacking this British Open with his boorish, brutish bromides against rival Colin Montgomerie, seen more as sour grapes for Monty's being awarded the European Ryder Cup captaincy, than some ancient grudge Lyle resurrected from a tournament many miles away and many years in the past. His intemperate remarks - calling Monty a "drama queen" and accusing him of cheating, even during what purported to be a left-handed apology - were the starter's pistol for all the Furies of the Golf Gods to come riding into Turnberry on their Steeds of Vengeance. Lyle went 75-73, missed cut, "please-let-the-door-hit-you-on-the-butt-as-you-hit-the-road," and will not be missed.

And he wonders why he is forgotten in every discussion of great champions. It's not the haggis at the Masters, it's the unsportsmanlike attitude.

The wind wreaked havoc on many players, not just Woods, and scores soared as the howl of the wind rose whole octaves from the gentle breeze of the day before. Just look at the difference a day makes:

Camilo Villegas - if there were a beautiful girl around, he'd be wearing her - went 66-73.

Ben Curtis: 65-80
Mike Weir: 67-78
Mark O'Meara: 67-77
Steve Stricker: 66-77
Miguel Angel Jimenez: 64-73
Paul Casey: 68-76

I'll take a breath and add Steve Surry, 69-81 and Terry Pilkadaris 68-82, but they're nobody who'll be missed.

There are still plenty of great stories, even beyond Watson's improbable renaissance. Mark Calcavecchia, "out of shape and on in years" as one of my Sports Illustrated colleagues put it, is one shot behind the leaders, though 20 years removed from his 1989 triumph at Royal Troon. His beer and Aleve diet will be all the rage among portly golfers world-wide should he reprise his only major victory.

Retief Goosen, once the "Iron Goose" and the "Dockers-wearing zombie" but who hasn't been seen or heard from at a major since there were Goose feathers all over the front nine of Pinehurst at the final round of the '05 U.S. Open, is only two shots back, along with three-time major winner Vijay Singh.

"You have to keep it on the short stuff even if you have to hit a 2-iron into the green," Goosen observed, knowing full well that patience - the same virtue Watson valued in his press conference - is the order of the day in major championship golf, especially in the crucible conditions seen Friday. "Moreover, the R&A went all out with the pin positions," Goosen continued, "because every flag was in its toughest position on every green."

Lee Westwood and Stewart Cink, both searching for their first major, lead a group of players at 2-under. Eight players are at 1-under, including former major champions Angel Cabrera and Jim Furyk, young heartthrobs Villegas and Sergio Garcia and everybody's favorite chicken-fried southerner, Boo Weekley.

So what's not to like, even though Woods is back aboard his yacht called Privacy? A 59-year-old man is leading the Open with a chance to match timeless Harry Vardon in victories. Sergio Garcia - a magnet for Shakespearean drama in majors - is so eager to take the albatross from around his neck, he'll wear a scuba suit or spandex and play with a rake and an Easter egg if it means kissing the Claret Jug come Sunday. Move the cup a micron in either direction and he - not Padraig Harrington - would have won the 2007 British Open and the 2008 PGA Championship.

Moreover, unheralded Steve Marino would not have played but for Phil Mickelson withdrawing late. Now the Oklahoman, who has showed steady improvement this year with a T-2 at Colonial, a T-5 at New Orleans, and a T-7 at the Sony, could break through at the biggest moment on the grandest stage.

There are several major champions lurking within a few shots. Along with them, a bumper crop of feisty young guns also know they are 36 holes away from becoming a legend and realizing a life-long dream that makes all those long, cold, lonely days on the practice range worth the meticulous work ethic.

You know what? Even without Britt, the view from the couch looks pretty good, for once. Hey Donatello, if you agree, pass the chips and salsa, I'll make the margaritas.

If I know Britt, that'll get her out here faster than you can say, "Frozen, no salt."


Since launching his first golf writing website in 2004, http://www.jayflemma.thegolfspace.com, Jay Flemma's comparative analysis of golf designs and knowledge of golf course architecture and golf travel have garnered wide industry respect. In researching his book on America's great public golf courses (and whether they're worth the money), Jay, an associate editor of Cybergolf, has played over 220 nationally ranked public golf courses in 37 different states. Jay has played about 1,649,000 yards of golf - or roughly 938 miles. His pieces on travel and architecture appear in Golf Observer (www.golfobserver.com), Cybergolf and other print magazines. When not researching golf courses for design, value and excitement, Jay is an entertainment, copyright, Internet and trademark lawyer and an Entertainment and Internet Law professor in Manhattan. His clients have been nominated for Grammy and Emmy awards, won a Sundance Film Festival Best Director award, performed on stage and screen, and designed pop art for museums and collectors. Jay lives in Forest Hills, N.Y., and is fiercely loyal to his alma maters, Deerfield Academy in Massachusetts and Trinity College in Connecticut.

Maggie MacAlpine is a recent cum laude graduate of Trinity College, a double major in History and English Literature and Creative Writing. Maggie is currently an intern in Jay Flemma's Literary Society/Writing Circle.