Atlantic City: Where Gaming & Golf Coexist Nicely
By: John Torsiello
Casinos galore, their lights dancing out across the famous Boardwalk, good beaches with warm waters and nightlife, that's Atlantic City, baby.
Okay, it's not Vegas, but Atlantic City has its own cache among jet-setters and gamblers. For Easterners, AC is an easily doable alternative to flying out to the Nevada desert, as the New Jersey hotspot is just a two- to four-hour drive from nearby metropolitan areas.

And, hey, AC has lots of great golf, several of the best courses opening up within the last decade or so with tourism gurus and local civic leaders trying to parlay golf, gaming and entertainment into a big winner. It hasn't really worked out that way, as most casinos haven't come on board to promote the area's golf, perhaps fearful of anything that will take the paying customer away from the slots, blackjack tables and roulette wheels.

Still, you can build a fun stay here around gaming and golf. There are several outfits that will customize a stay-and-play deal, all for pretty reasonable prices. Late-summer and fall are good times to check out AC, as the crowds have dwindled a bit and the courses are usually in nice shape.

I've had the good luck (can't stay away from those gambling puns) to have checked out most of the area's courses and there are some pretty sweet tracks here. I've headquartered a few recent trips at the Tropicana, a clean, not-too-glitzy mid-level casino located at the northern end of the strip of casinos and away from the throngs that can overwhelm the Boardwalk. (Tip: Spend some time in the top-floor workout area. It has great views of the ocean and early morning sunrises.)

In all there are 30 courses, some storied, some new, in the area. Here's the skinny on some of my favorites.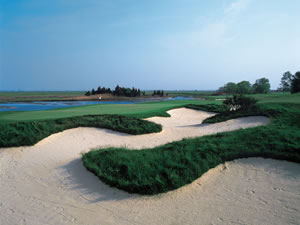 14th hole Atlantic City Country Club
Atlantic City Country Club

Once, you couldn't play Atlantic City Country Club without an invite from a member or spending your way on as a high roller. But all that changed when the club was purchased from the Fraser family by Park Place Entertainment. Tom Doak supervised a complete renovation of the layout, while maintaining the course's traditions of fast and firm greens and views of the Atlantic City skyline only minutes away.

For the first several years of ownership by Park Place Entertainment and Caesars Entertainment, the ACCC operated as a resort course. But in 2005, under the current ownership of the world's largest gaming company, Harrah's Entertainment, the course was open on a limited basis to the general public for daily-fee play.

Atlantic City CC is one sweet track with tons of history. Founded in 1897, it enjoys the distinction of being the acknowledged "Birthplace of the Birdie" and also where the term "Eagle" was coined . . . just ask a staff member and he or she will confirm this. Six USGA championships have been played at the club. In fact, the club's professional at the time, Johnny J. McDermott, became the first American to win the U.S. Open in 1911 at the tender age of 19. He followed up that win at Chicago Golf Club with another victory in the Open on the par-74 Country Club of Buffalo in 1912, when he became the first player to ever shoot under par (2-under).

John Reid, Willie Park Jr., Howard C. Toomey and William S. Flynn, in addition to Doak, laid hands to ACCC's design. Only 6,577 yards from the tips, the par-70 boasts a 128 slope and 72.0 course rating, an indication of the demands the track puts on proper placement off the tees and short-game management on and around the difficult greens.

When I played ACCC, the wind was blowing hard off the ocean, as it often does here, and it was all I could do to find the rather narrow fairways and small greens. But the weather didn't lessen my enjoyment of this classic. There really is a tangible sense of timelessness here and the routing holds up to today's equipment.
Seaview Golf Resort

I've had the pleasure of staying at Seaview Golf Resort, a massive 297-room complex in Absecon with two championship tracks - the Bay and Pines courses. The links-style Bay Course hosted the 1942 PGA won by Sam Snead and was designed by Donald Ross.

Bay is loaded with superb holes and, like Atlantic City CC, offers cool views of the Atlantic City skyline across the bay. Several of the holes either end or start near the bay or run alongside it. While not overly long at 6,247 yards from the tips, the layout is a good test of course management and proper club selection. Tall fescue grasses line many of the fairways during the warm months and there are ample bunkers and occasional wetlands or water to catch the wayward shot.

The brainchild of the design team of Toomey and Flynn, the Pines was carved from woodlands surrounding the resort and features tight fairways and well-protected landing areas. Longer (6,731 yards from the tips) than Bay, Pines demands precision off the tee and steady approaches to its ample greens. Three of the four par-5s can be reached in two by big hitters, but there are five par-4s - including the monstrous 468-yard 17th - that stretch over 400 yards. The back side features three par-3s, including back-to-back breakers on 15 and 16, both of which measure well over 200 yards.

When you are done with golf, make sure you hang out in the resort's tap room in the hotel. It's got a wonderful feel to it and lots of photos showing the greats who have visited the resort and played the courses.
Links at Brigantine Beach

The Links at Brigantine Beach is yet another historic course designed by Wayne Stiles and John Van Kleek, who created some fine courses at the turn of the 20th Century. Brigantine has a sense of being a Scottish links, with berms, gently rolling fairways that are almost devoid of trees, tall grasses, mounds and smallish, tricky greens typical of UK seaside courses.

Like ACCC and Seaview, Brigantine, opened in 1927, has its own rich golf history. The locals told me that Walter Hagen and Harry Vardon played at Brigantine to acquire a feel for links courses before setting sail to play in Scotland at the British Open.
Blue Heron Pines Golf Club

I've always felt that Blue Heron Pines Golf Club in Cologne is one of Jersey architect Stephen Kay's best designs. It takes full advantage of the natural beauty of the area's pinelands and is a pleasing blend of short and long par-4s, solid par-5s - several of which are reachable in two by big boppers, and great par-3s. There are numerous bunkers that come into play both off the tee and on approach shots to the mid-sized greens.
Sand Barrens Golf Club

Designed by Dana Fry of Hurzdan/Fry, Sand Barrens is another of the better newer tracks to open. Fry said he designed Sand Barrens to be reminiscent of Pine Valley Golf Club - with fairways and greens surrounded by monstrous waste areas, evergreens and oak trees - when visiting the site in preparation for construction. Although the gleaming white bunkers pose challenges for even the best players, Fry designed a course that has plenty of room to land the ball off the tee and large, receptive greens, unlike THE Pine Valley, which is okay because of the large amount of tourist play the course receives.

Harbor Pines Golf Club

One of my favorites in the AC area is Harbor Pines Golf Club in Egg Harbor Township. It's a rather open layout that has plenty of water and bunkers. The track just feels good and looks pleasing to my eye.

No. 12 is one of the most photographed holes in New Jersey and visually a stunner. The tee shot on this 339-yard par-4 must clear a large pond and land in a small fairway that sits before the green. The putting surface is protected by bunkers all around and water to the rear. You can make birdie or double-bogey here, depending upon your accuracy and length off the tee. It's an example of a great, short par-4.

Sea Oaks Golf Club

This course became a destination two years ago with the opening of The Inn at Sea Oaks. The Inn has 31 units in all, 17 "standard rooms," and the rest either executive or master suites.

The course at Sea Oaks is a Ray Hearn design that fits naturally into the environment, with sandy waste areas, tall pines and water incorporated into a thinking golfer's track.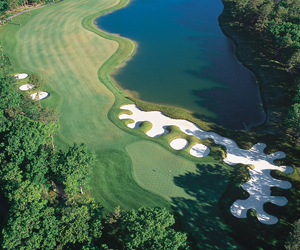 Shore Gate
Twisted Dune Golf Club

Twisted Dune in Egg Harbor Township is another links-style course that was plopped down in a residential area, but it works for me. The course was designed by Archie Struthers. It winds across a "twisted" landscape, involving dramatic elevation changes and contoured fairways. There are over 100 bunkers on this beast, but the fairways are wide and the greens accepting of approach shots.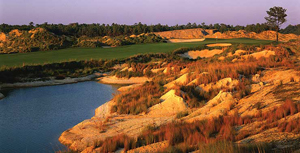 Twisted Dune
Shore Gate Golf Club

One more to throw at you. Shore Gate Golf Club in Oceanview is both interesting and intimidating. The Ron Fream-David Dale creation has deep greenside bunkers capped off by chocolate-drop mounding that were often disconcerting whenever I stood on the fairways and prepared to hit approach shots.

Atlantic City is a place where you can go with your buddies or take the family for a few days or a week. There are more than 100 retail outlets on the Boardwalk, a Steel Pier amusement park for the kids, as well as an IMAX theater. The food in the casinos is acceptable and sometimes quite good. Prices vary wildly. There are some decent restaurants and pubs off the Boardwalk, but a few seedy ones as well that you might want to avoid.

Here are some websites to check out if you want to head for Atlantic City:

www.atlanticcity.net
www.atlanticcitygolf.net
www.atlantic-city-online.com
www.golfac.com
www.atlanticcitygolftrips.com
www.wildwoodNJ.com
John Torsiello is an editor/writer living in Connecticut. He has written extensively about all aspects of the golf industry for a number of national and regional publications. He is a regular contributor to "Golf Course Industry," "Lawn and Landscape," "Golfing" and "Fairway Living" magazines as well as various online publications. He has strong, ongoing relationships with industry professionals and has worked closely with course owners, architects, developers, course superintendents and general managers around the country. He has won a number of awards for his writing, including first place from the Turf and Ornamental Communicators Association for a piece that appeared in "Golf Course Industry" magazine.