Audubon Trail Becomes Economic Engine for Louisiana
By: Steve Habel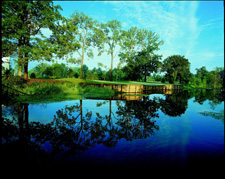 With portions of its coastline underwater, and thousands of its populous still without homes and the services most Americans take for granted after point-blank hits from Hurricanes Katrina and Rita in 2005, it would have been easy for the government of Louisiana to put golf - and the pursuit of all recreational activities - on the back burner.
But the powers-that-be, especially Louisiana Lt. Governor Mitch Landrieu, knew that recreation and the tourism dollars such visits could bring would be crucial to helping put the state back on its feet. Landrieu and his team pushed forward with the development and refinement of the Audubon Golf Trail in the wake of these disasters. And the Pelican State's coffers - not to mention a whole lot of civic pride - have benefited from those efforts.
"Tourism initiatives like the Audubon Golf Trail are helping us keep Louisiana a first-class destination, a place where visitors and residents alike will want to work, live and play," Landrieu said.
According to a report prepared for the Louisiana Golf Alliance by SRI International and released in 2007, the size of Louisiana's direct golf economy in 2006 was approximately $446 million. Golf brings visitors to the state, drives new construction and residential development, generates retail sales and creates demand for a myriad of goods and services through the operation of the golf facilities themselves.
When the total economic impact of these golf-related activities is calculated, Louisiana's golf industry generated approximately $810 million of direct, indirect and induced economic output, $275 million of wage income and 11,100 jobs in 2006.
Louisiana's largest revenue-generating industries are agriculture, food and forestry, oil and gas, chemicals and advanced materials, professional and technical services, and entertainment and tourism.
To put the size of Louisiana's golf economy in context, the direct revenues generated by its golf industry ($446 million) exceeded or were comparable to the revenue generated by other significant manufacturing industries in the state: seafood preparation and packaging ($468 million), plastics packaging ($334 million), and oil and gas field machinery and equipment ($490 million).

Helping to push the game and the tourist dollars it generates in Louisiana is the Audubon Golf Trail, a consortium of 12 courses under the tourism umbrella of the Office of the Lt. Governor. The Trail provides residents and visitors with high-quality golf courses around the state.

The program began with six charter courses and expanded to twice that number by July 1, 2008. While the overall decline in post-Katrina tourism levels has dampened revenues generated by the Royal & Ancient Game, SRI estimates that golf-related tourism spending in Louisiana was $67.3 million in 2006. This is based on an estimated 180,000 golf trips taken annually in the state and an average of $374 spent per trip by each visitor.

Upon a recent trip to the Pelican State, I toured five of the Audubon Trail's courses - two of which (the TPC Louisiana and the Golf Course at Audubon Park, both in or near New Orleans) were directly and drastically impacted by Hurricane Katrina; one (OakWing in Alexandria) that was not affected at all by the storms and has thrived in the post-storm era; and two others (the Atchafalaya at Idlewild in Patterson and the Wetlands in Lafayette) that have debuted since the devastation.

After this visit, I'm happy to report that golf is alive, well and thriving in the great state of Louisiana.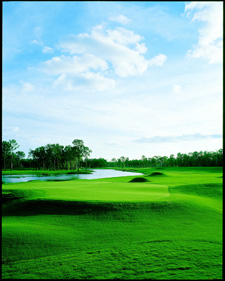 A Central Louisiana Jewel

OakWing, which opened in September 2002, offers a unique Jim Lipe design on the former site of England Air Force Base. This 7,043-yard links-style track blends the natural beauty of Louisiana bayous, lakes and towering tree-lined fairways with the challenge of rolling hills and undulating greens. Truly a course for all skills, OakWing's five sets of tees offer a challenge for everyone from professionals to amateurs, and the risk-reward on every hole require everyone to play at their best. Centrally located in Alexandria, the course is only minutes from the main interstate and is hard against the international airport that borders the track.

Rounds at OakWing increased by nearly 3% in 2006 from '05 (from 23,984 to 23,322), but decreased to 21,963 rounds (a 9% drop) in 2007. "You want to play the course a couple of times to get to know where things are," OakWing head pro Clayton Woods said, "but straight hitters always play well here."

OakWing is a good course with a nice layout and a stretch of holes (on the tough par-4 13th, the easier-than-it-looks par-5 14th and the visually-demanding par-4 15th) that will be remembered and should be experienced.

New & Impressive in Cajun Country

Our second stop was the Wetlands Golf Course, which opened in April 2006 and is owned and operated by the city of Lafayette. Designed by architect Frank Burandt, the track not only showcases the region's many lakes and wetland areas, it also features abundant flora, native grasses and wildflowers.

When the Wetlands earned admission into the Audubon Golf Trail in 2007, Lafayette City-Parish President Joey Durel said the designation would make a difference to Lafayette and the surrounding area. "We appreciate the help Lt. Governor Landrieu and his office gave us to get to the level of an Audubon Trail Golf Course," Durel said. "It's another opportunity to market Acadiana to the rest of the country. We're trying to rebuild tourism in the state after Hurricanes Katrina and Rita, and this will help fuel those efforts."

In its first full year in operation in 2007, the Wetlands continued its impressive opening stride, hosting more than 20 tournaments during the year. For its first full year, the course roughly kept pace with its 2006 opening, with golfers playing just over 28,000 rounds. Revenue generated by facility amounted to $985,000.

Two of the more notable events included the LPGA Louisiana Pelican Classic, where 150 players competed for spots on the LPGA Tour, and a qualifying tournament for the Nationwide Chitamacha Open. Local-themed events included a summer junior clinic (attended by 75 youngsters), a Parent-Child Invitational, a Ladies Invitational and the Fall Four Ball, a men's invitational.

The Wetlands is a good test of golf and the course is manned by an extraordinary staff. The two-year-old track has few trees, but 11 of its 18 holes are imperiled by water hazards and wind is always a factor. Hole Nos. 9 and 18 feature a double-green that ends at the clubhouse for dramatic finishes.

Top Quality in the Swampland

My third stop brought me to the Atchafalaya at Idlewild in Patterson. For roughly two decades, a group of St. Mary Parish golf enthusiasts struggled to put a quality course in the area, eventually overcoming a long series of dead ends. Then, Hurricane Katrina delayed its opening, and Hurricane Rita forced it to close briefly after just a week of play.

The Atchafalaya at Idlewild has had to overcome a lot, but South Louisiana golfers and visitors can be thankful it did. Located just below Patterson, the Atchafalaya is a strikingly fun test.

Although Atchafalaya's site was flat, part of it had an abundance of mature trees. The result is a course that looks, and plays, amazingly mature. And the finished product includes more than golf as Atchafalaya is more than the course's name - it's also the theme.

"This golf course is unique in that it is landscaped exclusively with plants native to the Atchafalaya Basin," said Rudy Sparks, who chairs the seven-person commission overseeing the facility. "We were able to actually collect different specimens and raise them for two or three years and planted about 700 different trees and shrubs and aquatic plants out on the golf course. We have about 50 different species of trees and shrubs and aquatic plants that occur naturally in the Atchafalaya Basin, which will be pretty neat to have all of that at one site."

Rounds at The Atchafalaya increased by nearly 8% in 2007 (22,810) from its opening year in 2006 (20,998).

Instead of trying to hide the course's irrigation pump house, which overlooks the water by the eighth tee, it was built to look like a trapper's wooden cabin, complete with rocking chairs on the front porch. Its five tee sets are named for Atchafalaya animals - gator, bear, eagle, owl and otter - and each hole is named for some aspect of the basin, with signage to explain the significance.

The Atchafalaya at Idlewild stretches 7,536 yards from the tips. It also boasts five lakes and 10 native wetland areas that encompass nearly 40 acres of the 175-acre layout. More than a half-million yards of native soil were used in shaping dramatic elevations, which now offer breathtaking vistas. The course also sports a par-5 shorter than one of the par-4s; a par-5 completely surrounded by sand; and a tough-as-nails finisher that the superintendent said was nominated as one of the hardest closing holes in golf.

The Big Easy is Not, Really

Day 4 of the journey sent me to New Orleans, where our group played two courses that were about as far apart on the golf spectrum as you can get. The day began with a two-hour rain storm that delayed our start on the restored TPC Louisiana track in suburban Avondale. Situated on 250 acres across the Mississippi River from New Orleans, TPC Louisiana - home of the PGA Tour's Zurich Classic - was designed by Pete Dye, a man who knows how to turn a site with limited topography into a compelling test of golf.

Dye worked in conjunction with Steve Elkington and Louisiana native Kelly Gibson, both Tour players, to create a 7,520-yard, par-72 track that sits low on the property and utilizes natural vegetation, including numerous cypress trees. One of the most attractive features to the property is that it's self-contained, surrounded on three sides by drainage canals.

TPC Louisiana sustained significant damage from Katrina, with widespread flooding and thousands of downed trees forcing the closure of the property. In all, more than 2,000 trees were lost, with 25-30 acres of fairway turf in need of repair. The course, named by Golf Digest as the "No. 4 Best Upscale Public Golf Course" when it opened in 2004, was already undergoing competitive enhancements when the storm hit.

In 2007, the only full year of operations at the TPC Louisiana, 27,785 rounds were played at the course. In May of this year alone, 3,661 rounds were tallied, the most since May 2005 and the second-best month in the course's history.

Playing Dye's gem and walking in the footsteps of the pros while thinking about all the work that had to be done to bring the course back after the disaster was quite humbling, but not as much as the fact that the course features four par-4s of 480 yards or longer.

That afternoon we raced into the city's Garden District and enjoyed 18 holes at the beautiful and historic course at Audubon Park. The Denis Griffiths design features contoured fairways, manicured TifEagle greens, four lagoons and exquisite landscaping on a 4,220-yard layout set among 100-year-old oak trees.

The Golf Course at Audubon Park has enjoyed increases in rounds played in each of the three years (2005-07) it has been part of the Audubon Golf Trail, with 36,176 rounds in 2007. That number ranks second only to Olde Oaks, a 27-hole facility in Shreveport, among all the Trail's courses.

Golf has been played at Audubon since 1898. The world-famous Audubon Zoo sits right across the street, and it's the country's only course accessible by streetcar. What a great way to decompress after four days of tough but fun golf.
More details about these courses and others on Louisiana's Audubon Golf Trail, visit http://www.audubontrail.com/.
Steve Habel is an Austin, Texas-based journalist and Cybergolf's Southwest Correspondent. Since 1990, he has traveled around the globe covering news, business and sports assignments for various news bureaus, newspapers, magazines and websites. He also contributes to Business District magazine in Austin as managing editor and is the Texas football beat writer and a contributing editor for Horns Illustrated, the Austin-based magazine for University of Texas sports. Habel writes a weekly golf column for The River Cities Tribune in Marble Falls, Texas, and is a member of the Texas Golf Writers' Association.