Austin Country Club Review
By: Jay Flemma
"Take your bottom lip, and pull it up over your head." That was how comedian Bill Cosby once said that Carol Burnett described labor pains, but it also depicts how it feels to flush a 4-up lead in golf to the drummer of a punk rock/top-40 band, but I'm getting ahead of myself.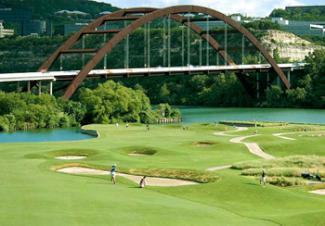 Austin CC's Elevated 3d Tee Overlooks the Lake
The stars were still bright when Gary Wiseman's Escalade pulled into the Quik-E-Mart so we could get a cappuccino. Still shaking out the cobwebs of a waking hour that would have been indecent to an archangel and was downright criminal to mortals, we sped away from Denton towards Austin as the first gray streaks broke the eastern horizon. They illuminated mile after mile of barren flatlands northwest of the Texas Hill Country, and we couldn't help be awestruck by the boundlessness, profound solitude of the landscape and the raw, prismatic ruby light of dawn.
Yet as we wheeled our way southeast, the light grew inexorably brighter and the terrain more varied and compelling. The Hill Country is rightfully famous for its splendor. The garden of Texas, it flowers brightly and proudly, even in winter's chill. There is nothing in Texas that quite matches it. Even Texans marvel at it, which is remarkable. It's hard to impress Texans.

Many of Texas's most celebrated courses are in the region. But it was only fitting that Pete Dye, the greatest American golf architect for more than a generation, would create a masterpiece at Austin Country Club that would take advantage of some of the most arresting and diverse terrain found anywhere in the Lone Star State. Now in its third incarnation, Austin Country Club is regarded by some as arguably the best private course in Texas. First built in 1899 and occupying land on 41st Street, the course moved to Riverside Drive until 1984, when the members bought a 180-acre plot bordering Lake Austin on the north side of town, and set Dye to his cunning devices.
The mid-'80s were the apex of the target-golf craze, and Dye was riding the crest of a high and unstoppable wave after the runaway success of TPC Sawgrass. But with every client wanting a harder course - because television made it seem that harder was better - it was a minor miracle that Austin CC is as great a design as it is. The terrain is severe, with canyons, a lake and woodlands. Anyone could have laid out a devastatingly penal golf course. But back then, only Dye could weave brilliant yet subtle strategies like alternating shot requirements over a course that had every natural hazard conceivable.

As Dye learned in the U.K., the best holes play into the teeth of the natural features. Dye skillfully used the diagonal angles of the canyon for some holes, recreated some excellent holes from Sawgrass on others, and used the elevation changes as defenses for the remainder.
The course isn't subtle. It doesn't tantalizingly tempt you. You see the challenges ahead and they are well defined and penal. One pundit opined that the property was so severe only a severe design could result. He also called the lake holes "forgettable."

That's completely wrong. The lakeside holes are the best; they are both stunning and subtly strategic, with cunning alternate-shot requirements. Most agree that the short but dangerous par-5 third hole is reminiscent of 16 at Sawgrass. The short par-4 fourth is a Cape hole, which Dye has used to great effect at several courses like Sawgrass and PGA Golf Club in Port St. Lucie, Fla. Six and seven play like 14 and 15 at Sawgrass. Back-to-back holes with alternate-shot flair, the par-4 sixth is fade off the tee, draw into the green while the par-5 fifth is draw off the tee, fade into the green.

All of the par-3s have forced carries and treacherous hazards, especially the second (all carry over water), and the eighth (all carry over a gaping chasm). Only the 16th plays downhill, and is guarded by a waste bunker.
The course changes complexion completely on the back nine, as Deer Creek Canyon winds its sinuous way across 11, 12, and 13. These holes are not for the faint of heart or rickety of swing. At 11, dubbed "Earth's Edge," it's a forced carry over the canyon on the drive, then a hair-raising approach as the world literally falls away along the left all the way to the green. The right, of course, is protected by a pot bunker, so bailing out is unwise. If you land in the bunker the recovery shot is played - you guessed it - right towards the canyon that you were trying to avoid in the first place.

By the way, guess which way the green rolls. Right first time! Toward the canyon.
Even though the course's penal aspects make it so you're on high alert all day, the wild ride - a golf version of a bucking bronco - is refreshing compared to the majority of Texas courses. Every hole shows you something different.

Eighteen is a summation of all that came before. A brutishly long par-4 (480 tips, 460 next box down), it involves a drive threaded between unplayable jungle left and a chasm with a pot bunker on the right. The approach calls for a draw with one last chance to drop a Pro-V1 in the canyon on the left to end the day . . . which is exactly what I did to lose my match to Gary.
Now, I just got done telling you the course is a pitiless enemy and no tears or screams will move its hard heart, and that when players break they break hard and jagged. What does your idiot author go and do? Four-up after six holes and on the verge of going 5-up after seven, he thinks to himself, "Once I win this hole, I can cruise home."

That did it. That was the starter's pistol for all the Furies of the Sports Gods to come riding into Austin on their Steeds of Vengeance.

Sweet Lord in Heaven, did I choke the rest of the way. Sherman, the French bulldog who is the mascot of Gary's band, "Bowling for Soup," could have played better then I did. On the back nine my swing looked like "Shaq-Fu trying to break the backboard" instead of my normal "man swatting hornets in a phone booth." Every time Gary opened the door for me, I promptly banged my head on the jamb. I found all the trouble and at the worst possible time. Oh well, Gary, our playing partner, the affable oilman Wyatt Halliday (a 2 handicap) and I had a great day nonetheless, enjoying the club that legendary instructor Harvey Pennick and two-time Masters' champion Ben Crenshaw called home. In Harvey's case, he was at A.C.C. for 82 years, from a caddie as a kid to head pro emeritus in his winter years.
So for one more glorious day, Gary, Wyatt, and I shared "The Sportlight": that warm feeling of camaraderie during athletic endeavors which unites players in shared-glory experiences and transcends the ethos of all other activities known to man. As the course faded in the gloaming and we sped back to Denton and dinner at Sweetwater Restaurant (which has the best jalapeno poppers and rib-eye specials in the country, and is packed with savvy golf fans), we all knew we had played one of the most unsung courses in the country.

Meanwhile, Pete Dye remains an icon. He's the lunar cycle that moves the wave of golf course architecture that has swept the craft away from penal architecture and toward more strategic elements such as alternate-shot patterns and diagonal hazards. Brilliant minds such as Tom Doak, Mike Strantz and Brian Silva all studied under Dye, or claimed that his ideology significantly affected their design concepts.

Only Pete could take such a penal site and craft a course with so many strategic elements, even though you often want to hide your eyes by taking your bottom lip and pulling it up over your head.

Design: 6 stars
Natural Setting: 5 ½ - 6 stars
Conditioning: 6 stars
Overall: 5 and ½ - 6 stars


Since launching his first golf writing website in 2004, http://www.jayflemma.thegolfspace.com, Jay Flemma's comparative analysis of golf designs and knowledge of golf course architecture and golf travel have garnered wide industry respect. In researching his book on America's great public golf courses (and whether they're worth the money), Jay, an associate editor of Cybergolf, has played over 220 nationally ranked public golf courses in 37 different states. Jay has played about 1,649,000 yards of golf - or roughly 938 miles. His pieces on travel and architecture appear in Golf Observer (www.golfobserver.com), Cybergolf and other print magazines. When not researching golf courses for design, value and excitement, Jay is an entertainment, copyright, Internet and trademark lawyer and an Entertainment and Internet Law professor in Manhattan. His clients have been nominated for Grammy and Emmy awards, won a Sundance Film Festival Best Director award, performed on stage and screen, and designed pop art for museums and collectors. Jay lives in Forest Hills, N.Y., and is fiercely loyal to his alma maters, Deerfield Academy in Massachusetts and Trinity College in Connecticut.