Avery Ranch & Star Ranch among Austin's Best Golf Offerings
By: Steve Habel
During the past decade and a half, Austin - Texas's capitol and "the" place to live, work and play in the Lone Star State - has become almost as well known for its great golf courses, many of the daily-fee variety, as it is for live music and Longhorn football. In fact, in 2008 Golf Magazine named Austin as America's top city for golf.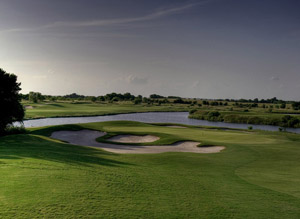 No. 10 at Star Ranch
So it's no surprise that two of the area's most popular public facilities, namely Avery Ranch Golf Club in north Austin and Golf Club Star Ranch in the nearby bedroom community of Hutto, are also among the top tracks in central Texas.

Both facilities keep full tee sheets and have devoted players because they are well-designed, fun to play and well-conditioned, even when the hot and dry Texas summers take their toll on turf. Both also have past histories as notable local landmarks.

The site of Avery Ranch Golf Club and the surrounding residential development is rich with historical, archaeological and cultural significance. The land was once trod by various Native American tribes as well as infamous bank robbers.

And across the wide prairie land some 25 miles to the east, the land under Golf Club Star Ranch was not that long ago grazed by hundreds of cattle as part of the Timmerman Ranch, a 1,100-acre spread of rolling pasture that has long featured some of the best views of the city's northeastern expanses.

It seems somewhat appropriate then that these properties would be used in the 21st Century for golf, especially because both courses occupy the high grounds of their respective communities, a throwback to the days when course routings took precedence over maximizing home sites.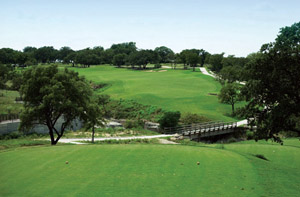 The Seventh Hole at Avery Ranch GC
Avery Ranch Rewards the Big Hitter

Indians were the first to utilize the site that became Avery Ranch. But once the Spanish came into the area in the 1800s, they attempted to strengthen the frontier against Indian attacks by building a military post near the headwaters of Brushy Creek, a water body that runs in and around the course and now affects play and lends beauty on many holes.

Avery Ranch Golf Club opened in 2002 and has thrived with continual activity thanks to its maintenance standards, clubhouse, dining area and, most importantly, its design and playability. The course, which occupies 226 acres within a burgeoning community, was designed by Andy Raugust - who worked with Jack Nicklaus for several years, including contributions on the design of the spectacular Cabo Del Sol in Cabo San Lucas, Mexico. At Avery Ranch, Raugust blended gently rolling hills with oak-lined fairways and a 60-acre lake.

It's easy to see what attracted so many to the land as the scenery of Avery Ranch provides captivating views of Texas Hill Country. There was only one real stepping hurdle in designing the course: the site was fraught with limestone. "The first time I visited the property, I thought it was a great piece of land that was notorious for rock," Raugust said. "Avery Ranch was a relatively easy course to design because the land actually dictated where the course should go."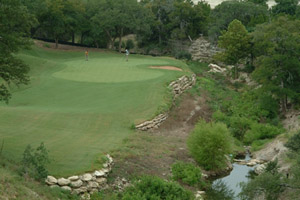 Avery Ranch's Tough 13th
Raugust said dynamite was used to clear out some of the rock knobs that would have eventually resulted in uneven holes. "We had to blast the rock and remove some trees to balance everything out," Raugust explained. "But the trees were spaced out pretty well throughout the course, and we really didn't have to do much alteration to the land."

The all-Bermuda Avery Ranch features Tif Eagle greens and 419 fairways. The 7,121-yard, par-72 track offers five tee placements to entice low handicappers while creating an enjoyable golfing experience for all skills. The back nine at Avery Ranch is a 3-3-3 blend of par-3s, par-4s and par-5s. From the back tees the layout carries a 74.3 rating and 133 slope.

The natural beauty of Avery Ranch is apparent right off the bat. The par-4, 377-yard opener involves an inlet of Brushy Creek, rolling hills and plenty of trees. Off the tee you must clear the creek below and stay in between the trees that line both sides of the fairway, a situation that's encountered on almost every hole on the course.

The combination of native landscape and Raugust's design is evident at No. 5, a 597-yard par-5 and the longest hole here. Placement off the tee and on the second shot is crucial to have any hope of shooting over the pond in front of the putting surface. Raugust also incorporated a waterfall near the green.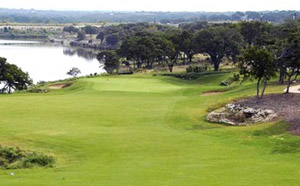 The 18th Hole at Avery Ranch
Other memorable stops are Nos. 7 and 13. The seventh is a par-4 that's as scenic as it's challenging. The relatively short (397 yards) dogleg-left involves a two-tiered green that includes several bunkers front and right, native cacti behind the putting surface and a large manmade rock wall in front.

No. 13 requires precision but rewards good shot-making. This 161-yard par-3 is guarded by water its entire length on the right and has a canopy of towering oaks around the back along with a rim-rock feature with a 20-foot drop-off right of the green.

Players who are long and accurate off the tee can take big swings - and big chances - at Avery Ranch. For middle- to high-handicappers, there's a reward for being in the fairway.

The practice facility includes a two-tiered tee box stretching more than 100 yards wide and 75 yards deep, with laser-measured yardages to four target greens. For the short game, there is separate putting and chipping greens maintained to closely match the playing conditions on the course.

For more information, go to www.averyranchgolf.com.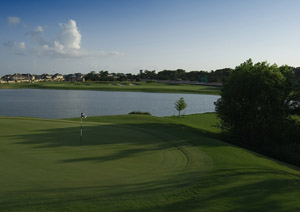 Nos. 6 & 7 at Star Ranch
Fairness & Challenge Equals Success at Star Ranch

Designed by Austin-based golf course architect Roy Bechtol with help from Carter Morrish and Randy Russell, Golf Club Star Ranch - an 18-hole, par-71 facility that stretches 7,017 yards from the tips - opened in 2001. In the decade that has passed, Star Ranch has become a must-play destination in Central Texas.

Located atop a hill, the course follows the natural contours of the land while using a central lake and prevailing winds to create an experience both formidable and fun. The Bermuda-grassed course is rated at 73.8 and has a slope of 131 from the back tees.

Highlights on the front nine: The 455-yard par-4 second, which plays with the predominantly south wind to a green bracketed on both sides by sand; the 451-yard third, a two-shotter that turns into the wind and is a near twin of the second hole, just in reverse and with a large mound in mid-fairway; No. 5, a par-5 monster that at 582 yards is ranked as the hardest hole here; the 357-yard sixth, a sharp dogleg-left par-4 with water down its entire left side; and the par-4 eighth, which - at 474 yards from the back tee - makes the drive crucial.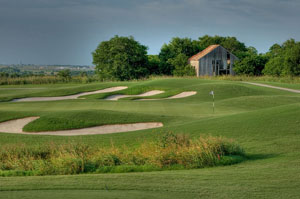 Star Ranch's 18th
On the back side, No. 10 is a dogleg-right, par-4, 453-yard tester with bunkers on either side of the green. The 11th gives you the prevailing wind at your back and, despite its 446 yards, is not punitive unless the tee shot is weak. On the approach, four traps guard the putting surface.

Grip it and rip it on the 13th, which, at 532 yards is a reachable par-5 and poses little trouble until you get to the green. The fun really begins at the 14th, which at 376 yards challenges you to hit 3-wood or a long-iron between two sets of fairway bunkers to a landing area that is downhill. The shallow, three-tiered green sits on rock ledge, with a stream in front and a cactus garden behind.

No. 16 at Star Ranch is a 427-yard par-4 that sports a cactus garden about 160 yards from the green on the left side of the fairway; it's like a magnet for golf balls. Alas, the area is considered ground under repair and you get a free drop for relief.

The home hole is a gift: a 507-yard par-5 that plays uphill and features a huge false front to the putting surface. Three bunkers guard the front of the green, so there is a need to fly your ball to the top of the hill.
Star Ranch's also boasts a driving range and short-game area with multiple tees, six target greens, five bunkers, two chipping greens and rolling terrain to work every shot in the bag.

And thanks to Star Ranch's "all-inclusive" package, players get a round of golf with cart, unlimited range balls and breakfast and lunch for one low rate. Replays, as available, are also at a discounted rate.

Expect to shoot a few strokes better than usual here, thanks to the course's friendly bounces and playability. But don't take Star Ranch for granted - it is a true and fair challenge.

For more information, go to www.starranchgolf.com .
Steve Habel is one of Cybergolf's national correspondents, contributing news stories, features, equipment and book reviews and personality profiles from his base in Central Texas. He is also the managing editor for Texas CEO Magazine and works as a contributing editor for Horns Illustrated magazine, a publication focusing on University of Texas sports. He also writes a blog (www.shotoverthegreen.blogspot.com), which features news on golf and the Longhorns, and another (www.checkinginandplayingthrough.blogspot.com) on his many travels, which took him across the nation and to 105 different golf course in 2009. Habel is a member of the Golf Writers Association of America and the Texas Golf Writers Association.