Aviara: Where Golf is First & Foremost
By: George Fuller
Simple test: Think of Pebble Beach and what's the first thing that comes to mind? Was it the meal you had at Stillwater Bar & Grill? Of course not, excellent though it was. You thought of the golf course, probably No. 7, that tricky little par-3; or No. 18, that demanding finishing hole flanked by the Pacific Ocean on the left and overlooked at the green by the stately Lodge at Pebble Beach.
The point is this: Around the United States, there are several resorts that are golf first and foremost. They do other things well, too. There may even be some tennis courts, a pool, a fitness center, some great restaurants. But the simple fact is, everyone you meet is a golfer. Whether they are there on vacation with family, in conference or in a group, golf is often the primary reason they chose that particular resort. Think of Pebble Beach, the Greenbrier, Pinehurst, Princeville or the Boulders and you think of great golf first, great resort amenities second.
Such is the case with the Four Seasons Resort Aviara, 30 minutes north of San Diego on California's sunniest coast. A 329-room hotel is the accommodation's centerpiece (although there is also a Four Seasons Residence Club vacation ownership program that offers accommodations in some nearby villas). Because it's a Four Seasons Resort, you can count on attentive and friendly service, luxuriously appointed rooms and suites, excellent cuisine and top-of-the-line amenities. These are company hallmarks.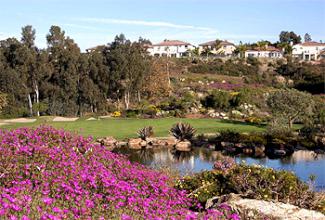 Arnold Palmer and Ed Seay designed the golf course, which opened in 1991. Resort literature states that the course took 10 years to build "because of the designers' ecological concerns and desire to preserve the natural wetlands." Indeed, the course is bordered on the west by the Batiquitos Lagoon, home to more than 130 species of shorebirds, waterfowl and a wide array of natural vegetation.

The layout plays 7,007 yards from the tournament tees, 6,591 from the back tees, 6,054 from the middle and 5,007 all the way forward. Some of the largest greens of any golf course you'll ever play will be a blessing and a curse. On the upside, you should be able to hit more greens in regulation; on the downside, you may have some extraordinarily long and winding putts. Three- and even four-putting is not uncommon for the average player.
It is a highly manicured course, with an abundance of flowers and water features on several holes. No. 3 is a particularly lovely hole, a par-3 playing a short 149 yards from the back. Again, a large putting surface is surrounded by step pools, a river, statues (yes, statues), bridges and colorful flowers. The only thing missing here is a windmill.
Holes two through five enjoy a prevailing tailwind; the payback comes on holes six through nine, when the prevailing wind is in your chops. A similar configuration occurs on the back nine, although the home hole plays with a crosswind. And what a home hole it is. It's a 443-yard par-4 from the back, and water awaits any tee shot that leaks right. That's exactly the direction the wind blows. Left is no bargain, either, with Batiquitos Lagoon and out of bounds on that side, leaving you one option: Take careful aim and hit it straight. A very narrow neck is squeezed by the same hazards faced off the tee – water and out of bounds – so you must go for the green. It is a challenging finishing hole, perfect for settling close matches.
The biggest challenge faced back at the hotel is which restaurant to choose. "Vivace" is the signature outlet. It's an Italian dining room with perfectly prepared pasta, fish, lamb and beef dishes complemented by some delightful appetizer choices and a small but select wine menu. For example, a close-to-the-original-recipe Caesar salad, followed by an osso bucco, makes a memorable dining experience. Add a bottle of Cloudy Bay Sauvignon Blanc (New Zealand), and you're on Cloud Nine.
The "California Bistro" serves breakfast, lunch and dinner, as well as an extensive Friday night seafood buffet (reservations for this popular tradition is a must) and Sunday brunch. The "Ocean Pool Bar & Grill" is open for lunch and cocktails by the swimming pool; and at the elegant clubhouse, "The Argyle" serves breakfast and lunch. Traditional afternoon tea is served in the "Lobby Lounge." You won't go hungry at Aviara.
The 15,000-square-foot spa invites guests to begin their day with a cup of chamomile tea and a eucalyptus steam, or a head-to-toe massage followed by a magnolia blossom bath. With 20 indoor treatment rooms, five private outdoor cabanas, a solarium lounge, a Couple's Suite, retail center, state-of-the-art fitness center, and men's and women's locker areas with steam, sauna and whirlpool, the spa will get you relaxed before or after a round of golf.

The Couple's Suite was designed with luxury and romance in mind, perfect for those celebrating a new marriage, anniversary or other special occasion. Amenities include a lounge area with marble fireplace and shower for two, attached treatment room with side-by-side massage tables and private patio with whirlpool. Full-day, half-day and sunset packages are available.

Still, like Pebble Beach, The Homestead, Kapalua and the Cloister, Aviara is golf first and foremost. Even at this young age (the hotel opened in 1997; the golf course in 1991), the Four Seasons Resort Aviara has gained a well-deserved place among the best golf resorts in the United States. For more information or a tee time, call 760/603-6800 or visit www.fourseasons.com/aviara/.

Photographer and writer George Fuller has been covering golf and adventure travel for more than 15 years. His assignments have taken him throughout the United States, Asia, Polynesia, Europe and Mexico.

As an author, he has eight books to his credit, the two most recent being "California Golf – The Complete Guide" (11th edition, 2004, Avalon Travel Publishing) and "Discover Hawaii's Best Golf" (second edition December 2001, Island Heritage Publishing). Others include "Hawaii: Adventures In Nature," (October 1999, John Muir Publishing).

A former editor of "LINKS – The Best of Golf," he has contributed stories to many newspapers and magazines, including TIME, San Francisco Chronicle, Coastal Living, GOLF Magazine, Travel & Leisure Golf and others. Based in Marina Del Rey, Calif., George is a monthly travel correspondent for the PGA Tour (pgatour.com), and a Contributing Editor to The Golfer.