Back in the Emerald Isle - Part 1
By: Jeff Shelley
I've been fortunate to make three trips to Ireland. The first came in 1987 when my wife and then nine-year-old daughter spent three weeks in the U.K., with stops in London, Wales and St. Ives in England. After driving across England, we took the car ferry from Pembroke, England, to Rosslare, winding our way through the beautiful Irish countryside to County Cork.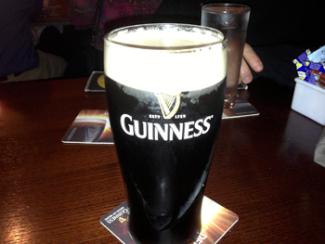 When in Ireland . . .
My only golf came at the Ballymaloe House, an inn and famed dining establishment with roots that date back to the year 1450. Seeking to work off one of the Ballymaloe's massive three squares a day, I played the B&B's rough five-hole loop across the entry road from the ancient place.

Calling Ballymaloe's course "rough" may sound quainter than it was. At that time the layout basically consisted of flag sticks poking out of a pasture. I used the hotel's solitary bag of clubs and its three well-worn Robin Hood golf balls, once putting between the legs of a curious sheep that refused to leave its position between me and the cup.

In 2005 I returned on a buddy trip that involved playing the European Club, Island Golf Club, Portmarnock Old, Ballybunion, Waterville, Tralee, Doonbeg and Lahinch.

This time around, in September 2013, eight of us took a swing to the north out of Dublin, with stops at the courses at Seapoint, Royal Portrush, Portstewart, Royal Dublin, County Louth/Baltray, Portmarnock Old and the European Club. Portrush and Portstewart are both in Northern Ireland, while the others are not far from Dublin.

Our overnight accommodations were in just two places, Bushmills Inn in County Antrim, Northern Ireland, and the Grand Hotel in Malahide, an upscale Dublin suburb that's directly across the Malahide Estuary from Portmarnock and the Island Club. This was good planning (thanks to Southwest Ireland Golf Ltd. - www.swinggolfireland.com - which arranged our trip) as we didn't have to shift our gear from place to place every night, as often happens on these trips.

One of the big differences between 2005 and '13 is the Irish economy. When I was there eight years ago, the country was at the tail end of a boom period, an affluence that was seen in the steep price of golf, restaurants and hotels.

It was a different story this time around, as - despite the eight-year gap - all our travel, meal and golf costs were less. I heard first-hand from several folks that, with unemployment hovering around 15 percent, times were tough. One of our caddies at Baltray, a 56-year-old chap with a dry wit and a 12-handicap, was let go from his job as an engineer several years ago and has been unable to find work ever since. His 28-year-old daughter lives with him and his wife to help make ends meet.

That tale was heard elsewhere, though Northern Ireland seemed - to me anyway - a bit less depressed. That nation is reliant on the pound sterling of its mother land, England, while the Republic of Ireland is part of the European Union and uses the euro, which forced us to learn two different currencies.

Blessedly, "The Troubles" - which caused tremendous strife in Ireland between the late 1960s and late-'90s - have calmed down. Though there has been sporadic violence since the Belfast "Good Friday" Agreement of 1998, relations have generally been peaceful. However, there remains an undercurrent of hostility between the two linked territories, with people from the Republic still unhappy with England's monarchy.

Surprisingly, there is no clear demarcation of Ireland's south and north. While traveling along the M1 no sign marks the transition from one part to the next, quite unlike the "old days" when well-armed guards stopped - and often physically harassed - those crossing the border.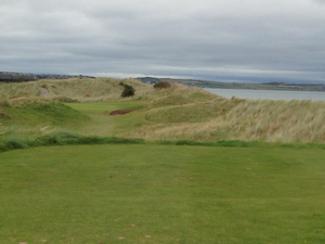 Tough Par-3 17th at Seapoint
Seapoint Golf Links

After a brutal first two days that, because of the eight-hour time difference between Seattle and Dublin, involved me going roughly 48 hours with only an hour of sleep, we all climbed into our hired van - captained by former Tralee club champion Morris - and headed north. Situated right next door to Baltray in - be careful how you pronounce this - Termonfeckin, Dorgheda in County Louth, Seapoint was our first stop.

The layout sprawls across property that has been deigned challenging enough to host the 2010 and '11 Irish PGA Championship. It's also slated to hold the 2014 Irish Amateur Close Championship, an event previously won by such luminaries as Rory McIlroy, Graeme McDowell, Paul Lawrie, Darren Clarke, 2014 European Ryder Cup captain Paul McGinley and Shane Lowry.

Before teeing off I headed into the clubhouse for a sandwich. I saw a lone diner and decided to introduce myself (the Irish are generally all too happy for such impromptu meetings). The gentleman was Declan Branigan, a former Irish Amateur Close champion who co-designed Seapoint with his good friend Dez Smyth, for whom he also caddied.

Like most Irishmen, Declan was very welcoming, telling me he has the contract to maintain Seapoint's course and relating some exploits that he and Dez shared on the European (where Smyth won eight times) and PGA tours.

Seapoint's front nine is rather perfunctory, with none of the towering dunes and steep-sided bunkers typical of links courses that were to come in the next few days. There are homes near several holes, giving it a feel of an American residential-golf development. But once beyond the first 15 holes, all the glories of a true links are displayed, including fairways and greens smack-dab alongside Ireland's east coast.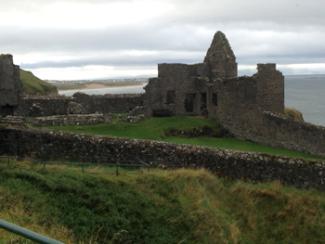 Dunluce Castle
Bushmills Inn & Other Roadside Attractions

Our overnight stay for the first three nights was at this small (41-room) boutique hostelry near the famed distillery and within minutes of the Giant's Causeway, Dunluce Castle and Carrick-a-Rede Rope Bridge in County Antrim. In addition to warm, cozy rooms, guests are entitled to breakfasts and access to a wonderful on-site restaurant where the service is excellent (but not so much in its cramped bar).

On one afternoon we stopped by the castle, a 14th century edifice towering over the crashing north Atlantic. Dunluce Castle is also known for being on the inner gatefold of Led Zeppelin's platinum-selling "Houses of the Holy" LP and other rock 'n roll album covers.

After one round, we toured Bushmills, a whisky-making enterprise that fancies itself as the oldest distillery in the world. The operation, now owned by the spirits' conglomerate Diageo, began in 1608. The plant dominates its like-named town, with many residents working there.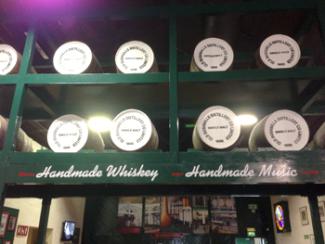 Bushmills' Casks
At the conclusion of the tour - which costs eight pounds, we were invited to select a glass of our preferred Bushmills (I had the fine 12-year-old stuff) and then browse the nearby shop for bottles to purchase and take home. Surprisingly, some of the guys on our trip said the prices were higher here than our nearby Costco.

We also hiked up and down the Causeway, Northern Ireland's most popular attraction. The formation is named for its hexagonal-shaped columns that stretch into the surf. Alongside other tourists we hiked up the pathway until the clouds darkened and the scent of rain strengthened. We decided to head back to the van, knowing full well there'd be plenty of wet and wind the next few days.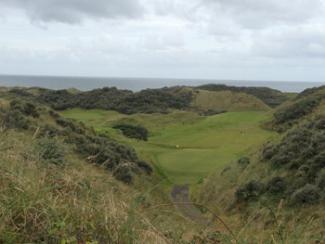 Some of the Towering Dunes at
Royal Portrush (photos by Pat Corr)
Royal Portrush

It's easy to see why Royal Portrush is regarded so highly, and why it rightfully deserves to - one year soon Northern Ireland hopes - host a second Open Championship (in 1951 it became the first club outside the mainland UK to hold the event but has been overlooked since). Golf magazine ranks Royal Portrush 15th in the world, while others have it rated even higher. This is truly a magnificent course in a beautiful coastal setting.

Containing the Dunluce and Valley Links - both designed by the illustrious H.S. Colt, the 36-hole club has it all: tremendous shot variety, wonderful conditioning, impressive natural landforms, and plenty of heritage.

I wish I could tell you more about my round at Dunluce - the championship course, but 50-mph gusts and sheets of rain obscured vistas and soaked my clothes, clubs and equipment such that I removed everything back at the hotel and applied a hair dryer on them for over an hour. Let's just say that slogging over the compelling hills and dales of Royal Portrush was a test in itself, let alone trying to hit a golf ball with any deliberate intent.

Back at the clubhouse over a Guinness and fries - chips in Ireland - we saw none other than Clarke. The Open champion and Royal Portrush member was practicing his short game. Clarke, who's been in a bit of a slump since his popular victory at Royal St. George's in 2011, enjoys a prime parking spot right outside the pro shop. The 45-year-old's top-of-the-line, turbocharged V8, shiny-black Porsche SUV served as a reminder to all of his economic and club status.

Ah, to be a star golfer in the great nation of Northern Ireland.
Next Up: Portstewart, Royal Dublin and Baltray