Back in the Emerald Isle - Part 2
By: Jeff Shelley
The weather for our stay was typical of early-fall in Ireland: temps in the mid- to low-60s, winds of different velocities sweeping in all directions, foreboding incoming clouds interrupted by cheery blue skies, and rain of various strengths, in no particular order.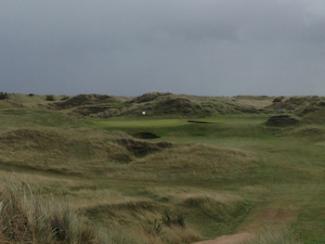 A Tough Par-3 at Portstewart
Portstewart

Our second and final stop in Northern Ireland was the Strand course at Portstewart Golf Club. The facility in its eponymous town actually contains 54 holes, with the Strand bordered by the Old Course (originated in 1897) and another 18 - the par-54 Riverside - at the entrance to Portstewart, a pretty seaside burg in Londonderry County.

I really enjoyed this place, primarily because of its location alongside the Atlantic and a sense that golf is an integral part of the community fabric. The Strand's fairways often start at elevated tees and wind between mountainous dunes. Stellar views from the higher points take in the Donegal Hills, the River Bann and the ocean.

Because of its duneland topography, the course reminds me of Cruden Bay, one of my favorites in Scotland. I could also be a Portstewart member because of the club's local orientation, its 54 holes and welcoming residents.

Our forecaddie said the bunkers on the current layout, opened in 1990 and a replacement to the original 1907 course (remodeled in the 1920s by the famed Willie Park), aren't of the high-walled, penal variety, noting that the designer - local schoolteacher and member Des Griffin, wanted players to "think you could get home."

The par-4 opener- a 427-yard dubbed "Tubber Patrick" - sets the tone for Strand. From its greatly perched starting blocks, the first drive is propelled downhill as the fairway curls rightward to a green tucked in dunes. Such a hole is typical of the trough-like terrain found at Portstewart, truly one of the most underrated links in either the north or south of Ireland.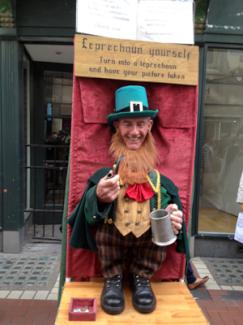 The 'Swede' Becomes a Leprechaun in Dublin
Malahide Here We Come

After leaving Portstewart, we reversed directions and headed south to Dublin and its suburb of Malahide, a higher-end community with some excellent restaurants - Italian, Irish and Greek - and a giant big pub called Gibney's that shows American football games alongside traditional Irish sports. Our stay for the next five nights would be at the Grand Hotel, a now-modernized place that sits at the end of the main drag - the Coast Road - and originated in 1835.

This is a bigger American-style hotel than our previous place, the boutique-like Bushmills Inn in Northern Ireland. It has a busy pub - named Ryan's Bar after the facility's current owner, Matt Ryan, with guests having access to breakfast as part of the overnight package.

Dropping in on Dublin

Ironically, or perhaps sadistically, the nicest day of our trip came on the sunniest of the nine days we were in Ireland and the only one we didn't play golf. On this glorious Saturday all of Dublin seemed to come out for what might have been the last bonny day of the year.

We headed downtown and enjoyed a narrated drive-through of the city courtesy of our van driver Morris. We did the tour of the Guinness Brewery (cost: 15 euros), which involves exhibits spread over seven floors of the massive operation - including a how-to on pouring the stuff - and is capped off by a free brew in its stunning, glass-enclosed Gravity Bar that offers 360-degree vistas of downtown Dublin.

I learned later from Morris that Guinness needs to be consumed quickly; if it's not downed within 40 minutes of pouring it loses its pop. Also, if your local Guinness isn't as good as it is in Ireland, which goes through millions of barrels of the stuff, that's because it's been in the keg too long and gone stale. Morris said Guinness is like milk; the longer it sits around unconsumed the less flavorful it becomes.

Other than that famed porter, Ireland's beer selections aren't all that great (I'm spoiled though; I come from a city with over 80 microbreweries, each crafting their own types of beer). There's Carlsberg from Denmark, Smithwick pale ale from Dublin, good old Budweiser (Ireland's most popular pour), and a few others.

Following the brewery tour, we walked along bustling Grafton Street, a mostly pedestrian-only thoroughfare filled with mimes, musicians, artists, shops and what seemed like teeming masses of teenagers. It felt like our group helped increase the average age of Dublin by at least a year. I stopped to watch an athletic team of Irish break-dancers bouncing on the concrete to hip-hop beats, and other buskers.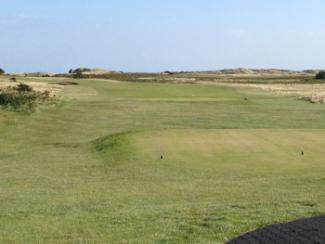 A Flattish Fairway at Royal Dublin
Royal Dublin Golf Club

I've never observed such security measures as we encountered when getting into this course on Bull Island in Dublin Bay. After passing through three gates (all unguarded but linked to the clubhouse via intercom), we needed a keypad code number to get into the clubhouse and use the bathroom.

I learned later that the reason wasn't because of "The Troubles" but because the club has 1,000 members and there was a spate of recent thefts as so many people enter and exit the grounds and clubhouse.

The club is one of 65 in the British Commonwealth boasting "Royal" status; Dublin was awarded its title in 1891 by Queen Victoria. Surprisingly, the Royal & Ancient Golf Club of St. Andrews, which received its adjective in 1834, is not the oldest with the regal title. That honor goes to Royal Tarlair Golf Club in Scotland, which was designated as such in 1826.

H.S. Colt's design - later amended in the late 1990s by British architect Martin Hawtree - for Royal Dublin emphasizes power off the tee. The flattish site - bereft of the towering, wind-protecting dunes of other Irish links - is an out-and-back configuration. On the windy day we were here, the outward half was tantalizingly downwind, but the back nine - a sturdy 3,915-yard (from the tips, which we didn't play) par-37 side - was dead into the wind, which peaked this day at upwards of 50 mph.

Royal Dublin's home half - with six par-4s, two par-5s and a lone par-3 - was one of the toughest nine-hole sides I've ever encountered. Its par-4s range from a mere 304 to 483 yards (the 18th), with only the 15th ("Hogan's") aided by a backing wind. A bogey here felt like par or better.

As at each course (with the exception of the European Club - more on that in Part 3), each of our foursomes had a forecaddie. For the most part, these helpers were skilled and knowledgeable about their home courses. Some were young, while others were veteran members, who often do such double-duty in Ireland and Scotland to pick up a little pocket cash.

At Royal Dublin, we each had a young forecaddie. Our guy was fine, though he spent much of the round driving or sitting in one of our player's power carts to get out of the elements. Yet he was fairly attentive and hard-working, for the most part finding our wayward balls in the tall fairway-side grass. The looper in the other group, however, was more interested in texting his friends about an upcoming trip to Spain and found only a few errant shots. He was warned that he wouldn't be getting paid unless he started paying attention.

Per usual, we asked our looper at the end of the round for the going forecaddie rate. He said he usually got 30 euros per player, plus tip. One guy in our group gave him 50 euros, while the rest of us handed over 40. After the round we started mulling over just how much this kid made off the four of us. Considering the exchange rate, we figured he took home a whopping $230 USD.

When we mentioned this exorbitant payment to the pro, he said the club determines the fee for forecaddies - not him, which I found rather odd. So, from that point forward we checked ahead of time for what exactly the real per-player rate was.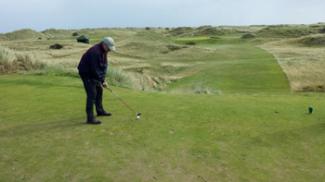 The Author Gets Set to Go at Baltray
Baltray

Officially called County Louth Golf Club, Baltray, this links butts up against Seapoint in Drogheda. The 1,100-member club was founded in 1892, and the current course - designed by Tom Simpson with subsequent fine-tuning by contemporary architects Donald Steel and Tom Mackenzie - has pretty much stayed the same since its debut in 1938.

Baltray is arrayed between stately dunes and serves as an inspiration for many modern links. It's especially reminiscent of the Tom Doak-designed Pacific Dunes on the southern Oregon coast. The holes ingeniously veer off in all directions, resulting in constantly varying adjustments for the ever-present winds.

Unlike many links that house well over 100 bunkers, Baltray contains only 50, with the challenge more closely tied to banking shots off natural hillocks and berms, especially on approaches to greens.

In addition to a wonderful test of golf, Baltray boasts a large clubhouse that was once a hotel. Today, visitors have access to 12 units they can rent at a reasonable rate. If you're interested in playing the fine seaside courses north of Dublin, my recommendation would be to rent a room in Baltray's clubhouse and use that as your starting-off place.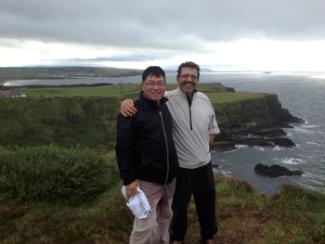 C.H. & Jason at the Giant's Causeway
(Photos by Pat Corr, Jason Totah
and Clyde Westrom)
The Guys

No true travelogue would be complete without this author tipping a figurative tam to his fellow golfers. Our simpatico group, most of whom are fellow members of mine at Sand Point Country Club in Seattle, was an eclectic octet.

Our captain was Clyde Westrom, a native of Monroe, La., and Boeing engineer who handled the planning. We had Tom Swanson, the "Swede," a Spokane native with two artificial hips that required him to ride a cart throughout the trip. There were more than a few times - especially while bucking 50-mph rain-soaked headwinds, that I envied Tom and his wheeled enclosure.

Our low-handicapper, Jason Totah, is a Jordanian and hard-core Oregon State Beaver alum whose orange golf bag and colorful outfits can't be missed. Jason invited a South Korean business associate, C.H. Kim; those two spent three days in Scotland getting used to the UK's fabled links before meeting up with us at the Dublin airport. On two of our nights in Malahide, Jason and C.H. were the big winners in Texas Hold 'Em at a local casino.

Also on board was a pair of Irish-American brothers, Kelly - a Seattle litigator (barrister in the UK) - and Patrick, a real estate agent, who've made several prior trips to their home country, along with Henry Liebman, an attorney-turned-real-estate developer and partner in my book-publishing company.

We all got along famously, with Morris the driver deftly handling the van as we rehashed that day's rounds and courses, played cribbage, gazed at the countryside and street scenes, talked trash and rested en route to the next links.
Next Up: Portmarnock & the European Club