Back in the Emerald Isle - Part 3
By: Jeff Shelley
The fairways and greens on Ireland's links are hard and fast, giving balls hit onto the short grass a lot of roll-out, seemingly all too frequently into cavernous bunkers.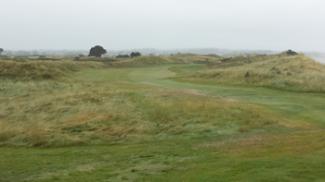 Looking across the Expanse of Portmarnock
The peripheries of the fairways and greens are just the opposite, to say the least. Gorse, marram grass, beachgrasses, straws, heather, bindweed or just plain healthy Irish-green grass - often matted down and very thick, especially after the frequent rains - do an amazing job of halting, veiling, swallowing, or making golf balls simply disappear.

Golf balls in Ireland - and Scotland for that matter - are quite expensive so, unless you're uncannily accurate, bring along at least two dozen of the spheres when playing there as a dozen Titleist Pro-V1s, for example, will set you back $100 USD.

Portmarnock

In a previous trip to Ireland in 2005, I played Portmarnock Golf Club. The facility, located directly across the Malahide Estuary from our hotel, The Grand, features three nine-hole sides, with the Red and Blue nines representing the original Championship Course, and Yellow - built in 1971 - the most recent addition.

Though our other foursome had a forecaddie, there wasn't one available for my group and, frankly, we didn't need one as there aren't many tricky, blind holes here and everything is pretty much observable from the tees. We could've used some help, however, reading Portmarnock's greens, which have a lot of tilt in all sorts of unexpected directions.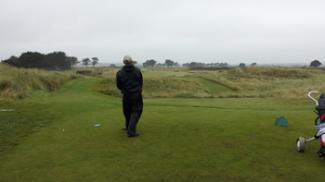 The Author Hoping this One Finds
the Short Grass at Portmarnock
I enjoyed not having the insight of "local knowledge" at Portmarnock, relishing the lack of information overload and relying on instincts. Though I didn't come close to establishing a new course record, the round there was fun and unfettered.

I found the back nine more deceptive, often hitting good drives only to find them in a semi-deep and small pot bunker with the only escape laterally back to the fairway instead of toward the green.

As I noted in 2005, Portmarnock's clubhouse is one of the grandest in Ireland. Inside the white-washed edifice are historical displays, stately wood-paneled walls and separate member and guest areas.

Though officially founded in 1894, Portmarnock's golfing past began in the mid-1800s when the property's original landowner, the Jamesons (of Dublin distillery fame), played on a course beside their home. That layout was one of the earliest ever built in Ireland. A group of local citizens later forged a favorable lease on the land for the purpose of building a new golf course. Scottish insurance broker and club co-founder W.C. Pickeman designed the first 18 holes. Pickeman's handiwork at Portmarnock was so well received that he went on to design another 26 courses in Ireland.

Since its debut, the club has hosted many significant events, including the Walker Cup, Canada Cup and numerous Irish Opens.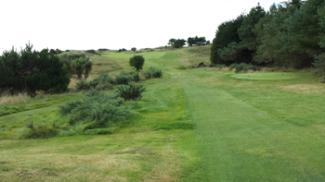 The European Club Gets off
to a Rousing Start at its Par-4 Uphill Opener
The European Club

Another course I initially played eight years ago, The European Club, is the product, lifelong dream and ongoing concern of Pat Ruddy, an Irish golf writer who produced dozens of articles and books before getting into golf design and development. Since The European Club's debut in 1987, Ruddy has designed new courses at St. Margaret's Golf & Country Club, Sandy Hills Links and Druids Heath, while his well-received remodels include Ballymascanlon Hotel, Stackstown, Balbriggan, Rosapenna, Portsalon, Donegal and Ballyliffin.

Prior to our arrival, several Irish golfers - including our van driver Morris - uttered complaints about Ruddy's baby in County Wicklow, about 35 miles south of Dublin. The naysayers said it was too hard and didn't allow caddies (Ruddy once got into a tiff with them and, ever the iconoclast, banned the lot). One of our previous forecaddies remarked, "If I had a daughter and she wanted to play The European Club I wouldn't let her."

I'm not quite sure what all the hubbub was about (were these Irishmen green with envy?) because all of us truly enjoyed The European Club. Known to routinely tinker with his design, Ruddy has certainly done so since my first visit.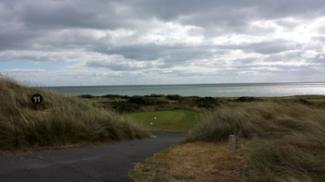 The Irish Sea Enters Play on
The European Club's Back Nine
The front nine is much more difficult - almost overly penal, where Ruddy has added many of his signature deep, wood-plank-walled bunkers in target and lay-up zones and beside greens. A forecaddie on this side would have been nice, I must admit.

On the other hand, the back nine is one the finest routings anywhere in the world, heading toward and then running alongside the Irish Sea. The course is also the best-conditioned we experienced, with double-cuts of rough, lovely fairways, excellent signage and the purest greens.
Such attention to detail isn't an accident. Ruddy wrote in his 2007 book, "Fifty Years in a Bunker - The Creation of a World's Top 100 Golf Links at The European Club," that he was inspired by the efforts made at the great American courses he visited while covering golf tournaments.

Here's one passage: "A further lesson was absorbed at the 1986 U.S. Open at Shinnecock Hills when our enthusiastic host Jim Lynch insisted on everyone being out of bed before dawn and over to the club to help get the course ready for play. Just one of the tasks was to brush the heavy dew off those pristine fairways and be gone from sight and from sound before the first players teed off. So that is how it is done!

"The decision was made not to have dew-covered greens at The European Club when the players arrived, ever, and to see how close an Irish links could get to the perfection of those fairways (at Shinnecock Hills). Why not try, on a day to day basis, to give our golfers a little taste of the service which is lavished upon the top tournament players at championship time?"

Ruddy's customer-service philosophies and quirkiness continues to be displayed. For the first time on our trip there wasn't a fee for a rental trolley or a bucket of practice balls. In addition to having purportedly the world's largest greens at the 12th hole - it's 125 yards long, there's the par-5 13th, which has a bunker in the middle of its horseshoe-shaped green.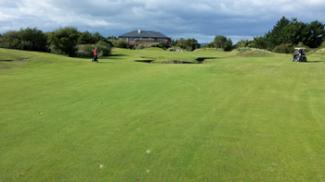 The Home Hole at The European Club
Features a Green Guarded in Front by a
Serpentine Water Hazard (Photos Courtesy of
Pat Corr, Clyde Westrom and Jason Totah)
There also aren't the customary 18 holes at The European Club. You play 20, as a bonus par-3 appears on both the front and back nines at Nos. 7A and 12A. The first one-shotter is relatively short at 166 yards, while the second - which, on our day, headed directly into a stiff breeze - is a beefy and uphill 205-yarder with a green tucked behind a hillock. When playing these 20 holes, the scorecard reads (from the tips): 7,726 yards, par 77.

Besides experiencing this wonderful golf course and making it be a fine conclusion to our trip, the other European Club highlight was Ruddy's son - the funny, accommodating and delightful Patrick Ruddy Jr. This likable chap, one of five Ruddy kids and the twin brother of Sidon, runs the place with an irresistibly quick wit. He's also a hard worker: Patrick checked us in, set up our trolleys, handed out the practice ball tokens, gave a brief history lesson and, after the round, served us food and pints of Guinness, quipping all along the way.

With Patrick and his siblings keeping the tradition alive, it looks like the senior Ruddy isn't be the only character at The European Club which, due to its sublime location off Brittas Bay, may very well be one of the last great links built in Ireland.