Baja's Newest Hot Spot - CostaBaja Resort & Spa
By: George Fuller
Mexico's most popular tourist destinations - Acapulco, Puerto Vallarta, Cancun and Los Cabos - were but sleepy coastal villages only a few decades ago. Then, with help from the Mexican government, which built infrastructure and helped finance world-class resorts, golf courses and other attractions, these resort towns burst upon the world scene as the new "in" destinations of their day.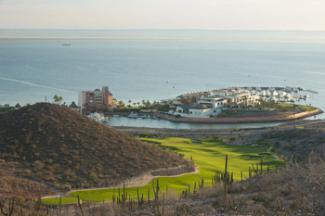 No. 14 at CostaBaja
La Paz, Baja California Sur's capital city, has a completely different story to tell. Founded in 1535, La Paz recently celebrated its 475th birthday. It is thus one of the more historic cities in Mexico, and although it has seen its share of growth over the years, it has always had something more going for it than beachfront hotels, Spring Break crowds and high-priced tourism. It has authenticity.

These days, it can also boast safety, which is a concern in some parts of Mexico. Facing a rising tide of negative press in the United States because of the drug war violence that has struck other parts of the country, La Paz last year commissioned a study. The results were eye-opening: Compared to similar-sized cities in California, La Paz was safer than all but two.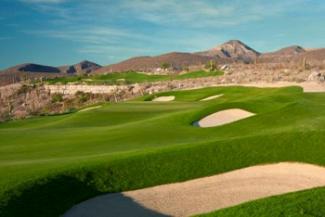 CostaBaja No. 3
Built around a scenic bay on the environmentally protected Sea of Cortez - once referred to as the "The Aquarium of the World" by renowned naturalist Jacques Cousteau - La Paz is the kind of place many experienced travelers say is exactly what they're looking for these days. A 2.5-hour drive north of Cabo San Lucas, La Paz has all the natural beauty, rustic charm, laid-back and friendly personality of old world Mexico. But nowadays it also has the conveniences and amenities that today's travelers have come to expect.

One of the newest developments in La Paz is CostaBaja Resort & Spa, whose developers have been very careful to respect the area's pristine environment while building a world-class destination resort, complete with marina, five-star accommodations and a Gary Player-designed golf course. Not only did Player design a course that highlights the area's intense beauty and magnificent water views, but the course - operated by Troon Golf - has recently been ranked among the top 10 in Mexico.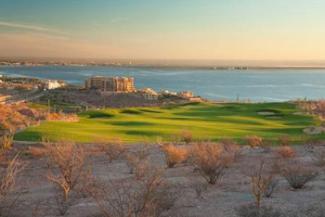 6th Hole at Costa Baja
"We are pleased to have been named the '7th best golf course' in all of Mexico by Golf and Spa magazine," says Carl Rygg, general manager. "In only our first year of operation, I believe that this is a substantial distinction and a tribute to the quality of the golf course and service levels that Troon Golf adds to the operation."

The course's most outstanding attribute is the magnificent views of the Sea of Cortez from almost every hole. From a playing standpoint, there are many carries bridging great elevation changes that add challenge and excitement to the game.

The layout offers gently rolling hills, large undulating greens and the opportunity to hit every club in your arsenal. A premium is placed on shot-making, but the design incorporates plenty of opportunities to score. "You may feel a few bumps and bruises out of the gate," Rygg says, "as the first six holes set the tone for a solid test of golf. But navigate yourself through the gauntlet early, and you will be rewarded with a chance to make up those lost shots on the back nine."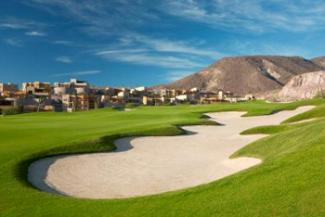 No. 10 at CostaBaja #10
CostaBaja is the first Gary Player Signature golf course built in Mexico. With more than 300 design projects around the world, one would think Mexico would already be represented in his portfolio. Fortunately, Player finally got his chance when CostaBaja CEO Alejandro Yberri III approached him.

"The landscape of the CostaBaja site excited me from the beginning," Player said. "There is so much contrast in what we were able to create here, with the green fairways against the desert conditions and the beautiful water. Also, with tourism so important to Mexico, when designing the course we had to do something special so that when people come they say, 'Wow, look at this hole, look at the ocean, the beaches, the beautiful accommodations,' and then go back and tell their friends about it. When it's snowing in other parts of the world, this is the place to visit."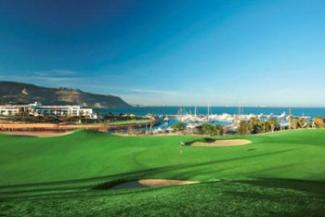 View Across CostaBaja (All Photos by Aidan Bradley)
As a centerpiece to the 115-room CostaBaja Resort & Spa sitting to residential lots and a marina filled with million-dollar yachts, the resort has paved the way for La Paz to become a viable alternative to Los Cabos and other Mexican destinations.

Recently described by both the New York Times and Money Magazine as one of the best places in the world to retire, La Paz is ripe for growth, and no wonder. When you combine the beauty of the Sea of Cortez at its doorstep and the piquant flavors of old Mexico around every adobe corner, with the accommodations, amenities and recreational opportunities of CostaBaja Resort & Spa, La Paz is one of the must-visit destinations of 2012.

For more information, visit www.costabajaresort.com.
Award-winning publisher, editor, writer and photographer George Fuller has been covering golf travel and lifestyle for more than 30 years. From 1992 to 1997 he was editor of LINKS-The Best of Golf, based in Hilton Head, S.C. In 2005, after having spent several years in the Pacific starting two magazines for Continental Micronesia Airlines and writing two books, Fuller launched GOLF LIVING Magazine for the Los Angeles Times, a "super-regional" magazine of travel, real estate and the lifestyle surrounding the game of golf. In 2009, he helped redesign and re-launch TEXAS GOLFER, a magazine with 25 years of history in the Lone Star State. Most recently, Fuller partnered with Troon Golf to launch TROON GOLF & TRAVEL, a monthly eMagazine with an annual print component. In addition, Fuller's newspapers and magazines credits include TIME, Wall Street Journal, San Francisco Chronicle, The Los Angeles Times, Robb Report, Coastal Living, Palm Springs Life, Estates West, GOLF Magazine, Golf Digest, Travel & Leisure Golf, LINKS, Successful Meetings, Honolulu and many others. He has reported for Reuters, United Press International (UPI), written for Copley News Service and is a regular on-line travel correspondent for Cybergolf. Based in Pacific Palisades, Calif., he can be contacted at gfuller@earthlink.net or 310/245-9550.