Bali Hai: Polynesia in the Desert
By: Steve Habel
It appears out of the desert like a mirage, guarding the southern end of the Las Vegas Strip, where that most garish of boulevards rolls past the private aircraft terminal at McCarran International Airport.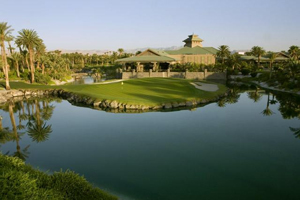 Bali Hai's Famed 16th
Here, looking north, are all the things that draw millions to Sin City. For a handful of daylight hours, the surreal experience that awaits golfers at Bali Hai Golf Club is worth putting all the town's other pursuits on hold.

Designed by Lee Schmidt and Brian Curley and opened in 2000, Bali Hai is a whopping slice of Polynesia, with lush surroundings, more than seven acres of opulent water features, better than 4,000 trees - with 2,500 stands of towering palms and 100,000 tropical plants. If there was ever a golf course worthy of being named after the famous Indonesian land of enchantment, this is it.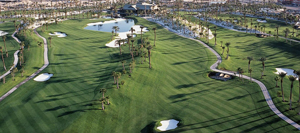 Aerial View of Bali Hai
The par-71 layout plays to 7,002 yards from the tips, where it carries a rating of 73.0 and slope of 130. Transition and out-of-play areas are accented with gleaming white-sand and black volcanic rock outcroppings. Slow-running streams, ponds and waterfalls run through various holes, adding to the scenery and contributing to the challenge.

At its highest point the course offers beautiful views of green hills and trees and distant mountains as well as the towering mega-hotels on the south end of the Strip.

From the smooth bunkers to the endless foliage, a trip around Bali Hai can be mesmerizing. The best thing is that it is fun to play as well, with huge, often bowl-shaped fairways with bunkers that are forgiving in their placement and easy to drive over. And there are plenty of good chances to make things happen on the putting surfaces as well, as the greens were built to hold short-irons and wedges.
Dark Clouds on the Horizon

Bali Hai is a departure and a breath of fresh air from the many desert-themed courses in Las Vegas. Its oasis-like fairways have hosted "The Big Break" as well as gaggle of celebrities and high-rollers.

It's the only championship track located right on the Las Vegas Strip, but that location may come back to haunt Walters Golf (Bali Hai's operators), Clark County (which owns the land the course was built on) and McCarran International Airport, which was supposed to reap a financial windfall from the course and its close-in setting.

There's a move afoot to close the course, bulldoze Bali Hai and build an industrial complex in its place. Clark County - facing budget shortfalls and looking for money any way it can - has given preliminary approval to use the property for a 2-million-square foot industrial and commercial development on the airport's back porch.

It seems the land is simply too valuable to be used as a golf course that is a money-losing venture. If that happens, Bali Hai will join the increasing list of golf course closures exacerbated by the recent economic downturn.

Meanwhile, Walters Golf officials are carrying on business as normal at Bali Hai, but don't dawdle if you want to play it. Published reports say the track could be shuttered as soon as the final quarter of 2010, with the industrial park in its place by September 2012.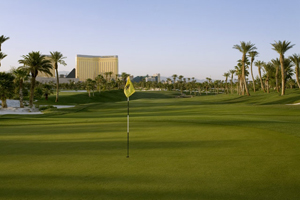 Looking Back Down the 10th Fairway at Bali Hai
Out like a Lamb, in Like a Lion

Schmidt and Curley designed Bali Hai to go out like a lamb and return like a lion, meaning that the drama and thrills build as one progresses through a round. "We wanted to give guests an opportunity to loosen up and enjoy their surroundings before we begin challenging their skills," Curley said.

Given that notion, it is important to take advantage of your chances early, such as on the 341-yard par-4 first and the reachable-in-two 538-yard par-5 second, where you must carry a cart path and a swale to a two-tiered and tricky green.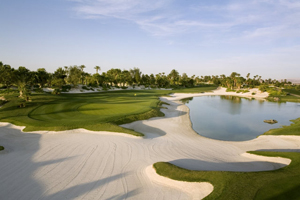 The Green at Par 3 11th Hole at Bali Hai
Things turn a bit testier on the 468-yard par-4 third (nicknamed "Shipwreck"). Play your tee shot between the large bunker left and the creek that borders the hole on the right.

The 168-yard sixth, the first of Bali Hai's five one-shotters, asks players to hit over water that fronts the green. This gem is followed by the track's longest par-5 - the 550-yard seventh - and its toughest par-4, the 482-yard eighth. On the latter, a drive down the right side is best, and even then an approach will need to circumnavigate the huge bunker right-front of the green.

Bali Hai's incoming nine can be a bear, as all four of its par-4s reach 440 yards or more and is punctuated by a challenging trio of par-3s. At the 190-yard 11th, water and sand lurk left but a bailout right will leave you in a rolling collection area and chipping back toward the trouble; this is not the place you want to be.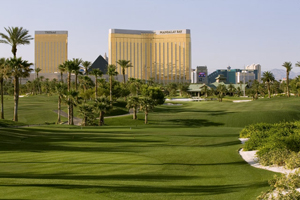 Bali Hai's 18th
No. 14 is a stout 250 yards and one of the longest par-3s in Vegas. Grab enough club as a poor drive will end up either in the deep bunker right-front of the green or a flat spot from high grass left.

The 141-yard par-3 16th is perhaps Bali Hai's most mentioned hole. It plays over water to an island green in the shadow of the facility's green-roofed clubhouse. The putting surface is larger than it appears from the tee, but it also has two distinct tiers. Make sure your shot winds up on the proper level or three-putts enter into the equation.

Originally designed as a short and easy par-5, Schmidt and Curley changed the closing hole to a tough 486-yard par-4 to give you a little something else to remember. A dogleg-left, the approach is with a fairway metal or long-iron over a pond fronting the right. Beach-type bunkers surround the angled putting surface.

"Bali Hai is a fun course," Curley said. "You know you've been tested, but it won't beat you to death. It's the kind of golf course you could play day after day and never tire of its charm."
The venue has been recognized as one of "America's Top 40 Resort Courses" by Golfweek Magazine, voted No. 6 of the "Top 50 Golf Courses in the Country" by GolfWorld Reader's Choice in 2009 and named the "Best Course in Las Vegas" by VegasGolfer Magazine.

The pro shop sustains the tropical theme with a great wardrobe selection and original works of art, while its Cili restaurant features contemporary American cuisine with Asian influences. The setting is Balinese-themed décor in a non-smoking, non-gaming respite.

Bali Hai Golf Club is the South Pacific, Las Vegas-style. The course offers panoramas of the Strip, while making players feel as though they're on a Pacific island in the midst of a bustling city. With 18 playable and enjoyable holes, it's no wonder why Bali Hai is one of the most popular courses among Las Vegas visitors.

For more information or a tee time, visit www.balihaigolfclub.com.
Would be a Shame to See it Go

Bali Hai is a great golf facility, offers excellent service and amenities and is one of Vegas's must-play tracks. While its critics have maintained that the value of the experience has never quite matched the price, few if any fault the imaginative work Schmidt and Curley did in creating an enticing, attractive experience.

When you add in better-than-average service and dining, Bali Hai makes an attractive junket for affluent golfer (rates are upwards of $179 for 18 holes, though there are off-prime-time specials as well).

Walters Golf officials claim they've lost $49 million on the operation of Bali Hai during the 10 years since the course opened for play. Mike Luce, president of the Walters Group, told Clark County commissioners that Bali Hai is a course "bleeding money."

When you factor in the escalating cost of water to irrigate the facility (according to the county, Bali Hai's water bill in 2009 was in excess of $675,000) with the national declining interest in golf, it becomes apparent why the numbers don't add up.

Now the big question now is how long Walters Golf will continue to invest money into Bali Hai's course and golf operations. Better tee it up pretty soon while you have the chance.
Steve Habel is one of Cybergolf's national correspondents, contributing news stories, features, equipment and book reviews and personality profiles from his base in Central Texas. He is also the managing editor for Texas CEO Magazine and works as a contributing editor for Horns Illustrated magazine, a publication focusing on University of Texas sports. He also writes a blog (www.shotoverthegreen.blogspot.com), which features news on golf and the Longhorns, and another (www.checkinginandplayingthrough.blogspot.com) on his many travels, which took him across the nation and to 105 different golf course in 2009. Habel is a member of the Golf Writers Association of America and the Texas Golf Writers Association.