Bali's Cliffside New Kuta Golf Ready for Indonesian Open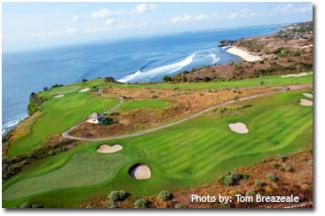 The tropical island paradise of Bali, known worldwide for its exquisite dancers and world-class surf, is set to make waves of another sort when the Tournament 18 at New Kuta Golf & Ocean View in Dreamland Beach welcomes the best players from two separate tours.
The 2009 Enjoy Jakarta Indonesian Open, a joint stop on the European PGA and Asian PGA tours, is scheduled for New Kuta Golf & Ocean View February 26-March 1. It's the first time either tour has visited Bali, a testament to the island's growing stature in tourism circles and New Kuta's immediate suitability as a top-flight tournament venue.
Designed by Santa Rosa, Calif.-based Golfplan and less than a year removed from its April 2008 grand opening, New Kuta Golf measures more than 7,500 yards, or 6,832 meters, from the championship tees, known as the Black Monkeys. The winds never stop blowing here, a blessing in the tropical heat but a complication on holes likes 14, 15 and 16, perched as they are at cliff's edge some 200 feet above the best surfing in Bali.
"I think the tour pros will enjoy New Kuta immensely, but not because they'll eat the course for breakfast. If the winner posts anything better than 12 under for 72 holes, I'll be shocked," said Englishman Stephen Banks, a British PGA professional and New Kuta's general manager.
"The layout and the prevailing winds will surely test their shot-making abilities to the fullest, but they'll also appreciate the physical qualities of New Kuta. Only a blind man could miss it: It's a stunning piece of property that has produced a stunning 18 holes of golf."
A worldwide television audience will also get its first peek of the course. ESPN Star Sports has scheduled four-day coverage of the 2009 Enjoy Jakarta Indonesian Open (total purse: $1.25 million), while select terrestrial and cable networks throughout Europe, Asia and North America will supplement that coverage.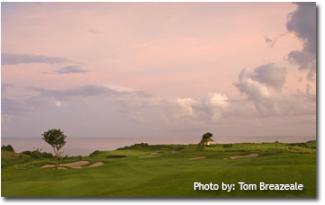 Owned and operated by Jakarta-based Golflink (www.golflink-resorts.com), New Kuta Golf is the centerpiece of a sprawling, ambitious development located 30 minutes south of the island's International Ngurah Rai Airport in Denpasar. Conceived and bankrolled by the consortium PT Bali Pecatu Graha (BPG), the 650-hectare property includes New Kuta Golf, plans for five distinct hotels, and what stands to be the largest nightclub in Indonesia, Klapa, which looks out over the surfers and sunbathers on New Kuta Beach.
The 60-room Le Grande Suites, an elegant boutique hotel near the 9th fairway, will be the first to open its doors, this spring. The 300-room Best Western, closer to the beach and overlooking the 13th hole, comes next. The respective foundations have already been laid for two more hotels, each boasting a storied hospitality brand: Kempinski, on the high ground overlooking the entire property, and Raffles, which will oversee a suite of luxury villas on the cliffs beside Klapa.
Klapa held its grand opening February 8, though a post-tournament party the evening of March 1 will twice christen the nightclub, this time with the 2009 champion presiding. By that time, Banks believes, the winner will have earned his $208,330 first-place check and a celebratory glass of champagne.

At New Kuta Golf & Ocean View, Golfplan designed a course where a lax putter can punish a player on every hole. The greens are wildly undulating and varied in size. However, Banks believes the field, and television viewers, should pay extra attention to a stretch of holes in the middle of each nine.

The back nine, featuring New Kuta's very own "Amen Corner," will perhaps leave the greatest impression. The remarkable par-4 14th tumbles some 438 yards downhill with the aqua-blue waters of the Indian Ocean as a backdrop. The putting surface sits directly at cliff side, fronted by a menacing pot bunker.

Fifteen plays just 153 yards, but it occupies the treeless, exposed headland dividing New Kuta Beach from Balangan Beach. "This little par-3 will show us who the shot-makers are," Banks says, "because, depending on the wind, players will have to manufacture something here. The green is steeply pitched left to right, so finding the putting surface is really only half the battle."

The front side ventures farther inland, but plays over more varied, links-style terrain. At the 191-yard 6th hole, another flamboyant putting surface - multi-tiered and angled away from the tee - is literally surrounded by a sea of sand. It's an island green essentially, encircled by an uninterrupted bunker of uncommon depth. It's this extreme bunker depth that places a serious premium on accuracy: Miss anywhere and par is a chore.

At the par-4 7th, a beautiful-but-brutish dogleg right, sheer length (470 yards) is compounded by a well-trapped landing area and an elevated green guarded by a phalanx of hillside bunkers.

"The 7th is a good example of what makes New Kuta Golf a remarkable golf course: From a forward tee, No. 7 is a difficult but manageable par-4 that just happens to be drop-dead gorgeous - from the tips, it's a par-4 that will test the best players on earth," Banks said, noting that Golfplan designs will host the 2009 Singapore Open (the Serapong Course at Sentosa GC), the 2009 Malaysian Open (Saujana CC in Kuala Lumpur), and the 2009 Indonesian Open.

Adds Banks: "When a layout can handle that type of double duty, that's design integrity. You see the same sorts of qualities in celebrated tournament courses everywhere, like Pinehurst, the Serapong, Bethpage and St. Andrews. Great courses should be able accommodate resort play one week and championship play the next. It's part of what makes them great.

"New Kuta is a young course but it's really the only course on Bali, and one of the few in Asia that can handle that sort of double duty. And those qualities will be there for all to see during the last week in February."
For more information, visit www.newkutagolf.com.