'Ball Hogs' - The Next Reality Show Hit?
By: Dave Droschak
Sam Snowdon admits slopping around in the mud and water of golf course lakes and diving for wayward hit golf balls is far from glitzy. He prefers to call his trade a bit of American ingenuity.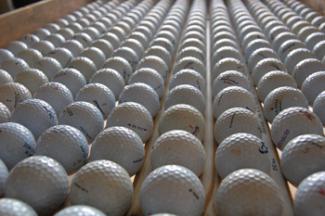 Thousands of Recovered Golf Balls Are Ready for
Processing in Aberdeen, N.C. (Photo by David Droschak)
"It's all make-it-up-as-you-go stuff," said Snowdon, who has been diving for lost golf balls since 1998. "There is no school, there are no standards. Everybody has their own spin on how they do it … how they pick them up.

"Golf-ball diving is not glamorous, but by God you can make a good living," he added. "There have been a lot of kids put through college and there will be tons more that have been paid for by guys who swim for golf balls."

Snowdon's used golf ball operation at RBI Blackwater Divers in Aberdeen, N.C., is far from showy. The co-owner can be found most days sitting in front of his computer in the far reaches of a plain warehouse that doesn't even identify the company, decked out in T-shirt and jeans, his drum set nearby, crunching numbers and plotting the next dive or shipment of golf balls.

Over the last few golfing seasons, Snowdon has been like many tied to the golf industry - struggling during a recession that placed fewer golfers on the courses and, hence, less balls to recover and cash in. Then came a phone call, and another and another. On the other end of the line was a voice that kept pitching the idea to Snowdon of a reality TV show featuring his team of golf-ball divers.

"I thought it was a joke," Snowdon said.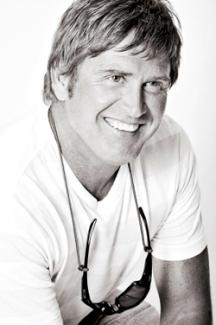 Sam Snowdon
It was legit. And after four days of filming at National Golf Club in Pinehurst last March the proposed reality TV series, titled "Ball Hogs," tops a list of shows being developed by Back9Network, based in Hartford, Conn. An executive with the new golf network says the reality show could launch this fall.

Back9Network was developed as a complementary alternative to traditional media's focus on professional golf tournament coverage, focusing on compelling storytelling, interesting personalities, features and fashions, interviews and instruction, travel, gear and much more.

" 'Ball Hogs' is up there with the other shows that you see with fascinating characters doing fascinating things, like 'Duck Dynasty,' " said Matt Singerman, executive VP of programming for Back9Network. "It's a fascinating way of life. That's what people watch is great characters and great storytelling. There is incredible potential for both of those things."

Snowdon said his crew was exhausted after the four-day film shoot but said it was the most fun he ever had. "We worked our tails off, but it's a pretty rare experience that Hollywood shows up for a bunch of guys swimming around in the mud," he said. "But I made it clear that we are not doing dumb Southerners. I have an IQ and I'm not doing it to my family and my guys, and to their families. The first hint of dumb Southerners (and) we were done, we were walking off."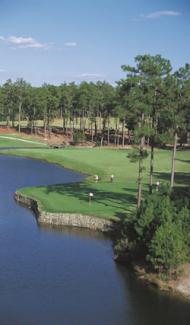 National Golf Club in Pinehurst Area is
Where the Trailer for 'Ball Hogs' was Filmed
"This show is outside the lines," added Singerman. "Whether you like golf or not you will love 'Ball Hogs' because of the people, because of the stories, the characters, the fascination of what they do and the drama in it. All those things make great TV."

Great TV for sure, but it's also extremely dangerous work, which is why Snowdon at first hesitated to participate in the show. "We've tried to really stay as much out of the press as we can because every time somebody does an article on us it floods the water with a bunch of boneheads who think it's easy, and then somebody gets hurt. I don't like to see that," Snowdon said.

Divers who search for lost golf balls in murky waters can earn up to $200,000 a year, but also face a number of perils, including alligators, snakes, snapping turtles, leeches, jagged tree stumps and piping.

"At the bottom of a golf course pond is a network of pipes," Snowdon said. "All the ponds on golf courses are connected; they move water between the ponds to facilitate irrigation. These intake pipes are huge and they are drawing tons of pressure. If you get sucked up to an intake you aren't moving, you are going to run out of air and die, unless the pump gets cut off.

"The bottom of a golf course pond is full of other dangers besides critters. There are all kinds of pumps and pipes, culverts; that's the part that scares me. It's not the animals, it's the mechanical stuff."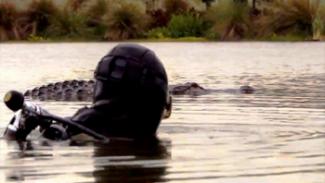 Danger Lurks in Many Places for Golf Ball Divers
(Photo courtesy Back9Network)
Disturbing animals in their natural habit isn't much fun either. Snowdon has a bite on his lower leg to prove it. "I was bitten by something poisonous and I didn't even know it," he said. "It must have been one fang that went through my wetsuit because there is a spot on my leg that never heals."

All divers have a fear of something. For Snowdon, it's snapping turtles, which tend to look as large as "a garbage can lid" when magnified through a diving mask.

"Man, it's not the bite, it's the heart attack that will kill you," Snowdon jokes. "Water moccasins stand their ground and they will chase you. But turtles are bizarre. They lay there and don't move, so when you're standing you can almost stick your hand in their mouth and they bite."

Most dives are peaceful, Snowdon says, until something moves. "Then the spooks start to come out," he said. "Ordinarily, you don't think about it because you get down there and it is so nice and quiet. And when you're finding balls, it's fun . . . and you're thinking of the money. When you are on the bottom raking them in it's like babies getting new shoes. You salivate through your mask."
Because of competition, Snowdon is close-to-the-vest with his stats, but says some years his team of about 10 divers has pulled millions of golf balls from ponds and lakes of the approximately 500 golf courses he has under contract in North Carolina, South Carolina, Virginia, Georgia and West Virginia. Divers are paid anywhere between 6 to 9 cents per ball, depending on skill level, how long they have been in the trade or "if they are swimming with things that have teeth."

Snowdon then sells the used balls, which are sent off to be processed and resold to golfers.

"There is so much buzz around the Back9Network," Snowdon said. "It just so fits me and our company. The Golf Channel has gotten way too stiff. Look, I'm all for respect and tradition of the sport but there are a lot of people where golf is just fun to them. It's a game and you go out there and fall out of the cart and hack it around and drink beer.

"The Back9Network is catering to not-so-serious golfers," added Snowdon. "It has great golf content but has all the other stuff, too. That's where I am as a golf executive and also personally. I like the other side of golf . . . where it is not completely straight by the book. In my opinion, golf needs this show really bad."
David Droschak has covered golf in the Carolinas for three decades, mostly with The Associated Press, where he worked for 20 years as AP sports editor in North Carolina prior to launching Droschak Communications, a full-service marketing and PR firm based in Apex, N.C. Dave, 51, has covered numerous major golf tournaments, including the 1999 and 2005 U.S. Opens at Pinehurst Resort, and is a longtime member of the Golf Writers Association of America.

Dave was honored with the Sports Writer of the Year award in North Carolina in 2005, and is currently editor of Triangle Golf Today (www.trianglegolf.com), a print and online publication regarded as the "No. 1 Source for Golf News in North Carolina." He is golf editor for Pinehurst Magazine, an award-winning glossy publication, and was instrumental in helping launch Triangle Golf Deals powered by Twongo (www.trianglegolfdeals.com) in the fall of 2011.

Dave also is the co-founder of www.HurricanesBeat.com, a website devoted to coverage of the Carolina Hurricanes, an NHL franchise he has covered since the team moved to North Carolina from Hartford in 1998.

Dave grew up in Penn Hills, Pa., about five minutes from the famed Oakmont Country Club and was introduced to the game of golf as a caddie at Green Oaks Country Club in nearby Verona, Pa.

Dave was the co-captain of the 1978 Penn Hills state championship baseball team, was a pitcher for the 1982 Atlantic Coast Conference champion University of North Carolina Tar Heels, and pitched professionally for two years in the St. Louis Cardinals organization. He is a member of the Penn Hills High School Sports Hall of Fame, which also includes NBA coach George Karl and former four-time Pro Bowl offensive lineman Bill Fralic.