Bally Bandon Sheep Ranch: A Throwback to Simpler Times
By: Blaine Newnham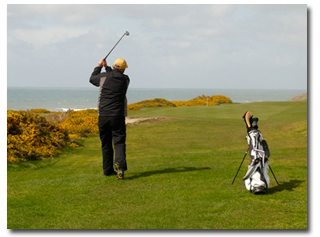 It is, I would guess, like going to a Depression-era speak-easy. It's an off-limits place, a special place, in this case, to remind us just how far we've wavered from golf's origins.
They said call Greg. He would take care of everything. Arrange a time to meet at the gate. Give you a sort-of scorecard, and then bid us to play on.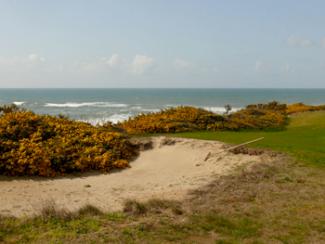 We were going to play the mysterious Bally Bandon Sheep Ranch, which I came to find out wasn't as mysterious or elite as I thought. You, too, can play there.

But on a breezy spring day, with the sun shining and the gorse blooming, we were the only ones on the course.

It's hard to describe how liberating it is to play golf without par, without distances, without people, without any expectations for an 18-hole round because you don't even know how many holes you've played or might play.

Easily, romantically, playing the Sheep Ranch earned a spot among my greatest golf experiences. Up there with playing Royal County Down in Ireland, or two of America's great places, Merion and Cypress Point, or winning a spot in the lottery to play Augusta National the day after the Masters ended.

An introduction: The Bally Bandon Sheep Ranch flows across a promontory just north of the Bandon Dunes Golf Resort on Southern Oregon's coast. Although it is owned by Bandon major domo Mike Keiser and his associate, Phil Friedmann, and although it is rumored to be the site of the fifth and final course at Bandon Dunes, it is not part of the complex.
Early on, it was Friedman's private playfield of golf. Friedmann was Keiser's college roommate and an early partner in their highly-successful greeting cards business.

While Keiser was adding a third course to Bandon Dunes, Friedmann commissioned Tom Doak, the architect who designed Pacific Dunes, to build 12 greens across a massive clearing overlooking the ocean. Not holes, just greens.

I thought it might look like a par-3 course. Instead it covers a space that we measured to be about a mile along the beach. The large greens are lettered instead of numbered on a rudimentary scorecard that offers a routing we declined to follow.

You can't believe this place. You drive down a gravel road to a little turnaround area that is the parking lot. There's no pro shop or restaurant. The only amenity is a Port-a-Potty.
So you unload the clubs and, from a small teeing area, scan the horizon for the right green. We picked one that looked like it might be a par-5 and, in fact, played like a par-5.

There is a matrix of fairways that offer short grass to most of the greens. There are even a few white, 150-yard stakes in the fairways.

But the best thing is to follow your instincts. There were two of us. We agreed the winner of each hole would be rewarded by picking out the next one. Often, we teed off on the shoulder of the green we had just played. Judging by broken tees and a few divots, others had done the same.

The hole we liked most - a beguiling par-5 along the Pacific Ocean from B green to C green - wasn't diagrammed at all on the scorecard. Another, playing back over the ocean to a green hidden by a sand dune, was a shot worthy of Pacific Dunes or Pebble Beach. The only disappointment was to look down and see a divot that suggested we weren't the first creatures to discover the hole.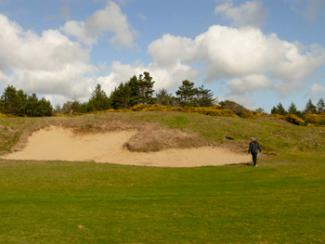 While here I found myself really enjoying golf, and not the process of golf, or a score I might record. I wasn't sure of the distance, let alone par, so each shot became an adventure, not an obligation. Freed from expectation, I hit as many good shots as I have in a long while.

Someone suggested before we went that we really needed to pack a rangefinder so we'd have some idea of distances.

No way.

You want to use your senses, draw on your experiences and play the game by feel and not by cold calculation. We had to figure in the wind, a good two-club northerly. We had to figure the firm conditions that come with links golf. And we had to see the distance, not look it up on some electronic device.
The course was in surprisingly good condition, the seldom-used greens rolling nearly as well as those on the neighboring resort. The fairways were a little spotty, the rough a little rough, but this was links golf.

We'd paid $100 green fees for as many hours and as many holes as we wanted to play.

Others have said it is even more fun to take a large group out and play from dawn to dusk. Some have brought barbecues and coolers, and play for a few hours, take a break for a few hours, and then play again.
We sat down a couple of times to take a rest and enjoy the views. Some guys we talked with later about the experience really got into the spirit of the place and played alternate shots in their competition, with the added spice of stymies. How cool is that?

If you want to play the Sheep Ranch, call 541/347-1636 for Bandon Golf Supply in Bandon. They field questions and point you in the right direction in a process that ends with writing a $100 check.
Normally, and because there is no formal course routing, only one group is allowed on the course at the same time. The day we were there the morning belonged to a crew filming the movie version of "Golf in the Kingdom."

This summer the ranch will close from early July to mid-October because there is no irrigation for the fairways.

While acknowledging that the Sheep Ranch has no formal relationship with Bandon Dunes, Josh Lesnik, the president of Kemper Sports, said, "Mike and Phil might build a true golf course on the site, and it probably would be a beauty. If they do, it would perhaps become a part of the resort."

But, clearly, with all the emphasis on next June's opening of Old Macdonald, another throwback links course, there is no rush. At the Sheep Ranch, there never is.

As we trudged up to what we called our final hole to a green behind a massive blow-out bunker, I realized I couldn't go any more. But my playing partner did.

"I'll go up to the northernmost green," he said, "and play down to the southernmost green. You take the car and meet me at the hole."

Neal is a scratch player. He was playing his final hole downwind. He hit a driver, four 4-woods, a 5-iron, a pitch and a putt to make eight on a hole we estimated to be the best part of 1,500 yards.

We think he made a birdie, or perhaps even an eagle. But it didn't matter. It was that kind of day.

This story originally appeared in Cybergolf on May 15, 2009.
Blaine Newnham has covered golf for 50 years. He still cherishes the memory of following Ben Hogan for 18 holes during the first round of the 1966 U.S. Open at the Olympic Club in San Francisco. He worked then for the Oakland Tribune, where he covered the Oakland Raiders during the first three seasons of head coach John Madden. Blaine moved on to Eugene, Ore., in 1971 as sports editor and columnist, covering the 1972 Olympic Games in Munich. He covered five Olympics all together - Mexico City, Munich, Los Angeles, Seoul, and Athens - before retiring in early 2005 from the Seattle Times. He covered his first Masters in 1987 when Larry Mize chipped in to beat Greg Norman, and his last in 2005 when Tiger Woods chip dramatically teetered on the lip at No. 16 and rolled in. He saw Woods' four straight major wins in 2000 and 2001, and Payne Stewart's birdie putt to win the U.S. Open at Pinehurst. Blaine now plays golf at Wing Point Golf and Country Club on Bainbridge Island, Wash., where his current index is 12.6. In 2005, Blaine received the Northwest Golf Media Association's Distinguished Service Award. He and his wife, Joanna, live in Indianola, Wash., where the Dungeness crabs outnumber the people.