Ballybunion Golf Club Unveils Course Enhancements
Ireland's fabled Ballybunion Golf Club has made recent enhancements to benefit the playability and aesthetics of its Old Course and Cashen Course. As part of a multi-year project, the English architecture firm of Hawtree Limited fashioned several modifications this past winter to greens, tees, bunkers and playing corridors, while maintaining the integrity of both designs.
A Look at the 15th & 16th at Ballybunion's Old Course
(Photo by Steve Carr)
Work on the Old Course included:

• Altering tee boxes on the second and fourth holes so they nestle into dunes and blend with the natural surrounds;
• Removing "relic" bunkers just off No. 4 tee and adding a new bunker to the modern landing area;
• Building a forward tee on No. 7 to join the White and Blue tees atop a dramatic cliff;
• Decreasing the size of three bunkers on No. 8 and converting them from sod-faced to more of a grass-faced style for greater course-wide uniformity.

"We are very cognizant of our duty to retain the Old Course's classic routing and unique ambiance," says Vari McGreevy, general manager of Ballybunion Golf Club. "These skillfully executed tweaks make golfers' journeys all the more memorable."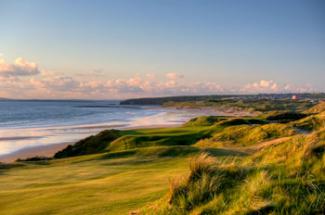 17th Hole at Ballybunion's Cashen Course
(Photo by Steve Carr)
Changes to the Robert Trent Jones-designed Cashen Course involved:

• Planting fescue grass around No. 1 tee box to evoke a greater links feel and re-grassing the backs of fairway bunkers that had become parkland-like over time;
• Adding mounds and grasses behind the first green and along the first and second fairways to further promote a one-with-nature sense; • Enlarging the first, second and 15th greens to create additional hole locations;
• Repositioning No. 2 green to the edge of the Cashen Estuary to enhance scenic views;
• Lengthening the par-5 15th hole and widening the last 100 yards to augment strategic options;
• Expanding the par-3 16th tee to uphold turf health.
"The Cashen Course is more popular than ever with our international members and guests," added McGreevy. "The updates enrich playing experiences and remain true to the layout's original, rugged spirit."

For information about tee times, packages, overseas memberships and more, visit www.ballybuniongolfclub.ie or call (011) 353-68-27146.
About Ballybunion Golf Club

Meandering over and alongside fescue-covered dunes on County Kerry's rugged Atlantic coastline, Ballybunion presents the quintessential Irish golf experience.
The Old Course

Ranked consistently in the world's top-20 courses by Golf Magazine, the par-71, 6,802-yard Old Course radiates charm, fusing grassy dunes to fashion a classic test of links golf. The 402-yard No. 11 hole is considered one of the finest par-4s in the world, while the long par-3 15th is both remarkably scenic and treacherous.

The Cashen Course

Opened in 1984, the Cashen Course was designed by Robert Trent Jones. Situated on an even more dramatic parcel than its sister layout, the par-72, 6,306-yard layout is one of the most challenging in Ireland. It requires precision off the tee and into greens. Wildly undulating with views throughout, Cashen Course has been rated among the best modern layouts in Great Britain and Ireland by Golfweek.