Ballyliffin's Glashedy Links Meshes Isolation with Excellence
By: Steve Habel
Unless you have access to a helicopter, it's a haul - even by Irish standards - to reach Ballyliffin Golf Club and its much-ballyhooed pair of treasured links courses. Residents of the Emerald Isle are known to say Ballyliffin is located "at the back of beyond"; you and I might say it's "way past BFE."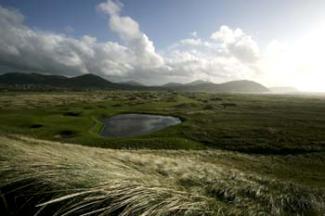 View from Tee at Glashedy Links's Par-3 7th Hole
But since the turn of the 20th century, players worldwide have found their way here to knock it around the massive dunes that comprise Ireland's northernmost golf club. We were able to verify the journey to reach the uppermost reaches of Donegal's Inishowen Peninsula was worth the effort.

Situated close to Carndonagh off Tullagh Point and exactly 10 miles due south of Malin Head, Ballyliffin GC involves 365 acres of spectacular dunelands and is practically surrounded by rolling hills and mountains, with the only other boundary being the frothy, bone-chilling Atlantic Ocean.

Golf has been enjoyed on the property since the early 1900s, but the facility's first official course, now called the Old Links, was designed by the famed Eddie Hackett and formally opened in April 1947.

The newer course, the tough-as-nails Glashedy Links (dubbed after the massive Glashedy Rock about a mile offshore), was fashioned by Pat Ruddy and Tom Craddock and debuted in 1995. Both courses have since been renovated, by Sir Nick Faldo and Ruddy, respectively.

During our trip in the summer of 2012, we played Glashedy Links. But it was easy to imagine how the Old Links would play because the two courses are virtually intertwined. Maybe, if we're lucky, a round on the older course will be in the cards someday.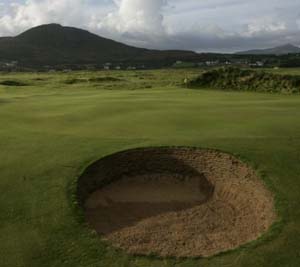 Bunkers Are Prevalent at Glashedy Links
Never a Dull Moment

When they first visited the dunes and valleys that would become Glashedy Links, Ruddy and Craddock were floored by the terrain and its possibilities. Thus inspired, they got right to work and it took less than 27 months to build the course.

Glashedy Links winds through towering dunes. It features fairways that twist and turn past vast giant, peat-lined bunkers and end at decidedly undulating greens. Playing at a testy 7,220 yards from the back set of its four tees, this is a long course, and with the ever-blowing wind can morph quickly into a monster.

This is links golf as pure as anywhere on Earth, with rocky terrain shadowed by impending peaks and characterized by ever-present sea and sand. It's difficult to pick a signature hole here as each Glashedy's offering has its own invigorating charms and personality.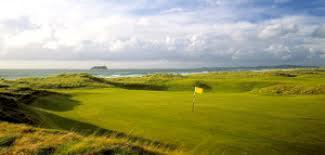 Glashedy Rock is a Constant Sight at Glashedy Links
The round opens famously with a trio of mighty two-shotters. The first, at 422 yards, signals that this course mandates straighter drives to narrower fairways and that bump-and-run may not be an option. The elevated first green requires precision on the approach as trouble looms in the form of a cavernous bunker cut into the hill along the left.

The 427-yard second continues in the same vein, with out-of-bounds looming on the right and another difficult shot to an even more elevated green. The 426-yard third continues uphill to a large tilted green to result in one of the most difficult holes on the entire course.

No. 5, a 172-yard downhill par-3, plays to a putting surface that is protected along the right by three wicked pot bunkers and left by another sandy depression, making a proper club selection at the tee crucial.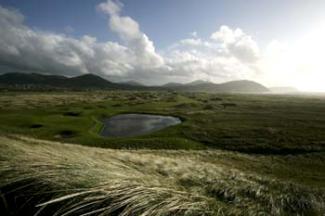 View from Tee at Glashedy Links's Par-3 7th Hole
To many traditionalists, the 181-yard par-3 seventh seems out of place at Glashedy Links. The hole features a 120-foot drop to the green, a target squeezed by mounds left, a lake front and right and a grass bunker at the starboard side. Complicating matters is that the view from the tee is expansive in all directions, making it easy to lose focus.

Ruddy, a golf writer as well as a course architect, knows how to wield hyperbole, enthusiastically calling a three-hole stretch on Glashedy Links' back nine as the "Magic Circle."

"One could play the 'Magic Circle' in a continuous loop, forever in the knowledge that golf doesn't get any better," Ruddy once remarked.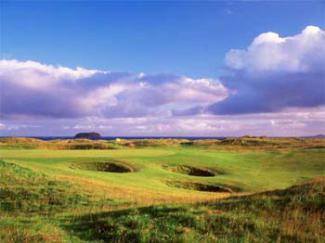 Three Deep Bunkers Guard the 15th Green
It starts at the 13th, a strong 571-yard par 5 that has been hailed as one of the greatest three-shot holes in all of Ireland. Winding narrowly through a natural corridor of dunes, two straight shots are required before arriving at another heightened green that falls away dramatically to the left and is protected by four pot bunkers.

The 182-yard par-3 14th wows players with its elevated tee that overlooks Glashedy Rock. The shallow green is sandwiched between bunkers fore and aft, making it one of the most demanding targets on the course. At 451 yards, the par-4 15th may be the toughest test here. The dogleg-left turns at a juncture where the fairway meets four bunkers, and ends at a raised green fronted by three more cavernous traps.

You can't see the 18th green from the tee at the 452-yard par-4, but it's just around the corner. Resist the temptation to take a shortcut over the massive dune along the right as there's a bunker just on the other side that you want nothing to do with. The approach must be flown all the way to the putting surface, which, not surprisingly, is engirded by three deep bunkers.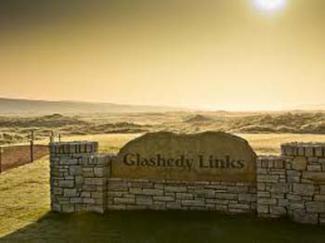 The Glashedy Links at Ballyliffin GC
Glashedy Links is truly a championship course and grants no quarter. Under the right (or is it wrong?) conditions, it can be a severely punishing golf test that demands your best from start to finish.

The club has proved its mettle by hosting several prestigious tournaments, including the 2006Irish Interprovincial Championships, the European Tour's North West of Ireland Open in 2002, and the Ladies European Tour's Ladies Irish Open in 1998.

This course is a visual pleasure and a wonderful test. To paraphrase a 1980s pop song by Eleta Adams, "I don't care how you get there, just get there." You'll be glad you found your way to Glashedy Links.

For more information, see www.ballyliffingolfclub.com.
Steve Habel is a freelance writer contributing Cybergolf news stories, features, equipment and book reviews and personality profiles from his base in Central Texas. He also works as a contributing editor for Horns Illustrated magazine, a publication focusing on University of Texas sports, and is a contributing writer for Golfers' Guide and Golf Oklahoma magazine, Texas Links magazines and Golfers Guide. Habel's main blog (www.shotoverthegreen.blogspot.com) features news on golf and the Longhorns, and another (www.checkinginandplayingthrough.blogspot.com) chronicles his many travels, including playing more than 600 golf courses since 2008. Habel is a member of the Golf Writers Association of America and the Texas Golf Writers Association.