Ban Overcomes Medalist Jonson to Win Pacific Northwest Men's Amateur
Shotaro Ban of San Jose, Calif. defeated Carl Jonson of Bainbridge Island, Wash. 5 & 4 in the 36-hole championship match of the 111th Pacific Northwest Men's Amateur Championship at Wine Valley Golf Club in Walla Walla, Wash.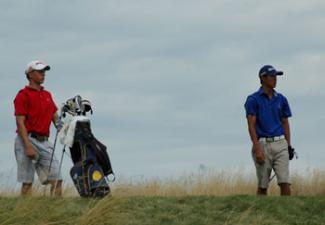 Carl Jonson & Shotaro Ban
The 36-hole match was delayed 70 minutes due to threatening weather. Once the thunderstorm rolled through, play began at 8:40 am.

Ban, a sophomore at the University of Calif., Berkeley, got off to a rousing start, winning six of the first eight holes, highlighted by an eagle on the 625-yard par-5 eighth when he holed a wedge shot from 103 yards. He shot 4-under-par 32 on the first nine for a 6-up lead. Despite continually being out-driven by Jonson, Ban's iron play was relentless.
Ban kept it going on the second nine, getting to 8-up after 13 holes after not losing a hole. Ban's first - and as it would turn out, his only - mistake of the day came on the 515-yard par-5 15th. In the left-front bunker in two, his third shot came out short and started rolling back into the bunker. Ban reached out and removed a rake before the ball hit it, which led to an automatic loss-of-hole penalty. "I learned something today," said Ban. "It was an automatic reflex (to move the rake)."
Jonson, a 19-year-old sophomore at UNLV and the medalist after 36 holes of stroke play, three-putted two of the first three holes and soon found himself in a huge deficit. "Yes, definitely not a good start," said Jonson. "I was hitting good shots but kept finding myself on the wrong side of the hole. I basically gave him three holes right away and I felt the match hadn't even started yet."
Jonson didn't stop Ban's momentum until the par-3 14th. Hitting second, Jonson put his tee shot eight feet behind the cup and drained the birdie putt to win his first hole of the day. "Finally, yes," said Jonson. "That got me going." Jonson birdied four of the next seven holes to cut into Ban's lead, and as they stood on the tee of the 22nd hole, a 390-yard par-4, with Ban's lead reduced to 2-up.
"Yes, the momentum definitely had swung in (Jonson's) favor," said Ban. "He got his putter going, and starting hitting his iron shots closer. I wasn't doing anything different, but he sure was."
"I was proud of myself for keeping my focus," said Jonson. "I knew I had been playing well, and I guess I needed to trust that it would happen. But I give credit to Ban. He really did hit the shots."
Ban birdied the 22nd hole to stop Jonson's charge, then nearly holed a chip for another eagle on the par-5 25th (the same hole he eagled in the morning 18). After Jonson three-putted the 27th, Ban's lead was back to 4-up. On the par-3 32nd hole, both players hit the green in regulation, and when Ban two-putted from 15 feet for par for a halve the hole, he closed out the match, 5 & 4.
The victory capped Ban's comeback from a wrist injury that forced him to sit out the first five months of the year. "Not a good time," he said. "It was tough getting back into it. I'm a little surprised I played this well this week. It was a long time coming."
Jonson became the medalist and top seed in the match-play portion of the championship thanks in large part to firing a course record 9-under-par 63 in the second qualifying round. Jonson has a history with the Amateur and the PNGA. His father, Ed Jonson, won the championship in 1974 at Sahalee Country Club. His great-uncle Carl Jonson, young Carl's namesake, and his grandfather, Ernie Jonson, are both members of the PNGA Hall of Fame.

"It would have been pretty cool to have both our names on the trophy," said Carl. "We talked about it during the week. I have a few more years to do it. You never know."

The above story is courtesy of the PNGA. For more information and scoring details of the a wrist injury, visit www.thepnga.org.