Bandon Dunes' Keiser is at it Again
By: Jeff Shelley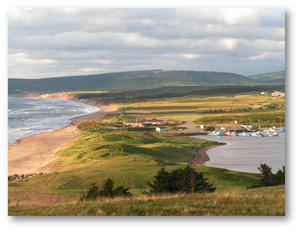 Mike Keiser, the developer of Bandon Dunes, the 54-hole golf mecca on Oregon's southern coast, is partnering in a new project on Cape Breton Island in Nova Scotia. Like Bandon Dunes, Cabot Links will be a walking-only links course. Situated on the west coast of Cape Breton, the majority of the site borders the Gulf of St. Lawrence and offers breathtaking views of the water and rugged coastline.
The designer of the course is Alberta -based golf architect Rod Whitman. Whitman got his start on the maintenance crew at Waterwood National Golf Club in Huntsville, where his boss was Bill Coore, now Ben Crenshaw's architect-partner. From there he went to work for Pete Dye as the construction supervisor of the then-new Austin Country Club. Whitman continued working for Dye before joining Coore-Crenshaw, where he assisted in the design and construction of the heralded Friar's Head on Long Island, N.Y. Whitman's solo projects include Wolf Creek Golf Resort in his hometown of Ponoka, Alberta, and Blackhawk Golf Club near Edmonton.
Cabot Links' site has been destined for some kind of golf development for several years. The nearby town of Inverness has tried for more than a decade to find a developer willing to transform the former sand-capped mine property into a golf course. At different times, Jack Nicklaus and Canadian architect Graham Cooke were tapped to design a course, but neither of those projects became reality.
Despite these failed efforts, some heavy-duty observers have imagined a world-class layout for the raw Cape Breton Island land. They include Ohio-based architect, Michael Hurdzan, who once said it might be one of the best untapped golf sites in North America.
The current owner of the property, Ben Cowan-Dewar, president of Golf Club Atlas Developments, is partnering with Keiser on the project, envisioning the same type of remote destination that Bandon Dunes' far-sighted creator built alongside the Pacific Ocean. Work on Cabot Links is expected to start soon. "We are thrilled to partner with the Bandon Dunes team to bring the exciting brand of golf that is captured in Bandon, Ore., to the Eastern Seaboard of North America," Cowan-Dewar said in a statement.
At slightly more than 200 acres, the site is considerably smaller than that of its Oregon cousin, but every hole at Cabot Links will offer water vistas. The layout will begin in the town of Inverness, perched on an elevated slope, before unfolding down toward the beach, where eight holes will be located.
Commenting in a 2006 article in Canada's SCOREGolf magazine, Whitman said when he first saw the Inverness site he was immediately reminded of great Scottish links at Carnoustie and St. Andrews, where the courses and the towns meet to complement one another.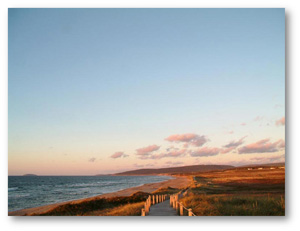 Like the three courses at Bandon Dunes (with a fourth - Old MacDonald - now under construction), which were built below industry-standard costs for a new golf development, Cabot Links too will have a modest price tag. And that's because the land lends itself to golf. "In reality, if you look at Pacific Dunes or Blackhawk or Sand Hills (in Nebraska), you'll see a lot of the great golf courses built in the last 50 years were not that expensive," Cowan-Dewar said in the SCOREGolf article. "That's especially the case if you have your designer build the course and keep the costs under control. That's what Rod does."
In another nod to Bandon Dunes, Cabot Links will feature firm fescue fairways and an efficient land plan for easy walking between holes. A caddie program will be developed, while green fees will be priced in the $100 range. If all goes well with construction, the course - which is already appearing in the crosshairs of golf-design cognoscenti - will open in 2010.
For more information, visit http://www.cabotlinks.com/index.html.