Bandon Dunes - Worth the Effort of Getting There
By: Joel Zuckerman
It's the greatest golf resort you've never been to (well, most of you, anyway).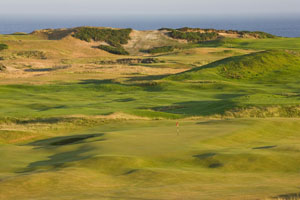 Looking West on Old Macdonald's 11th Hole
At first glance, it's almost as if founder and visionary Mike Keiser wanted to ensure failure when he conceived and executed the ethereal Bandon Dunes Resort on the remote coast of southern Oregon. The entrepreneur, who made his fortune in recycled greeting cards, has always loved links golf - the rustic, windblown, seaside courses with ultra-firm turf and deep pot bunkers found primarily in the U.K. and Ireland.

When he found suitable land on the Oregon coast, the fact that it was nearly a five-hour drive from the nearest major airport in Portland didn't faze him. He decided there would be no other on-site amenities like pools, bike rentals, spas or tennis courts. He also chose to discourage about 80 or 90 percent of all potential visitors by decreeing that the courses at the facility would be walking-only. So the many millions of cart-tethered golfers throughout the land would either have to get in game shape or forgo the trip entirely.

But Keiser's seeming recipe for disaster has paid off wonderfully, and his contrarian theory for the first course led to a second, then a third and now a fourth. The entire quartet is well-ensconced in the top-30 courses in Golfweek Magazine's list of Top 100 Modern Courses. Under current construction is a 13-hole par-3 course slated to debut in 2012, a perfect afternoon alternative for those who wish to play more than 18 but lack the energy and desire to play 36 holes.

Bandon Dunes continues to evolve in magnificent fashion, and for the game's cognoscenti has pretty much supplanted Pinehurst, Scottsdale and the Monterey Peninsula as "the" go-to golf destination in the United States.

In certain ways, Bandon Dunes - the sprawling resort complex comprised of courses called Bandon Dunes, Pacific Dunes, Bandon Trails and now Old Macdonald - is like a classic private club in the northeast, a Pine Valley, Oak Hill or Winged Foot. It is quality through and through, but nothing showy or ostentatious. It's also dripping with testosterone. Women comprise only about 5 percent of visitors, up from a virtually untraceable percentage some years back.
Not hard to understand, given the remote locale and the single-minded nature of the facilities. The handsome sign on the Pacific Coast Highway south of Coos Bay and north of the town of Bandon says, "Bandon Dunes Resort," but it's not a resort in the typical sense. Lodgings are mostly simple, though the recent addition of the upscale Grove Cottages and the even-newer Inn has upped the ante in terms of accommodations. The food is great, but relatively simple. It's all about the golf - walking only, caddies preferred, wind, cool weather, precipitation all potentially part of the daily equation. A typical resort golfer used to GPS systems, a roving beverage-cart girl, ribbons of cart paths and a shiny buggy at their disposal might consider Bandon Dunes a resort of last resort.

The high bluffs overlooking the Pacific where the first and second courses are located is a landscape that bristles with gorse, the Scottish import originally brought to the Oregon coast as natural fencing for sheep. They won't eat it and it's too prickly to wander through. The unruly vegetation practically mutated, it spread so quickly in the seaside climate.

The gorse is as unpleasant for golfers as it is for the sheep, and with the shore pines, Scotch broom, strawberry and huckleberry bushes and hardy sea grasses, there are numerous - perhaps the less skilled might say endless - opportunities to lose golf balls. The gorse has been cut back from the playing corridors in recent times, widening the playing area and lessening the intimidation factor, but it remains, even in its reduced state, a menacing presence.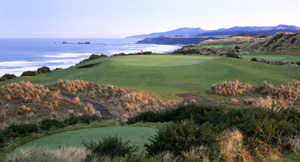 6th Hole at Bandon Dunes
Bandon Dunes is the original course, dating from 1999. It was designed by a 28-year-old Kidd, specifically, a young Scotsman named David McLay Kidd. Keiser gave Kidd the job despite the fact that his only previous 18-hole design was in Katmandu, of all places, and the fact that a native Scot hadn't designed a golf course on American soil since no less a personage as Donald Ross.

But Kidd, who produced an elegant figure-eight routing that proceeds from the clubhouse to the sea and back on each nine, had two things going for him. His dad was the head groundskeeper at famed Gleneagles in Scotland, and the young architect had learned the game at storied Macrihanish, one of the most elemental of Scotland's links. At Bandon Dunes he envisioned and produced broad fairways, deep sod-walled bunkers and sizeable greens. Several holes on each nine are in close proximity to the cliffs abutting the roiling sea, which is pockmarked with the elaborate rock formations jutting from the water and pounded ceaselessly by the surf that makes this stretch of coastline so memorable.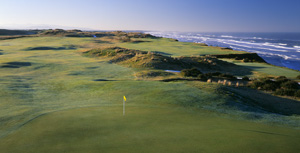 The 4th & 12th Holes at Pacific Dunes
Iconoclastic architect Tom Doak came on the scene soon after. Pacific Dunes, which debuted in 2001, is even more dramatic than the original. Located north of the first course, Pacific Dunes has seven holes perched precariously 100 feet above Whiskey Run Beach, where a lucky golfer might see migrating whales beyond the surf line if he or she looks to sea at the proper moment.

Pacific Dunes is quirkier, riskier golf than the original, with less dirt moved, and more humps and hummocks in the fairways. Tee shots and approaches are more exacting here than at Bandon Dunes, and the routing is decidedly nontraditional, with four par-3s and three par-5s coming on the inward nine.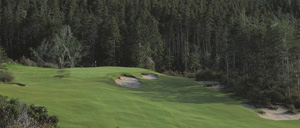 The 14th Hole at Bandon Trails
Bandon Trails was designed by the most sought-after duo since Simon and Garfunkle parted ways two generations ago, Ben Crenshaw and Bill Coore. It's a wholly different experience than the seaside twosome that preceded it, but Trails is no third wheel by any means. Their inland effort begins and ends on high ground, with distant views of the sea.

The course routing descends, traverses and then climbs again through different ecosystems, including dunes, forests and meadows. The bunkers have a ragged, eroded-edge quality, and even though the ocean is a distant memory after the first few holes, Bandon Trails continues to engage the senses while offering a daunting challenge with holes routed up and over, down and through, left and right, long and strong, short and deadly.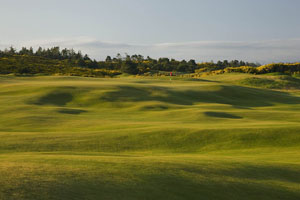 10th Green at Old Macdonald
Completing the quartet is Old Macdonald, which officially opened in the summer of 2010. This latest offering pays homage to the classic architecture styling of C.B. Macdonald, the "Golden Era" architect best known for his work at Chicago Golf Club and Long Island's National Golf Links of America. In fact, Old Macdonald opened for play exactly a century after the National did in 1910.

It's instructive to note that Macdonald's originals aren't readily available to the golf public as he worked almost exclusively in the private club sector. (The aforementioned clubs are among the most highly regarded and least-accessible courses in the world. National is 20th on Golf Magazine's list of the world's finest courses, and it's hard to find a golfer even in Chicago who knows a member at Chicago Golf Club, ranked 31st on the same Golf Magazine list.)
This newest course at Bandon Dunes is a collaboration involving Tom Doak and his longtime associate Jim Urbina, using input from a range of architectural experts to capture the nuance and tone of Macdonald's work and not create any sort of carbon copy or "tribute" holes. The playing corridors are massively wide, with multiple holes viewed from almost anywhere on the course. The greens are the largest in the U.S. and not by a little. With a total of 255,000 square feet of putting surfaces, the greens on the course average over 14,000 square feet. They meander in every direction with slants, tilts, inclines and rolls. The fifth has nine feet of elevation change from back to front and is hard to walk on, never mind putt. Suffice it to say that it's not hitting the fairway or the green that leads to low-scoring rounds on Old Mac, but hitting the proper segment of the fairways, leading to the best chance to access the proper segment of the green that portends any success.

In summation, Old Mac pushes Bandon Dunes even further ahead of its competition.

To paraphrase the words of former football coach Bum Phillips, speaking of Herschel Walker, "I'm not saying (Bandon Dunes) is in a class by itself. But whatever class it's in, it doesn't take long to call roll."

For more information, visit www.bandondunesgolf.com.
Joel Zuckerman, called "One of the Southeast's most respected and sought-after golf writers" by Golfer's Guide Magazine, is an award-winning travel writer based in Savannah, Ga., and Park City, Utah. He has written five books, including the epic "Pete Dye Golf Courses" in 2008. Joel's course reviews, player profiles, essays and features have appeared in more that 100 publications internationally, including Sports Illustrated, Golf, Continental Magazine, Travel & Leisure Golf, Sky Magazine, Golf Connoisseur, Golfweek, Estates West, Millionaire and Golf International. For more of Joel, visit www.vagabondgolfer.com.