Banks Course at Forsgate Polished to a High Shine
By: Jay Flemma
When most people think of world-class golf in New Jersey, the first two courses that come to mind are Pine Valley and Baltusrol, the former because of its perennial No. 1 ranking in American golf, the latter because it has hosted seven U.S. Opens and a PGA Championship.
To most golfers, merely playing either course is a once-in-a-lifetime experience. Becoming a member and calling it their home course is nothing short of miraculous. Nevertheless, there are too many great private clubs in New Jersey to have the state's golf landscape defined only by number-one rankings and major championships, and world-class private golf in New Jersey is more accessible and affordable than you ever imagined.

The Banks Course at Forsgate Country Club in Monroe Township makes a strong case from inclusion in any discussion of the best courses in New Jersey, perhaps even the entire Eastern seaboard. It has an impeccable pedigree. As the last course completed by architect Charles "Steamshovel" Banks - the protégé of Seth Raynor, who young lawyer who was the associate and later successor to C. B. Macdonald - Forsgate has many of the great, classic, strategic holes found in that venerable ancestry, which includes National Golf Links of America as its progenitor. It's been polished to a high shine by celebrated golf architect and historian Stephen Kay. Most importantly, its proprietor, Chris Schiavone, understands that the first duty of a golf facility owner - especially one of a course with such a sterling architectural and historical bloodline - is preservation, stewardship and restraint.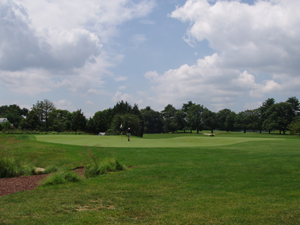 The Gorgeous Horseshoe in the 12th Green
Originally completed in 1931, the Banks Course recently underwent a limited program of restoration and renovation. The club simply extended a few tee boxes back to lengthen the course, then modified two holes. Much of the work centered on two of the par-3s, the collection of which - all stunningly beautiful, yet cunningly difficult - are the beating heart of the layout.

The mighty 235-yard 17th is of the best Biarritz holes in golf. The green itself is 100 yards long and is bisected by a 6-foot-deep swale. It's an unforgettable golf hole.

"During the Depression and WW II, a lot of Biarritz holes fell into disrepair. To save money, instead of maintaining the swale as part of the green and mowing the entire green at green height, only the back half of the green was mowed," explained Kay. "Shoreacres in Chicago is another example. They could tell by doing soil probes that the front and the swale were always intended to be green. Banks had put a layer of black cinders under each green. When [golf writer and historian] Ron Whitten went around that course and told the super that there's a good chance that the swale and front part were supposed to be green, he turned out to be right. Sure enough, there were cinders under green.
The Par-3 7th at Forsgate is a Reverse Redan
"Forsgate has cleaner soil under the greens, but rocky soil everywhere else. Sure enough, between checking the soil and talking to old members - the rumors were always that the swale used to be part of the green; we found that the swale was meant to be part of the green."

It took about a year to finish the process of restoring the swale and front of the green. They aerated the valley and front more frequently, and top-dressed it, then slowly lowered the mowing height. "The problem was at the top of the ridges, continued Kay. "Some of the top level was sharp, so it scalped. It wouldn't have scalped for Banks, because back then they mowed to a ¼ an inch, now we mow to 1/8th of an inch."

The par-3 7th, a reverse Redan - called by some a "Nader" hole - was the only other hole that received significant changes. "I wasn't thrilled with the hole because the bunker was totally blind, and the cart path was too visible, Kay asserts. "Chris Schiavone hired me to help find some more yardage all the way around the course, and we were able to add some here. So we moved the tee back and lowered the ridge between the green and tee so the bunkers were not blind. We took that soil and used that to build a new back tee. Then we shifted the cart path 7 to 10 yards right to take it out of view."
The changes have worked perfectly. At 17, everyone loves the rollercoaster effect of having the swale as part of the green. "It's a much better hole with the original strategy re-introduced," said one media member, playing in the annual Writer's Cup Championship, where New York and Philly golf writers compete for annual bragging rights. "There are so few examples of this hole in the world to begin with, it's important to have such an excellent example of the Biarritz hole preserved so everyone can enjoy it.

"Moreover, the changes on seven make it easier to visualize the shot and plan the proper line to filter the ball into the day's pin placement. That small change made the hole more enjoyable because it relies less on luck," Kay continued. "That small change resulted in a big benefit, but that's the story of the entire restoration project. By using a light touch, they were able to accentuate all the shots that were intended to be played when the course was built. But with the extra few yards they gained, we hit the same clubs in as they did in the past. They don't have to worry about bombers and gougers driving past all the trouble. You still have to think on every shot, and then execute properly."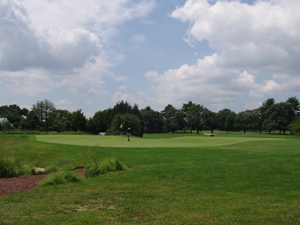 Swale in Forsgate's 100-Yard-Deep 17th Green
The course has many other unforgettable moments as well. Banks designed one of his most celebrated and recognizable "short" holes at the par-3 12th. His circular green has a deep thumbprint in its front, leaving a perfect "horseshoe" feature around the depression. The par-4 fifth features a gorgeous punchbowl green set in its own verdant dell. The double-plateau green at 16 is fiendishly clever in its intricacy. And back-to-back par-5s at eight and nine close the front nine with a bang as they rumble through some of the most undulating fairways on the property, then end at greens perched precariously on enormous ledges high above the deepest bunkers on the course.

Just three minutes off New Jersey Turnpike (Exit 8A), Forsgate is conveniently located equidistant from both Philly and New York. There is a second course on the property originally designed by Hal Purdy, but it now bears Arnold Palmer's name after he did some minor renovation work with his former partner Ed Seay back in the '80s.
Further, club morale is at an all-time high. Schiavone and team bring a first-class, blue-collar, fair-minded work ethic to the way they approach their business, but also exude a remarkable modesty and humility, grace and class. Far from the perceived stuffiness and attitude of many northeast private clubs, the camaraderie and fun of Forsgate are palpable the minute you set footy on the property. With fun projects like the zany "Wayne and Skippy Forsgate TV show," a broad palette of tournaments for every player - expert to beginner, outstanding food and terrific amenities like a steam room and sauna, Forsgate has everything a family is looking for in a country club and then some.

Best of all, membership packages start at $18,000 and monthly minimums are well under $100 per person. (Compare that to, say, Liberty National, a course that costs $500,000 to join, but is so ugly, overpriced and under-designed it will go down in golf history as one of mankind's most awful crimes.)
Design: 6 - 6.5 stars (All ratings out of seven)
Natural Setting: 5 stars
Conditioning: Fine
Value: 7 stars
Overall: 6- 6.5 stars

For more information about Forsgate Country Club, visit www.forsgatecc.com.
If this writer can offer a modest proposal, I'd like to suggest a minor change to the format of the Writer Cup tournament, which has now been won three times in a row by Philly. Rather than an aggregate stroke event, I'd love to see my NYC boys take on the some of the Philly players in match play. Everyone can still play their own ball, but instead of adding up the scores of the top 15 players on each side, let everyone take on an opponent head-to-head, and then add up which side won more matches. Personally, I want a shot at taking Philly captain Mike Kern to the woodshed. I love ya, Mikey, but the thought of you beaming and drenched in champagne after hoisting the Cup for the fourth consecutive year gives me the shingles.


Since launching his first golf writing website in 2004, http://www.jayflemma.thegolfspace.com, Jay Flemma's comparative analysis of golf designs and knowledge of golf course architecture and golf travel have garnered wide industry respect. In researching his book on America's great public golf courses (and whether they're worth the money), Jay, an associate editor of Cybergolf, has played over 220 nationally ranked public golf courses in 37 different states. Jay has played about 1,649,000 yards of golf - or roughly 938 miles. His pieces on travel and architecture appear in Golf Observer (www.golfobserver.com), Cybergolf and other print magazines. When not researching golf courses for design, value and excitement, Jay is an entertainment, copyright, Internet and trademark lawyer and an Entertainment and Internet Law professor in Manhattan. His clients have been nominated for Grammy and Emmy awards, won a Sundance Film Festival Best Director award, performed on stage and screen, and designed pop art for museums and collectors. Jay lives in Forest Hills, N.Y., and is fiercely loyal to his alma maters, Deerfield Academy in Massachusetts and Trinity College in Connecticut.