Barney Adams is on the Right Track
By: Blaine Newnham
For years, Barney Adams, the founder of Adams Golf, tried to help people hit the ball farther, his "tight lies" fairway woods the precursor to the hybrid.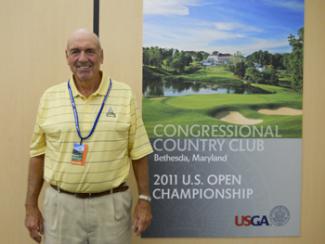 Barney Adams at Congressional (Photo by Jay Flemma)
So much for distance. Adams wants to re-introduce the vast majority of players to the 7-iron. He's tired of better players hitting the easier shots, tired of courses that are simply too long for most players, and tired of a culture that puts a premium of playing from the tips.

He's alarmed, really, that golf lost a million players last year amidst complaints of the game being too hard, taking too much time and being too expensive. Adams wants to do something about it. He wants to put you in what is now being called "Tour vicinity.'"

"On Tour," said Adams, "the average length of a par-4 is 440 yards. The touring pros drive the ball between 290-300 yards, leaving them less than 150 yards to a vast majority of the holes, or an 8-iron. When was the last time that most of your shots to greens were with an 8-iron?"

Yes, we're talking about the current campaign of "Tee it Forward," the response of the USGA and the PGA of America to Adams' first essay on the subject when he concluded that Tour players would have to play a course measuring 8,100 yards to appropriately reflect most of us trying to play a course measuring 6,300 yards.

The USGA has suggested that if you drive the ball 200 yards or less, you ought to be playing a course that measures 5,500 yards or less. As Adams says, "When was the last time anyone did that?"
First of all, most of us don't hit it nearly as far as we think we do. Adams said his use of 230 yards as an average drive is clearly generous. Be realistic, he says.

One theory on the subject suggests that you should take the distance you hit a 5-iron and multiply it by 36 and that would give you the yardage you ought to play. Really hit a 5-iron, in the air.

Adams has heard all the reasons his push to make the game more fun, and to make it take less time, and to even cost less because you lose fewer balls, won't work. He compares it with the fuss over the change from metal spikes to soft spikes.

"There were all these horror stories about what might happen to the game," said Adams. "It took time, but three years later a great change had taken place."

Adams said his plan has little to do with age or sex or even handicap. He says he doesn't even have a lot to do with how far you can drive a golf ball. What it does have to do is fun. Getting to the "Tour vicinity" he calls it.
Play whatever tees give you a 7-iron or less to the green on the majority of par-4s. A distance where you are playing the course the way it was designed, where a fairways bunker is relevant, not just some far off wayward obstacle.

Adams' push to move many players forward might have the support of the USGA and the PGA of America, but it has not as yet been a public mandate. "You're trying to make the game easy and golf isn't supposed to be easy," wrote one player to Adams.

Adams answered, "No, this is not about easy, it's about enjoyment. Just because you're in Tour vicinity does not mean you possess their skills. All it does is give you a chance to play the game, to hit shots into greens you will still miss-hit."

Adams, 72, has always been a fine player. His handicap has risen to 11, but he said he can still reach most greens on the 6,700-yard course length is playing partners prefer. "But that's not the point," he said. "The point is I'm trying to hit these greens with a hybrid or in some cases a fairway wood.
"Further, I'm not hitting high, soft shots into greens. I'm trying to hit bullets that find there way between greenside hazards. I want to be in a position where I can play golf, play shots. I see it is a triumph of golf pleasure over ego."

Adams was called a sexist by one reader for telling women that many of them were overmatched by a 5,000-yard golf course. "For women," responded Adams, "a course measuring 4,600 yards puts their average tee shot where they have an opportunity to enjoy the game more. If that's sexist, then I'm guilty."

Wrote another: "You obviously don't play for money. Harry hits it 30 yards past me and you want him to move up. Why don't I just give him the money?"
Adams chuckled at that one. "Actually I do make the occasional wager and play with more than one Harry who hits it 30 yards past me. In the first place, he is 30 yards longer whatever tees we play. He's hitting 5- to 7-iron and I'm hitting 3, 4 hybrid. Big advantage Harry. Move up and now he's hitting a 9-iron or even a wedge, but I'm hitting a 7-iron, even an 8. I like my chances a lot better."

I love what Adams is saying. The only time I played a really short course was a winter event at my club where we moved up to tees that were less than 5,000 yards. I hit 15 greens, shot 73, had the best time and saw my score posted as the equivalent of an 80 from our normal tees.
My drives are now in the 200-yard vicinity when I play well and when the course is reasonably firm. By all mathematical sense, I should be playing a course of 5,400 yards, as should many of you.

My buddies haven't yet accepted the notion of moving up, but I'm wearing them down. The problem is many courses don't offer tees that short and when they do they are rated for handicap purposes, for women only.

We have to get rid of the sexist notion of women's tees. We need to stage competitions at "Tour vicinity distances." We need even in a foursome to be ready to compete from different sets of tees and understand the handicap mechanisms that allow it.

Adams loves golf and is trying to understand why everyone else doesn't. Listen to him.
Blaine Newnham has covered golf for 50 years. He still cherishes the memory of following Ben Hogan for 18 holes during the first round of the 1966 U.S. Open at the Olympic Club in San Francisco. He worked then for the Oakland Tribune, where he covered the Oakland Raiders during the first three seasons of head coach John Madden. Blaine moved on to Eugene, Ore., in 1971 as sports editor and columnist, covering the 1972 Olympic Games in Munich. He covered five Olympics all together - Mexico City, Munich, Los Angeles, Seoul, and Athens - before retiring in early 2005 from the Seattle Times. He covered his first Masters in 1987 when Larry Mize chipped in to beat Greg Norman, and his last in 2005 when Tiger Woods chip dramatically teetered on the lip at No. 16 and rolled in. He saw Woods' four straight major wins in 2000 and 2001, and Payne Stewart's par putt to win the U.S. Open at Pinehurst. In 2005, Blaine received the Northwest Golf Media Association's Distinguished Service Award. He and his wife, Joanna, live in Indianola, Wash., where the Dungeness crabs outnumber the people.