Basking in Calaveras County's Golden Glow at Saddle Creek Resort
By: George Fuller
There are precious few golf destinations that can legitimately be called "hidden gems" these days; journalists such as yours truly make it their mission to explore every inch of the golfing universe in search of them.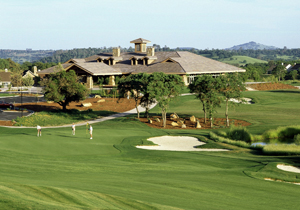 Saddle Creek GC & Lodge
But my bet is that you've yet to hear of Saddle Creek Resort or, even for that matter, the nearest town to it, Copperopolis, Calif.

Let me keep going . . . Angels Camp? Murphys? Coloma? Sonora? In fact there is a string of tiny, historic towns - former gold-mining settlements - in the scenic Sierra Nevada foothills east of San Francisco that are much the same as they were when James W. Marshall discovered the precious metal in the region in 1848, setting off the California Gold Rush, and lending a feeling of optimism and prosperity to the Golden State (not to mention its nickname) that lingers to this day.
Cities such as Stockton, Sacramento and San Francisco grew exponentially with the influx of people and commerce that followed the discovery of gold, but the little mining towns along what is now Highway 49 stayed small and very close to their roots. They still are.

These days, occupying the carefully preserved historic brick buildings one finds art galleries and spas, clothing boutiques and restaurants, specialty stores and ice cream parlors. Each quaint town has a Main Street - Highway 49 passes through - and not too much more. The people who live in these enchanting outposts are a mix of refugees from big-city life and those whose families have been farming the countryside for generations, nowadays producing surprisingly fine wines and extremely good olive oil.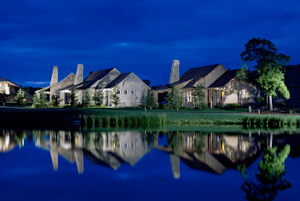 Saddle Creek Golf Bungalows at Night
Mark Twain's "Celebrated Jumping Frog of Calaveras County" and the Jumping Frog Jubilee that is still part of the Calaveras County Fair was set in Angels Camp, and onetime resident writer, Bret Harte, whose stories of the early days of these Wild West communities are still a joy to read, has a high school named after him.

Enter Saddle Creek, a 900-acre Castle & Cooke community that reflects all the charm of this historic area, but also offers an array of modern-age amenities. Homes and homesites are sprinkled across the green hills, many sporting pleasing views of a tremendous 18-hole Carter Morrish-designed golf course that is a treat to play and usually not crowded. And 17 golf bungalows are offered with perks that make guests feel like private-club members for the duration of their stay.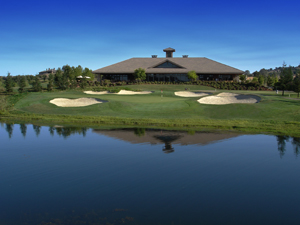 9th Hole at Saddle Creek
Morrish, son of esteemed golf architect Jay Morrish, took full advantage of the region's rolling terrain, mature oak trees and majestic views of the Sierra Nevada Mountains. With no two holes running parallel to each other, golfers often feel as though they have the place to themselves.

More than 100 bunkers are cleverly placed to guide the shot-maker around the design and, while fairways are generously wide off the tee, scoring is accomplished more with accurate approach shots or a deft wedge. This is a course that will keep members happy regardless of whether they play daily or annually.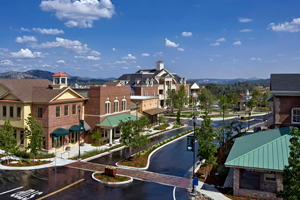 Copperopolis Town Square
Overlooking the golf course, a series of neighborhoods adhere to architectural design guidelines ensuring each home blends with the overall residential theme of a "sophisticated country life." The social center of the community is Saddle Creek's clubhouse, where residents enjoy breakfast, lunch and dinner, as well as monthly food and wine programs that showcase vintages from nearby vineyards (Napa and Sonoma are not that far away), as well as produce, meats and fish from local farms and nationally-recognized organic purveyors.

Castle & Cooke took the extraordinary step of building Copperopolis Town Square a few minutes outside the front gates of Saddle Creek. This new Main Street community enhances the Saddle Creek experience, featuring arts and crafts galleries, select retail shops, restaurants, an inn, offices, a medical center and a park.
Nearby is Lake Tulloch, where fishing excursions and a marina add water-oriented fun to the Saddle Creek experience.

And though Saddle Creek is a popular residential community, anyone is welcome to book one (or more if you bring the family or golf group) of the 17 fully-furnished bungalows that are mere paces from the clubhouse and first tee. These comfortable two-bedroom units feature full kitchens, living rooms decked out with the latest electronic devices, and back decks overlooking the golf course. Attractive stay-and-play packages are offered.
With San Francisco and San Jose roughly two hours to the west, and Sacramento 90 minutes north, Saddle Creek is near enough to bigger cities should one wish to make the journey. But once you settle into the enticing country lifestyle out here in California Gold Country, you may never want to leave.

For more information, call 800/611-7722 or visit www.saddlecreek.com.
Award-winning publisher, editor, writer and photographer George Fuller has been covering golf travel and lifestyle for more than 30 years. From 1992 to 1997 he was editor of LINKS-The Best of Golf, based in Hilton Head, S.C. In 2005, after having spent several years in the Pacific starting two magazines for Continental Micronesia Airlines and writing two books, Fuller launched GOLF LIVING Magazine for the Los Angeles Times, a "super-regional" magazine of travel, real estate and the lifestyle surrounding the game of golf. In 2009, he helped redesign and re-launch TEXAS GOLFER, a magazine with 25 years of history in the Lone Star State. Most recently, Fuller partnered with Troon Golf to launch TROON GOLF & TRAVEL, a monthly eMagazine with an annual print component. In addition, Fuller's newspapers and magazines credits include TIME, Wall Street Journal, San Francisco Chronicle, The Los Angeles Times, Robb Report, Coastal Living, Palm Springs Life, Estates West, GOLF Magazine, Golf Digest, Travel & Leisure Golf, LINKS, Successful Meetings, Honolulu and many others. He has reported for Reuters, United Press International (UPI), written for Copley News Service and is a regular on-line travel correspondent for Cybergolf. Based in Pacific Palisades, Calif., he can be contacted at gfuller@earthlink.net or 310/245-9550.