Basking in Golf & Luxury on Mexico's Riviera
By: Jim Moore
Until a month or so ago, the only places I'd been to in Mexico were Tijuana and Juarez. If you've been to either border town, you know what I'm talking about when I say my impression of Mexico was not good.
If it's possible to feel like a fool at 52, I'm guilty. I was also very naïve. After a trip to Riviera Nayarit, I've been enlightened. And let's clear something else up - in the states, we refer to this town on the west coast of Mexico as Puerto Vallarta.
But I was told that Puerto Vallarta is where the airport is located, and once you leave the airport, the rest of the place is called Vallarta in the state of Nayarit. Two years ago to pump up the tourism industry, the coastal area north of Vallarta was renamed Riviera Nayarit. "Riviera," to me anyway, suggests beautiful beaches, hotels and golf courses, and nothing I saw here changed that definition.
Riviera Nayarit is simply spectacular. I'm sitting in a Seattle-area Starbucks looking at cloudy skies in June, wishing I were back at Punta Mita, where heaven meets the earth. It is Mexico's version of the Monterey Peninsula, complete with a pair of Jack Nicklaus golf courses and posh accommodations at the St. Regis and Four Seasons.

Full disclosure: I was one of seven freelance writers who came here on an all-expenses-paid trip. Everywhere we turned, they rolled out another red carpet for us. So it was unusual for me - I'll play golf anywhere and stay anywhere. Give me an unkempt municipal course and a Super 8, and I'm happy. Give me two manicured Nicklaus courses and three high-end hotels and I'm ecstatic.

For six days, I felt like an undeserving guest, but I willingly adjusted to having a personal butler at the St. Regis and one free tee time after another.

I arrived with all kinds of uncertainty. The swine-flu threat has hurt tourism here. My plane from Seattle was half-full, and I had a row to myself. At the Puerto Vallarta airport, a guy with a camera took pictures of us to measure our internal temperature to see if we were bringing some sort of sickness into the country.

As it turned out, the swine-flu scare proved a bonus for me - on three post-card afternoons at the St. Regis and Four Seasons, the pelicans and I had the beach to ourselves. At the St. Regis, it was almost spooky, ghost-town-like with its absence of human beings.

This shouldn't be. I somehow survived and you will too. The only thing I came down with was a severe case of envy for everyone who lives in Riviera Nayarit. It's that gorgeous. And the golf is all that you'd ever want it to be.

My advice is to visit www.rivieranayarit.com and if you don't see a good deal there, ask for one.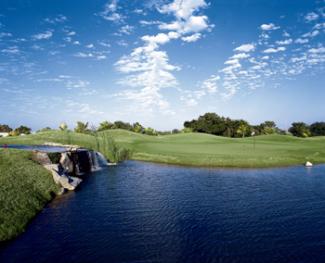 El Tigre
Here's a look at the courses:

El Tigre Golf Club

Nobody has designed more courses in Mexico than Robert von Hagge, and I'm guessing this is one of his gems. It's convenient, located five minutes from our hotel at the Grand Mayan Resort, a high-rise that's perfect for families with six pools and the beach down below.

El Tigre is a beast if you want it to be, playing 7,239 yards from the tips. Nine bodies of water and 144 sand traps beckon wayward shots.

Another full disclosure: I spent all of my time in a bathroom at the 45,000-square-foot clubhouse that features a full European spa and never did play the course. I missed my tee time for a pathetic reason known as too much tequila the night before. For details, visit www.eltigregolf.com.  
Mayan Golf Resort Vallarta

Sheepishly, I showed up for my afternoon tee time at this delightful nine-holer that is even more conveniently located than El Tigre; you can take a dip in one of those six Grand Mayan Resort pools, dry off and be on the first tee box in two minutes, maybe three. The Mayan Golf Resort is right out the front door of the hotel.

After taking the grief I had coming from the other writers, I played Jim Lipe's water-lined nine-hole layout. There are also plans here for an 18-hole Nicklaus design.

Lipe's nine is user-friendly with moderate challenges. There's a good chance that you'll have a gallery here - we spotted a pair of crocodiles, one who was sunning himself, causing me to leave my ball retriever in my bag.

"If I got in the water, would he come after me?" I asked Ronaldo, our forecaddie. "Si," Ronaldo said, politely answering the dumb question.

For more, visit www.mayanresortsgolf.com.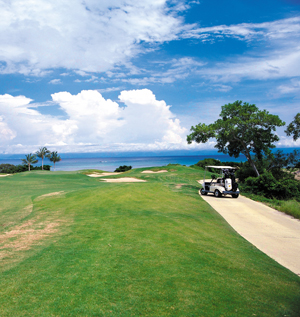 Punte Mita Course
Punta Mita Bahia

Before playing Pacifico, the first and newest of two Nicklaus courses in the area, we checked in at the St. Regis. Trust me on this one - they give you the royal treatment here. The staffers at this newly-opened jewel gave me unearned respect. They endlessly called me "Mr. Moore" and, "Yes, Mr. Moore would like another cup of coffee while checking in, muchas gracias."

My room, which normally goes for $895 a night, had an indoor and outdoor shower. The air conditioning went off when you opened the door and came back on when you closed it. A remote control lowered and raised the shade on the windows.

But the best feature here is this: every guest gets a personal butler. Mine was Joaquin, and Joaquin was unbelievable, telling me he would tend to my every need. I couldn't think of anything for him to do, but he so badly wanted to be a Mr. Moore-pleaser that I finally said, "OK, Joaquin, if you insist, could you please iron my shirts and pants?" He appeared more than happy, as was I, when he left, clothes in hand.

I golfed that day with Melanie Schneider, St. Regis's director of sales and marketing; Richard Zarkin, public relations manager for the Riviera Nayarit Convention and Visitors Bureau; and Diego Manzano, director of Arvizo, a Mexico City public-relations firm.

I'm guessing that the beginners, Richard and Diego, took at least 10 strokes a hole, and Schneider had a 114, which meant that I witnessed my playing partners take 474 shots during our six hours of divot-taking.

It didn't matter. The company was terrific, as was the course, though Nicklaus buried too many camels and Volkswagens in the greens here, installing more difficulty than necessary.

I forgave him when I got to the closing holes. Nos. 16, 17 and 18 either play to the Pacific or alongside it. Seventeen was especially cool, a shortie of a par-4 that hugs the ocean, offering birdie opportunities if you're not too distracted.

For more details, visit http://www.fourseasons.com/puntamita/golf.html.  
Punta Mita Pacifico

The next day, we experienced Nicklaus at his finest. Every hole is memorable, but the one you'll never forget is the par-3 third, which is the only natural-island green in the world, playing 185 yards from the blues. Picture an un-man-made Coeur d'Alene, and that's what you have here, a rocky outcropping in the ocean with a green in the middle.

The hole is called "The Tail of the Whale" because that's what the island resembles. Nicklaus has said it's the finest par-3 he's ever designed. After taking five tee shots to finally find the putting surface and carding an 11, I had other adjectives for "The Tail of the Whale."

The hole is unique in so many ways. At low tide, you're free to take your golf cart across a rocky trail to the green, with the Pacific on both sides. At medium tide, you have to take an amphibious eight-wheeled cart that sort of swims and drives through shallow water to the island. And at high tide, you can't play the hole because you can't get to the green, so they have an alternate par-3, a 155-yarder that's a nice one too.

For more, visit www.fourseasons.com/puntamita/golf.html.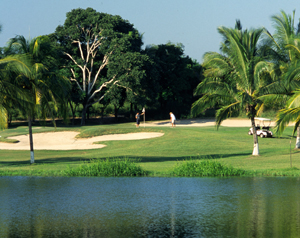 Flamingos Golf Club
Flamingos Golf Club

Located between the Grand Mayan Resort courses and the Punta Mita courses is this beauty. It doesn't wow you like the ones at Punta Mita and its clubhouse is modest, but I liked it just as much, maybe more so, because Flamingos has one good hole after another.

When I come back, it's a must-play-again on my list. At 6,853 yards from the tips and 6,285 yards from the whites, it won't overwhelm you. But it will impress you with a variety of water hazards and required carries over marshlands.

I can't put a finger on it exactly, and I can't give you a signature hole per se, I just enjoyed playing it and am convinced you will too. For more details, visit www.flamingosgolf.com.mx.

Greg Norman Course in Litibu

Sometime next year, this still-under-construction Norman layout will be ready. Litibu is only five minutes from the St. Regis and Four Seasons and a half-hour from Vallarta.

With the course still growing in, they let us play the front nine and the last three holes on the back. A wonderful little par-3 stretches alongside the Pacific on the front, and the 18th is a dogleg-left par-5 that finishes with the ocean as your backdrop. For further details, visit www.litibu-mexico.com/litibu-golf.  

After we finished our round, it was time to pack up the clubs and head to the Puerto Vallarta airport for flights home. I can tell you this - my limousine driver was in a much bigger hurry than I was. I found myself going from never having been here to never wanting to leave.
Jim Moore is now a freelance writer after a lengthy run as a sports columnist for the Seattle Post-Intelligencer, which closed its doors in March 2009 after 145 years. He's a 51-year-old 12-handicapper with a pair of 4-year-old sons who love golf, too. Jim believes that the most necessary element on all golf courses is the presence of a beverage-cart girl, preferably two, one for the front side and one for the back. Jim is a mental midget who got so sick of his left wrist breaking down on the greens that he now putts one-handed. Jim can be reached and harassed at jimmoorethego2guy@yahoo.com.