Bay Hill More than a Famed PGA Tour Stop
By: Joel Zuckerman
The discovery was enough to make me want to turn in my travel writer's badge, should such a tin emblem exist. Idly perusing the Internet for information on Florida destinations, I was flabbergasted to see Orlando's Bay Hill Club & Lodge ranked as the second-best resort in the state, and by Conde Nast Traveler, no less.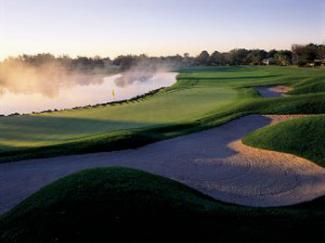 Bay Hill 18th Green at Dusk
The shame was due to the fact that, despite two previous visits to the property - one to play golf and the other for a business meeting, I was only vaguely aware that the facility catered to guests at all. In my mind it was a member's club first and foremost, and a longtime (and prestigious) PGA Tour venue. But you learn something new every day.

Part of the confusion is due to the fact that the 70-room property reflects the ethos of its owner, Arnold Palmer. Despite his worldwide acclaim and celebrity, there is still plenty of Western Pennsylvania in "The King," and his homespun simplicity is present throughout the handsome property, which he has owned for nearly 40 years.

In other words, nothing about the facility screams "resort." The lodge is low-slung, and everything is compact; the pool, tennis, gym and spa are just steps away; several fine-dining establishments (and a handsome bar) are tucked just off the lobby, with the acclaimed golf course but a three-minute walk from the front desk.

Dr. Howdy Giles has been a member of Bay Hill for more than 40 years and, like many longtime members, was initially attracted to the property because it offered proximity to one of the world's most charismatic sportsman. "I began dental school in 1962, and Arnold Palmer was 'The King.' I had just taken up the game, and he was a natural idol at that time, someone to look up to. We didn't actually meet until 1970, but over time we became very close friends. Pretty amazing, isn't it?"

Equally amazing is the confluence of events that occurred midway between the beginning of Giles' dental education and his face-to-face meeting with his idol. In 1965, the same year that Walt Disney announced the purchase of over 27,000 acres of land nearby - where Disney World would soon emerge, Palmer played in (and won) a charity exhibition tournament at Bay Hill. It was love at first site; Palmer was quickly enamored with the property and told his wife he wanted to own it. In 1970, he took a five-year lease with an option to buy, and took full ownership in 1975.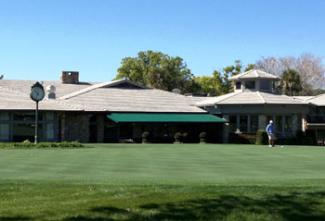 Bay Hill Putting Green
Giles is an obsessive collector of Palmer memorabilia, and a skilled photographer who has taken hundreds of thousands of shots of his idol. "My wife Carolyn and I first went down to Bay Hill after the '71 Masters. We had just met Winnie Palmer at that tournament, and she called down to Orlando to make sure we were having a good time.

"I said to my wife, 'That's it, we are definitely joining here, I don't care what it costs. The cost at that time was $250. I came down and played in the Bay Hill member-guest a few times after I joined, hoping to get to know Arnie a little better. Arnold is as much of a presence now in his 80s as he was in his 40s. The club is a reflection of Winnie as much as Arnold, and also their daughter, Amy Saunders. Bay Hill is all about high quality and fine service, but it's not showy or ostentatious."

There's nothing showy about the golf course either, it's just a solid and challenging, championship track, and the roster of tournament winners is a fine testament to same. Tiger Woods has won half the time he's shown up, but Ernie Els has won at Bay Hill more than once, and Vijay Singh, Phil Mickelson and Kenny Perry have all triumphed there in the last 15-odd years as well.

Water provides much of the rigor - the view from the third tee is the first indication that massive ponds are in prime position to wreak intermittent havoc with the scorecard. The third, sixth, 11th, 13th and, most famously, the 18th, all pose danger for either an errant tee ball or approach shot.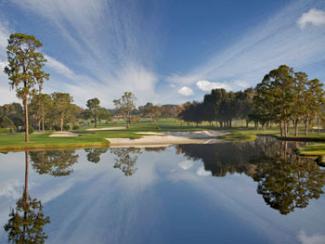 Bay Hill Hole No. 17
Brian Dorn has been a keen observer of both the annual PGA event and the daily play at the club for more than 15 years. "We redesigned the course in 2009," explains Dorn, the director of golf who began as an assistant pro in 1998. "The major difference is the playability factor for amateurs, moving bunkers out of the landing area for mid- and high-handicaps, and moving them further down the fairways where they will affect the Tour player's decision on the tee. The addition of closely-mown areas around the greens gives players more options when missing greens, and allows mid- to high-handicaps to putt or bump and run rather than hit lofted shots."

Continues Dorn, who estimates that 20 percent of his play comes from Lodge guests, and 80 percent from the membership: "The beauty of it is that the higher handicaps prefer the option of putting or chipping, but the closely mown areas actually present the Tour players and low-handicap golfers with potentially tougher shots, as they prefer to use lofted clubs around the greens and the tighter lies increase the chances for mis-hit shots."

There is no shortage of these on the watery 18th, where all sorts of tournament drama has played out over the years. "That last hole is always the toughest for the amateurs," concludes Dorn. "We see many 'others' on our members' scorecards on that hole."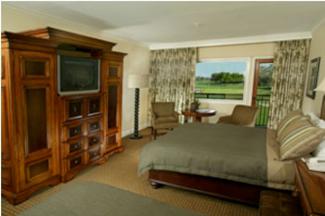 Lodge Room Golf View
George Scharfe is, like Dr. Howdy Giles, another Bay Hill veteran, smack in the middle of a five-generation legacy at this venerable Orlando institution. "Isleworth is another club I belong to, it's very close by, a well-known club with many Tour pros holding memberships," explains Scharfe, whose grandfather, father, daughter and grandchildren are also Bay Hill members.

"Isleworth is a real 'cater-to' club, over-the-top in terms of service. Here, things are more real, down-to-earth, the essence of Arnie and Winnie.

"In my opinion, many of the young Tour pros over there, making seven- and sometimes eight-figure livings, don't fully comprehend how much Arnold Palmer had to do with their current earning power, despite the fact they are just 15 minutes away. They might feel like actors in a play, but unlike Arnold, not all of them get that the fans are the most important component in the drama."

Scharfe innately understands that both the rank-and-file PGA Tour players he rubs elbows with at Isleworth - even the marquee names - are character actors. But golf has few leading men with the charisma and staying power of his friend Arnold Palmer, which is why he, Dr. Giles and hundreds of other regulars revel in the time they get to spend at The King's fiefdom.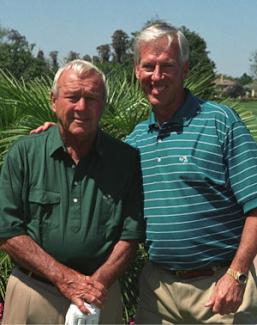 Arnold Palmer and Howdy Giles at Bay Hill
A Nearby Treat - Waldorf-Astoria Golf Course

Just 15 minutes down the road (assuming one can navigate the often-snarled Orlando traffic) is the yin to Bay Hill's rustic yang: Waldorf-Astoria Golf Course. Despite the upscale polish of the ubiquitous hotel brand, despite the pampering of their well-heeled guests (with $600 belts for sale in the pro shop, no less!), this lovely layout can be an absolute beast. Proof: At a 2013 U.S. Open Qualifier not a single player managed to break par.

"Most players would never guess the course sits on just 100 acres," explains Rob Turner, the director of golf since the day its doors opened in 2009. "A typical course sits on 150 acres, and our course appears to be at least that size. But we are so well-screened - surrounded as we are on three sides by Disney properties and on the fourth side by I-4 - the course really seems much more remote than it is."

Unlike a typical user-friendly resort property, the Waldorf Course has plenty of constricted fairways, bunkering both big-shouldered and bottomless, and mostly smaller greens.

One might think that the typical Waldorf guest, or the corporate groups that come over from the much larger adjacent Hilton Hotel, would be overwhelmed by the demands, and make it a "one and done."

Not so. "We have visitors who come for two weeks, and might play eight or 10 times," notes Turner. "They just love the challenge, the beauty and the serenity."
Joel Zuckerman, called "One of the Southeast's most respected and sought-after golf writers" by Golfer's Guide Magazine, is an award-winning travel writer based in Savannah, Ga. His seventh and latest book, entitled "Pro's Pros - Extraordinary Club Professionals Making Golf Great!" was released in June 2013. This is the first-ever golf book to shine the spotlight on the beating heart of golf - the unsung, yet hard-working club professional. Joel's course reviews, player profiles, essays and features have appeared in 110 publications, including Sports Illustrated, Golf, Continental Magazine and Delta's Sky Magazine. He has played more than 800 courses in 40-plus states and a dozen countries. For more about Joel, or to order this unique new book, visit www.vagabondgolfer.com.