Bayonet, Black Horse to Reopen in December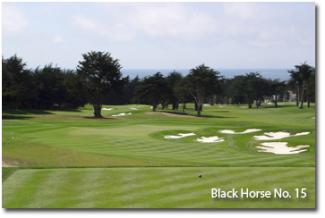 Bayonet Black Horse will reopen all 36 holes (18 Bayonet, 18 Black Horse) to the public on December 20 following the completion of a three-phase, $13-million renovation by Bates Golf Design Group.
The large-scale project overseen by Gene Bates and staff involves dramatic alterations to hole routings, fairways and views. New tees, bunkers and green complexes have been installed, and an intrusive copse of non-native trees was removed to provide unobstructed views of Monterey Bay, downtown Monterey and Point Pinos from a number of holes on both courses.
In addition, all kikuyu and poa annua grasses were replaced with Jacklin T1 Bentgrass, a rich, dark-green strain developed specifically to compete with these invasive, regional species. Both courses in Seaside, Calif., feature the Jacklin bentgrass on all tees, fairways and greens; Bayonet Black Horse is one of only two facilities in the region to utilize this turf from tee to green. Bayonet and Black Horse will also feature fescue rough to provide a links-style feel to the layouts.
"We are excited to reintroduce area golfers and those visiting the Monterey Peninsula to the new-look Bayonet Black Horse Golf Club," says Dick Fitzgerald, project director for Seaside Resort Development, the entity behind the renovation. "The wholesale enhancements to Bayonet and Black Horse are staggering and golfers will discover two challenging, strategic and well-conditioned layouts that will rapidly emerge as 'must-play' courses of the Monterey Peninsula."
During construction, 'composite' layouts were created to allow play to continue during the project. So in December, players will see two separate 18-hole courses open at the same time. "Bayonet and Black Horse are now complementary; both are challenging and appealing from an aesthetic standpoint and are on the level with each other," says Bates, who's worked on more than 150 projects worldwide during his design career. "But the style of the greens and bunkers make the courses distinctly different. Bayonet has traditional, deep, challenging bunkers. The greens are tamely contoured because the layout, from tee to green, is challenging enough that severe greens would be too punishing and not reward good shots or heroic recoveries."
Bates continues: "On Black Horse, the bunkers are large with serrated edges and clustered to draw one's eye to them. The green surfaces have a lot of movement, conversely, because there is plenty of room off the tee and the bunkers are less severe."
In addition to the golf course renovations, the master plan involves a 275-room, five-star Fairmont Hotel & Resort, 125 fractionals/condos and 125 home sites.
For more information about Bayonet Black Horse, call 831/899-7271 or visit www.bayonetblackhorse.com.
About Bayonet Golf Course

Bayonet, with its narrow fairways and steep, penal bunkering, has often been considered one of the most difficult tests on the Monterey Peninsula. The par-72, nearly 7,100-yard course has retained its difficulty after the recent renovation by Bates, while playability and strategic options have been greatly improved.

About Black Horse Golf Course

Black Horse, a 7,000-yard-plus, par-72 layout, features sweeping vistas of the Pacific and is highlighted by fescue-framed fairways, bunkers with serrated edges and slickly-contoured greens.