Bear Trap Dunes Begins Construction on Latest & Final Nine Holes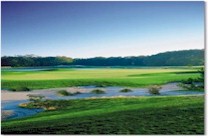 The award-winning Bear Trap Dunes Golf Course in Ocean View, Delaware, is continuing to grow, with construction underway on its third and final nine holes. The new holes should be open for play this fall. "Our current 18 holes are running so well, I'm excited about having nine more holes to have even more room for golfers on our course," said General Manager Tom Tipton.
The new nine will have similar design characteristics to the existing 18. Course designer Rick Jacobson said, "We are very excited that construction has begun on holes 19 to 27 at Bear Trap Dunes. The dunes concept utilized on the original 18 will be integrated so that each of the three courses compliment one another."
The addition will play from 2,450 to 3,400 yards, depending on which set of the four tees golfers choose to play. The new nine will feature six man-made lakes, which come into play on five of the new holes and play an integral role in the community's stormwater management program. The native sand used to create the dunes was excavated in the process of creating the lakes.
"I'm looking forward to having a 27-hole facility," said course Head PGA Pro Bret Marshall. "It's going to give golfers even more variety to the whole Bear Trap experience . . . you can play the course several times and never play the same 18 holes twice."
Since opening in July of 1999, Bear Trap Dunes has been praised locally and nationally. "Bear Trap Dunes was really fun to play," said CBS commentator and PGA Senior Tour player Gary McCord. "The set-up off the tee was just great. The greens are very subtle, with friendly approaches . . . Bear Trap Dunes was a real pleasure."
Washington Times golf writer Barker Davis called the course "unquestionably the most challenging layout within 40 miles of Ocean City." He added that the new nine "will cement Bear Trap's best-of-the-beach status." The Delaware News Journal readers had also just named the course as "The Best Public Course in the State" and "The Best Course at the Beach."
Bear Trap Dunes draws golfers from the neighboring coastal communities as well as surrounding metropolitan areas such as Washington, D.C., Baltimore, Philadelphia, New York and New Jersey. The 27-hole golf complex will be the centerpiece of the Village at Bear Trap Dunes, a neo-traditional 700-home residential community being developed by Carl M. Freeman Communities, Inc.
The existing 18-hole course at Bear Trap Dunes is a par 72 that plays from 5,208 to 6,834 yards. A former design associate with Jack Nicklaus Golf Services, Rick Jacobson founded Jacobson Golf Course Design, Inc. in 1991 as a full-service golf design firm specializing in new course designs as well as master plan renovations and additions to existing facilities.