Beauty & the Beast - A Hole-by-Hole Look at Short yet Tough Pebble Beach
By: Jay Flemma
In 2000, when Tiger Woods Years lapped the field, broke or tied nearly every important U.S. Open record and turned our beloved Pebble Beach into flotsam and jetsam in the wake of his yacht called Privacy, some pundits mistakenly thought Pebble Beach had become obsolete.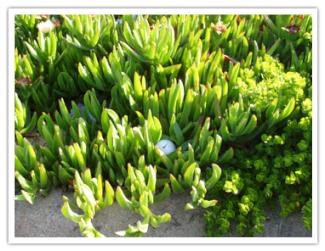 Watch our for the ice plant at Pebble Beach
Those same observers ignored the rest of the scoreboard. Three-over tied for second, which means no one else in a 154-man field with the world's best golfers broke par. That must be some new definition of "obsolete" with which this author is not acquainted.

Ten years later and, with the benefit of hindsight and a more realistic, perhaps even cynical eye towards Woods, we now regard his effort as a statistical outlier. "If he wins again by 15 shots, there ought to be an inquiry," quipped runner-up Ernie Els, who spent championship Sunday 10 years ago as a marker for Woods's coronation.

Woods also caught bluebird weather that week. He didn't have to face the snarling winds that befuddled the other half of the draw, making challenges fall away like leaves, and he was able to attack a rain-softened course. "It was an asterisk," explained Stewart Cink when he commented about how the weather affected the field that year.

More than any other U.S. Open course, Pebble Beach will rely on the wind and fast, firm conditions to suppress scoring. Because of its cunning routing - the sequencing of the holes and their lengths and set-ups - and because of its tiny, curvaceous greens and side-hill lies, Pebble remains a stern challenge. Moreover, calm weather is anticipated this year: neither rain, nor gale-force winds, so fast and firm conditions will make it tough to stop the ball in the fairways and on the greens.

"Even though it's the shortest U.S. Open we play, it's still getting awfully quick out there," cautioned Woods, who was civil and obliging with golf questions on Tuesday but surly, rude and more obnoxious than a vuvuzela horn with anyone who asked about his recovery from the scandal. "If they don't put any water on these things come Sunday, it's going to be very interesting," he suggested
Additionally, V-grooves will also place a premium once again on shot-making, not the vilified "bomb-and-gouge" golf that blights the PGA Tour landscape at many tour stops. Players will have to shape shots from off-kilter lies to tiny greens encircled by the worst rough on the course, five inches deep in places.

So instead of the long, relentless grind of an Oakmont, Oakland Hills or Winged Foot, the mercurial routing of Pebble Beach's short and long holes will provide fireworks, with many more birdies and bogeys than we are accustomed to at American golf's annual national championship.

"I buy into the philosophy of making the hard holes harder and the easy holes easier," explained reigning Masters champion Phil Mickelson. "I want to see birdies and I want to see bogeys and be challenged on the hard holes and have an opportunity to get a shot back on the easy ones."

"With the size of the greens out here, anytime you hit a green out here you have a birdie opportunity," agreed three-time major winner Padraig Harrington. "At the end of the day, compared to other U.S. Opens, it's not like, you know, hitting at the middle of the green at an event, you're going to make a par. You hit it in the middle of the green at a Pebble Beach green, you're probably only going to be 20 feet from the hole. The greens are small and limited where the pins can be. So I think you'll see more birdies this week."

Well, Phil and Paddy, you're going to get your wish and, happily, so will golf fans. Here's a look at the individual holes this week at Pebble Beach Golf Links, which will play to a par of 71 and 7,040 yards. Included is insight into the birdie opportunities for each hole.
Hole 1 - Par-4, 380 yards

"Some of them are really narrow, like No. 16 and No. 1. But, I mean, those are holes are pretty short. The longer holes they've given us more room to hit the ball into," said Els, and he's right. The shorter holes at Pebble will be made sexier by more danger. This short hole bends gently to the right, but two bunkers guard the left side and a stand of trees protect the right. Still, it's a good birdie opportunity to start the day.

Birdie op? Green Light

Hole 2 - Par-4, 502 yards

Normally playing as a reachable par-5, a new tee added 18 yards and a new bunker left turns the fairway into a wasp-waisted shape more reminiscent of Oakland Hills than Pebble Beach. Moreover, someone who knows much more about playing golf than designing a course planted "tree gates" in front of the barranca cross-hazard, requiring the player to kick a field goal with his ball to reach the green. These changes were not the USGA's idea and, while an abomination, they are the only negative changes to the course excepting, of course, the two similar trees at 18. Oh well, we can always pray for lightning.

Birdie op? Red Light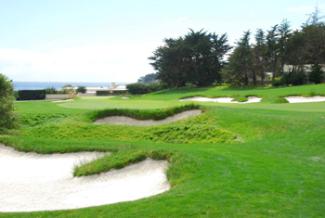 The approach on No. 3
Hole 3 - Par-4, 404 yards

A stand of Cypress planted in 2007 frames the elbow of this relatively short dogleg-left. The hole highlights a great and underappreciated defense in golf: alternate shot requirements. While a draw is needed off the tee, a fade is the optimum approach into the green, especially for the new back-right hole locations created by a recent expansion.

Birdie op? Green Light

Hole 4 - Par-4, 331 yards

We see the USGA's new theory for the first time, as the fairway here has been shifted back towards the ocean, just as Jack Neville meant when he laid out the course in 1919. "If you leak the ball, there's no stopping it going over the edge," lamented Els. The landing area was tightened significantly by new bunkers which, sadly, may have taken driver and a shot at eagle out of too many players' hands. The green is encircled by sand and has a slightly "pushed-up" style a la A.W. Tillinghast, to further defend against being driven.

Birdie op? Sadly, this once-fun Green Light is now a Yellow Caution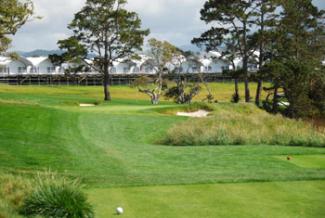 From the tee at the 5th hole
Hole 5 - Par-3, 195 yards

The main defense here is wind, but in fairness, even a tough golf architecture critic like Geoff Shackelford believes the new Jack Nicklaus-designed hole has aged well.

Birdie op? If the wind is down, Green Light, if not, Yellow Caution
6th Fairway at Pebble Beach
Hole 6 - Par-5, 523 yards

"I don't think six is going to be like they hoped," said a candid Mickelson. "In moving the green over to the ocean, I don't think that will play the way they wanted. I've hit 4-iron off the tee every day and I will hit it every day off that tee box, and I can still reach it, I hit 2-iron over the green . . . I think it's still a very reachable, very playable par-5."

Yet a few angry golfers who drive over the cliff to the beach 75 feet below might disagree. Five new bunkers - each deeper than the last - guard the left side, so forget about bailing out.

Birdie op? Green Light
Hole 7 - Par-3, 109 yards

Quick! What's the shortest hole in U.S. Open history? Wrong! It's No. 10 at Inwood C.C., at a paltry 99 yards and no wind. This hole is all about the wind. Is it a wedge or a punch 6-iron today? Hit the green and you'll have a reasonable putt.

Birdie op? Yellow Caution

Hole 8 - Par-4, 428 yards

This is one of the most iconic holes in golf, its fairway hugging the "Cliffs of Doom" and the green perched on a craggy bluff. But here again, the beauty belies the difficulty. "8-9-10 are perhaps the toughest stretch in major championship golf," wrote Herbert Warren Wind back in 1983.

Birdie op? Yellow Caution

Hole 9 - Par-4, 505 yards

A new tee adds 40 yards and reconfigured bunkers on the left and right bring the cliffs into play again. The left side features some of the most pronounced side-hill lies on the course, while the green slopes severely left-to-right towards the water. "It's going to be tough stopping the ball on that green," cautioned Steve Stricker. "The same thing is true of 12, it's downhill to a shallow green and it'll be tough to stop the ball."

Birdie op? Red Light

Hole 10 - Par-4, 495 yards

This time a new tee adds 50 yards to the hole and, again, the fairway slopes towards the water.

Birdie op? Red Light

Hole 11 - Par-4, 390 yards

Players can't breathe any easier as they turn towards the Del Monte forest. The rumpled fairway here offers uneven lies and its oval-shaped green is tiny. Still, this is the easiest par-4 left on the course.

Birdie op? Green Light-Yellow Caution

Hole 12 - Par-3, 202 yards

Virtually unchanged since 2000, the shallow green is tough to hit coming downhill with a long- to mid-iron.

Birdie op? Yellow Caution

Hole 13 - Par-4, 445 yards

A new tee stretches No. 13 an additional 46 yards through a chute of trees to a fairway sloping severely right-to-left. The approach is uphill to the most canted green on the golf course and is often underestimated by the pros. Shaved chipping areas around the green will make recovery dicey. Watch for a few double-bogeys here.

Birdie op? Yellow Caution

Hole 14 - Par-5, 580 yards

A true three-shot hole, with a trio of unnecessary fairway bunkers and a Cypress tree added by Arnold Palmer and the other resort owners in a false search of "framing" and "pinching." The green has a raised back shelf, effectively making it two small greens in one. A cavernous bunker with a raised lip guards the left side of the green.

Birdie op? Yellow Caution

Hole 15 - Par-4, 397 yards

Five new bunkers guard the left side of the fairway. One of them intrudes into it, making the tee shot more of an exercise in hitting a target rather than a strategic assessment. Players will club down and still have a high-lofted number in their hands. The bumpy poa annua green has a tendency to break more towards the ocean than its counterparts elsewhere on the course.

Birdie op? Green Light-Yellow Caution

Hole 16 - Par-4, 403 yards

With Sandy Tatum's bunker on the right and another Cypress-framed barranca in front of the green, this hole may not be as pretty as the other finishers but is more deadly. It nearly cost Tom Watson the 1982 U.S. Open. "That's what that bunker was intended to do," grumbled Tatum after Watson nearly lost the '82 Open in it.

Birdie op? Yellow Caution-Red Light
Hole 17 - Par-3, 208 yards

Just hit it and hope at this par-3 where the green is shaped like a Figure-8 on its side. There's no place to hide as the bunkers are deep, small and feature awkward lies. Maybe the best play is to hit for the front apron and two-putt, like Billy Casper did at Winged Foot in 1959, when he won with a mere 114 putts. "If you couldn't putt, you'd be selling hot dogs out here," snarled Ben Hogan after Casper stole that U.S. Open with his putter.

Hole 18 - Par-5, 543 yards

"Technology has made this hole more interesting as more players try for it in two," writes golf-architecture expert Ran Morrissett, and he's right. Now there's maybe a chance for an eagle to end the player's day and send the fans home with a thunderclap.

Birdie op? Green Light


Since launching his first golf writing website in 2004, http://www.jayflemma.thegolfspace.com, Jay Flemma's comparative analysis of golf designs and knowledge of golf course architecture and golf travel have garnered wide industry respect. In researching his book on America's great public golf courses (and whether they're worth the money), Jay, an associate editor of Cybergolf, has played over 220 nationally ranked public golf courses in 37 different states. Jay has played about 1,649,000 yards of golf - or roughly 938 miles. His pieces on travel and architecture appear in Golf Observer (www.golfobserver.com), Cybergolf and other print magazines. When not researching golf courses for design, value and excitement, Jay is an entertainment, copyright, Internet and trademark lawyer and an Entertainment and Internet Law professor in Manhattan. His clients have been nominated for Grammy and Emmy awards, won a Sundance Film Festival Best Director award, performed on stage and screen, and designed pop art for museums and collectors. Jay lives in Forest Hills, N.Y., and is fiercely loyal to his alma maters, Deerfield Academy in Massachusetts and Trinity College in Connecticut.