Bechtol & Russell Dissolve Golf Design Partnership
By: Steve Habel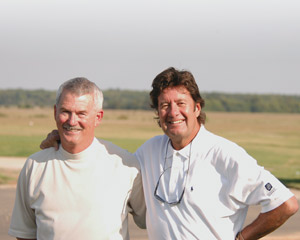 Randy Russell (on left) and Roy Bechtol
Though the Austin, Texas-based golf design team of Roy Bechtol and Randy Russell has dissolved their partnership, the pair said the move - finalized last week and announced Monday - will have "no effect" on the five golf course projects they currently have under contract together.
Since its founding in 1998, Bechtol Russell Golf has created a number of critically acclaimed championship-caliber golf courses, mostly in Texas. These include the Legends Golf Course in Kingsland (with Tom Kite), The Golf Club of Texas in San Antonio and The University of Texas Golf Club at Steiner Ranch in Austin.
Throughout their careers - both jointly and as individuals - Bechtol and Russell have been involved in the design of more than 50 golf courses across the United States and have worked with some of the world's best golf designers, including Pete Dye, Tom Fazio, Gary Player, Carter and Jay Morrish and Lee Trevino.
The partnership recently completed its work on the much anticipated Waterford Texas golf course in Smithwick, Texas, a track Bechtol says "may be our finest work to date." Waterford has been fully grassed and is expected to be ready for play sometime this fall.
The two principals still have five courses under contract to work on together, an arrangement Bechtol describes as "a divorce with children."
"This was just the time to go our separate ways," Bechtol added. "I have enjoyed working with Randy, and we have had a lot of fun together. There are things that I want to do outside just the building of golf courses, and I will move in that direction as well as continuing to build great courses and great communities around those courses."
Both will continue to work with Kite on "a job-by-job basis," Russell said. "There is no animosity between Roy and I - we just decided this was the right time to make a break and go in different directions. I will continue to design courses, and I will keep a lot of the same contacts and partners I worked with when I was working with Roy. It is just a new chapter in my career, and I welcome the change."
Among the other tracks the duo have worked on as either consultant or designers are The Golf Club at Star Ranch (with Carter Morrish) in Hutto, Texas; The Club at Comanche Trace in Kerrville, Texas; The Ambush at Lajitas in the Big Bend region of west Texas; Swope Park (an 18-hole reconstruction) in Kansas City; Austin Country Club (remodel); Riverplace Golf Club (with Kite) in Austin; Saddle Creek (with Carter Morrish) in Copperopolis, Calif.; The Golf Club at Somersett (with Kite) in Reno. Bechtol also helped Fazio with three of the four courses at Barton Creek Resort in Austin.

The Bechtol Russell website was dismantled last week. Both of the partners are working on new Internet sites that will debut soon. Bechtol will keep his Lake Austin-area office, while Russell has leased another space in the city.

Russell's benchmark project was the Roy Kizer Golf Course, Austin's top municipal track, before joining Bechtol.

Just last month, the duo celebrated the opening of ConCan Country Club in South Texas' Northern Uvalde County near the Frio River. Last fall Bechtol and Russell helped debut their new Black Bear Golf Club in Delhi, La. That track is the newest addition to the state's famed Audubon Golf Trail.

Bechtol will continue on as a golf course designer, but will emphasize his expertise for building communities from the ground up. "My vision for a golf course takes all the aspects of the environment into consideration," said Bechtol, who is also the principal for Planned Environments, Inc., a 33-year old landscape architecture, environmental solutions and land planning services company. "We will continue to build golfing communities that thrive in hand-in-hand relationship with their surroundings. By doing so we increase the worth and longevity of the real estate on which these courses and communities co-exist."

Bechtol will also continue to work with his son Hub and two other partners in the fledgling fishing company, Waters of America, a firm that stocks and maintains golf course and community lakes with sport fish, adding value to the lakes while providing another amenity for developers to market. That interest is currently taking its first contracts.

"There are a lot of irons in the fire right now, and that is what makes this business such fun," Bechtol said. "With these three companies, we continue to create value and a great lifestyle for our clients."
Steve Habel is an Austin, Texas-based journalist. Since 1990, he has traveled around the globe covering news, business and sports assignments for various news bureaus, newspapers, magazines and websites. He also contributes to Business District magazine in Austin as managing editor and is the Texas football beat writer and a contributing editor for Horns Illustrated, the Austin-based magazine for University of Texas sports. Habel writes a weekly golf column for The River Cities Tribune in Marble Falls, Texas, and is a member of the Texas Golf Writers' Association.