Bedford Springs Reopens
One hundred and seven years after its first christening, the Bedford Springs Resort in Bedford, Pa., reopened July 12, 2007, following a complicated, comprehensive "retro rebuild" designed by Forse Design, Inc. and built by Frontier Golf.
Bedford Springs' 18 are some of the most historic and oft-tweaked golf holes in America. The original routing, laid out by Spencer Oldham in 1895, was revamped by A.W. Tillinghast some 20 years later. Donald Ross completely retooled the layout in 1923. Forse and Frontier were tasked with preserving and integrating the disparate aspects of these three vintage design styles; rebuilding every green, tee and fairway; and under-girding it all with state-of-the-art drainage, irrigation and soil-profiles.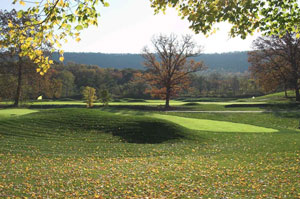 "It was an enormous project, but also an extremely nuanced project," explained Nick Scigliano, president of Jones Mills, Pa.-based Frontier Golf. Scigliano pointed to the unique proposition of restoring Oldham's antique Serpentine and Donut bunkers (complete with chocolate-drop mounding) at the 3rd hole, while using period photography gathered from the National Archive to painstakingly restore Tillinghast's "Tiny Tim" green at No. 14, a hole made famous by its inclusion in the architect's book, "Gleanings from the Wayside."
Then there was the not insignificant matter of restoring more than 80 Ross bunkers, and re-channeling Shober's Run, where a stream bed (7,000 feet of it, affecting 12 separate holes) was carefully restored to its original depth to guard against erosion and provide flood-retention capability.
"We've worked several times before with Forse Design, but never in the service of so many different classic design styles, on such a tight schedule, with so many significant side projects, like the stream restoration," Scigliano said. "We broke ground at Bedford in early June [2006] and essentially built an entirely new golf course, and seeded it, by the middle of October."
Course superintendent Dave Swartzel, a veteran of three new-course development projects, still marvels at this construction feat. "The only thing we didn't have on this project was the initial clearing and grubbing process. In every other way it was basically new construction," said Swartzel, who came to Bedford Springs after building, then maintaining, the new course at Philadelphia Cricket Club.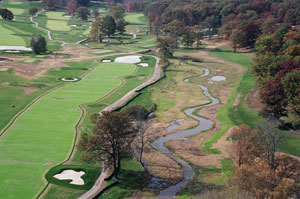 "Frontier did an outstanding job on an extremely tight time line. Considering the scope of the work, they went above and beyond the call of duty to get this done on time. When you're working that fast, sometimes corners can be cut. There was very little of that, but when we did see something, there was no hesitation to go back and make it right. The quality of Frontier's work was very good."
For long stretches of the Bedford project, Frontier Golf employed more than 110 men on its Bedford Springs crew. This was the summer of 2006, when Frontier was simultaneously rebuilding The River Course on Kiawah Island in collaboration with Tom Fazio Golf Course Designers - another five-month job that required more than 80 crew members mobilized out of Frontier's Southeast Division in Camden, S.C.
"It was a busy summer, and a lot of work. But we have the resources to handle concurrent jobs of that magnitude and our client supported us in every way possible," said Doug Show, general superintendent for Frontier Golf and project super on the Bedford project. "We ran two shifts at Bedford for about six weeks near the end. Because of the crew size, we brought out the lights and used some of the equipment double time, at night. We handled things like asphalt paving, cart-path paving and seeding that way."
The huge scope of construction at Bedford Springs is contrasted with the fine detail work for which Frontier is renowned. For example, as Show explained, Frontier does not build its bunkers with bulldozers. This would be faster, but would not allow Frontier to create the look and feel so important to classic, Donald Ross bunkers.

"All of our bunkers are built with an excavator so we can change the angles, create the small valleys cut in the saddles that give a bunker that classic feel," Show said. "We may push up the dirt with a dozer, but we always finish-shape with an excavator, which is unusual. We can always tell when a bunker has been built with a bulldozer. It's too uniform."

Added Swartzel, who had not worked with Frontier before or been involved in a classic renovation prior to the refurbishing of Bedford Springs: "Clearly, Forse Design and Frontier look at these original bunkers and recognize they were all done by hand or horse-drawn scoop. They have that irregular look with steep drop-offs. It's tough to reproduce that with a machine, but Frontier has obviously developed a real knack for it."

Forse Design and Frontier Golf have honed some of their classic design chops side by side. In addition to Bedford Springs, Frontier and Forse have collaborated on six different classic renovations/restorations: Indian Creek Country Club in Miami Beach, Fla. (original course design by William Flynn); The Kahkwa Club in Erie, Pa. (Ross); The Longue Vue Club in Verona, Pa. (Robert White); The Country Club of New Canaan in New Canaan, Conn. (Willie Park); Chester Valley Golf Club in West Chester, Pa. (George Fazio); and Sunnehanna Country Club in Westmont, Pa. (Tillinghast).

Still, this sort of familiarity has not dimmed the architect's appreciation for Frontier's classic design sensibility and commitment to quality. "Their ability to capture exactly what Ron [Forse] and I want in terms of vintage features is pretty amazing," said Jim Nagle, the Forse design associate who spearheaded the Bedford project. "The internal slopes and contours of the greens were done perfectly. Their bunkers? Well, we just leave their shapers alone. We don't need to go back and change anything - you almost feel guilty about it, as an architect."